Last Updated on November 27, 2022 by Lisa D. Marsh
Is Brick Owl safe to order from?
In this Brick Owl review, we go over what Brick Owl is, where it is based, and whether it's safe to order from, compare it with Bricklink, and other important things you should know about the marketplace.
Let's dive in.
What Is Brick Owl?
Brick Owl is a marketplace to buy and sell LEGO products and parts including LEGO sets, Minifigures, stickers, boxes, elements, baseplates, instructions, and more. 
The marketplace was started in May 2013 by two Adult Fans of LEGO (AFOLs) and allows LEGO fans to buy and sell both new and used LEGO products, both new and used LEGO.
It allows you to have a full storefront to sell your used LEGO sets that you no longer need, buy exclusive sets, retired sets, rare sets and Minifigures for profit, and anything LEGO.
Is Brick Owl Safe to Order From?
Yes, Brick Owl is safe to order from and leave your data. The site has been around for almost a decade and includes appropriate measures to ensure customers are not scammed and their data is safe.
Is Brick Owl Legit?
Yes, Brick Owl is legit and has been around since 2013. The marketplace has a large number of stores selling a variety of LEGO and a community of like-minded LEGO fans where you can discuss and ask questions.
Members on the Brick Owl website are awarded badges for various achievements, ranging from being early members to being helpful catalog contributors.
Where Is Brick Owl Based?
Brick owl is based in London, United Kingdom.
Brick Owl Fees?
Brick Owl doesn't charge any fees for having or store or listing an item on your store and likewise, doesn't charge customers any fee.
However, they charge a 2.5% commission at the start of a month on the order for total orders placed in a store, and vendors are only billed if the amount is over £5 in their respective local currency.
Read: ToyPro Reviews
How Do You Buy from Brick Owl?
It's simple to order from Brick Owl. All you need to do is:
Step 1: Search
Search for the product/item you need using the search box located at the top of the Brick Owl website.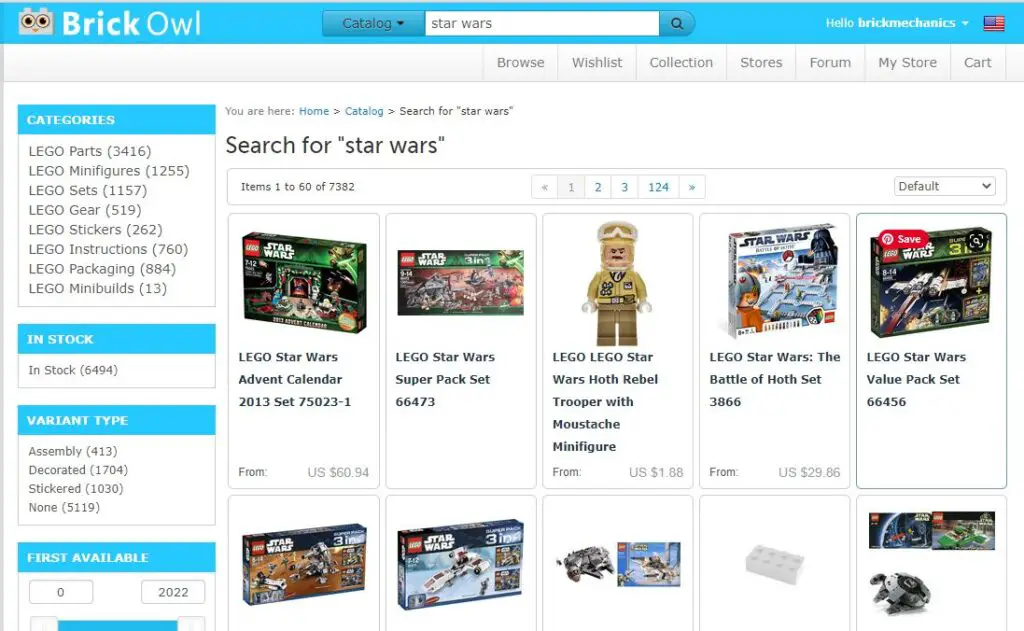 Go over the search results and look for the item. You can narrow down your search by using the filters located on the left.
You can narrow down your search by price, item type (set, Minifigure, stickers, instructions, etc.), variant, color, gender, and packaging type.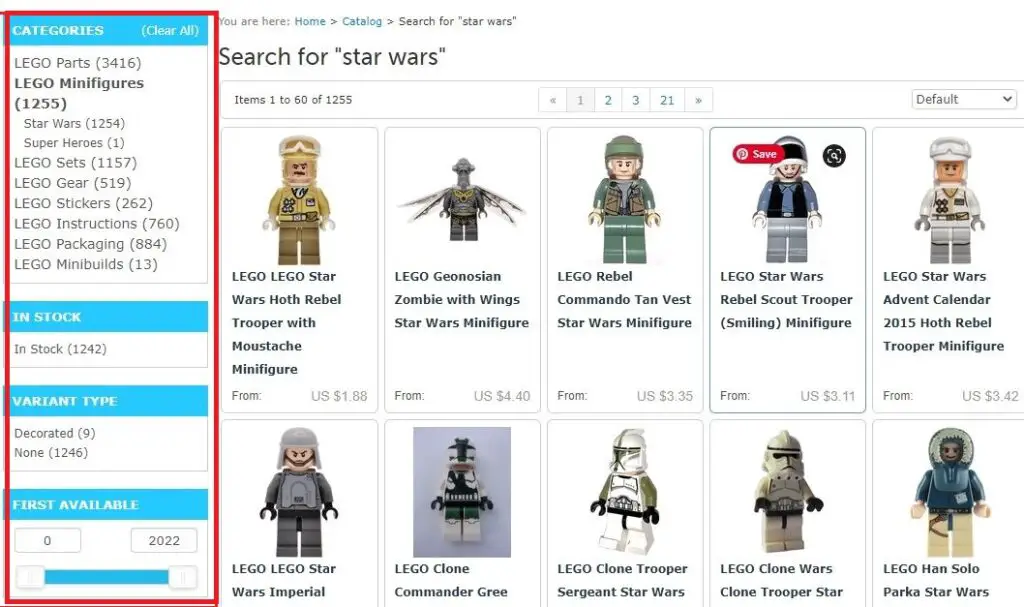 Step 2: Select Item
After that select the item you wish to order.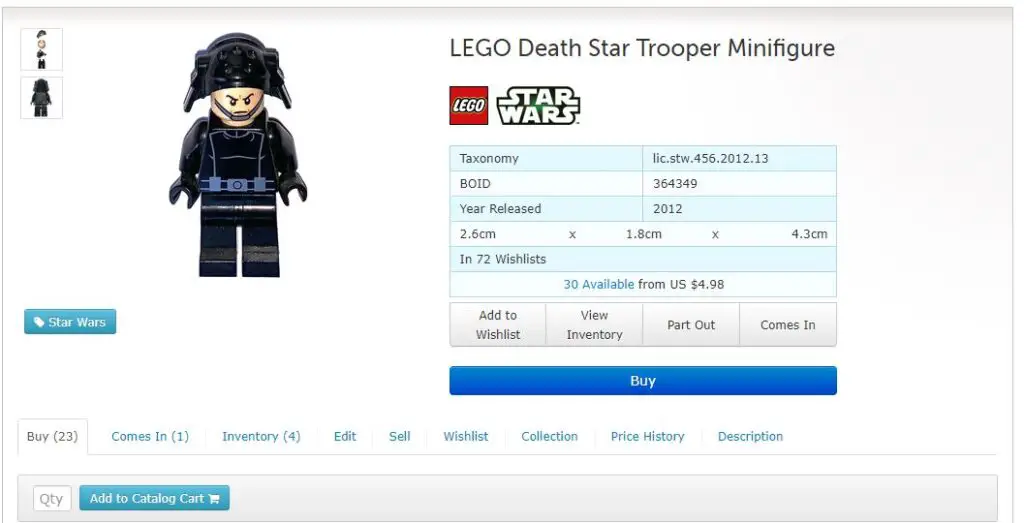 This will take you to the products description page where you can place your order and you can also find similar products from different vendors at different price ranges by scrolling down. And you can filter by store location, country, and item condition: new, used (like new), used (good).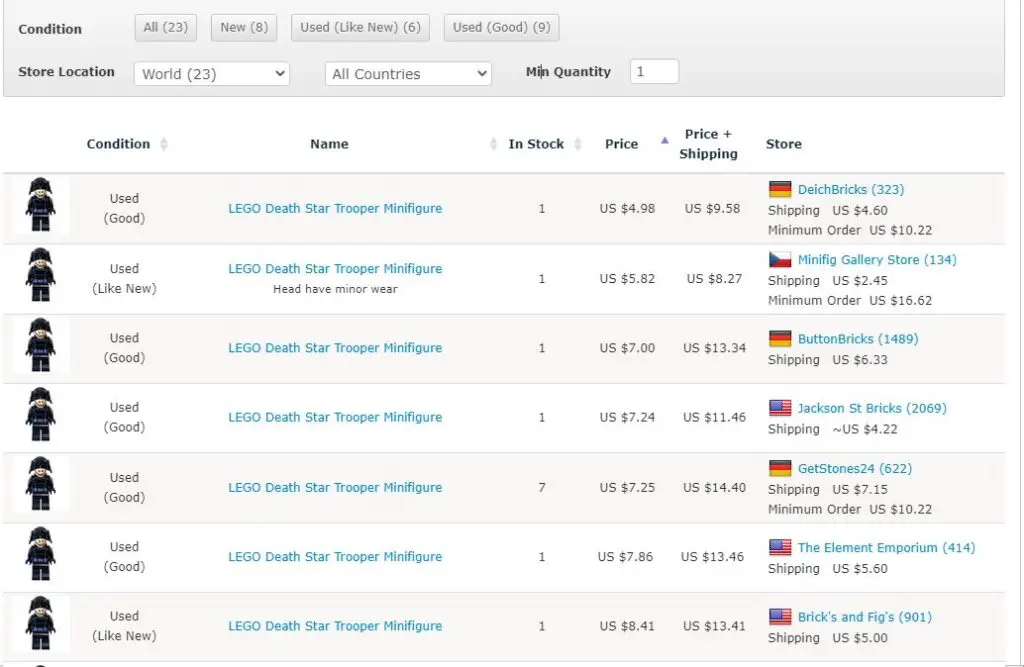 Step 3: Order
To order, enter the quantity you wish to order in the "Qty" field located at the bottom left, next Add to Catalog Cart button, and then click on the  Add to Catalog Cart.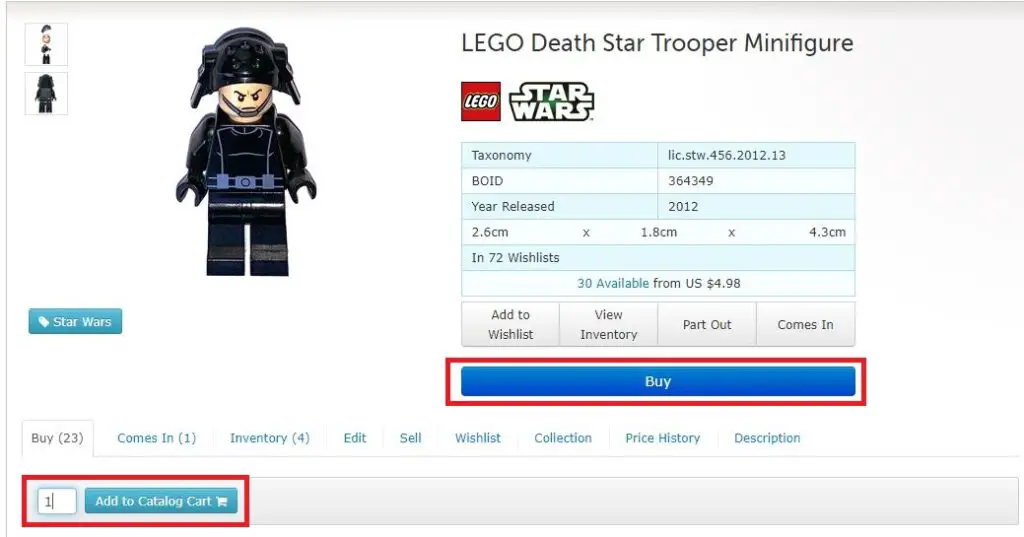 Next, go to your shopping cart, available at the top right.
Review your order including the condition and quantity to make sure you order the right item.
After that, click "add items to store cart"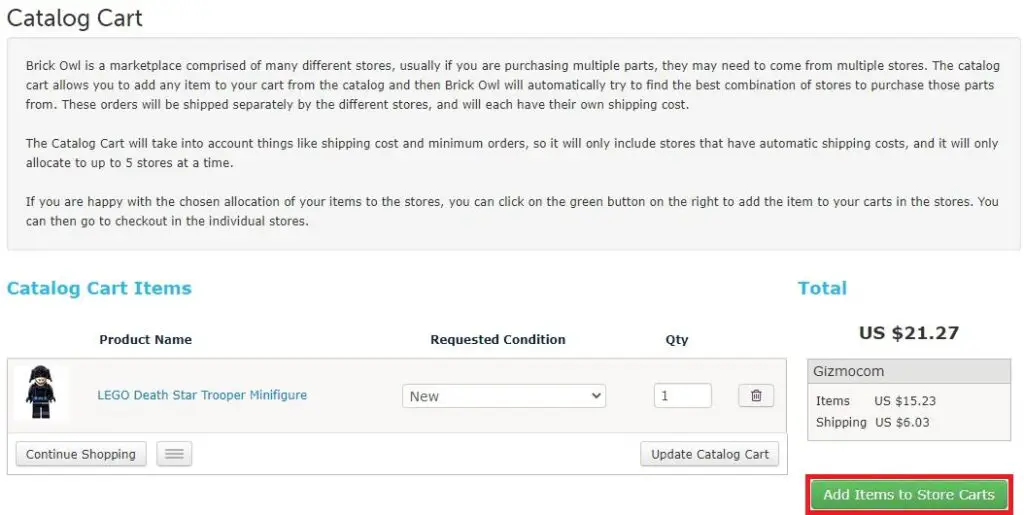 and then checkout.

Step 4: Proceed to Checkout
Clicking on the checkout button will take you to the vendor's store where you proceed with your order. 
There, you can choose your destination country and preferred shipping method and proceed to checkout.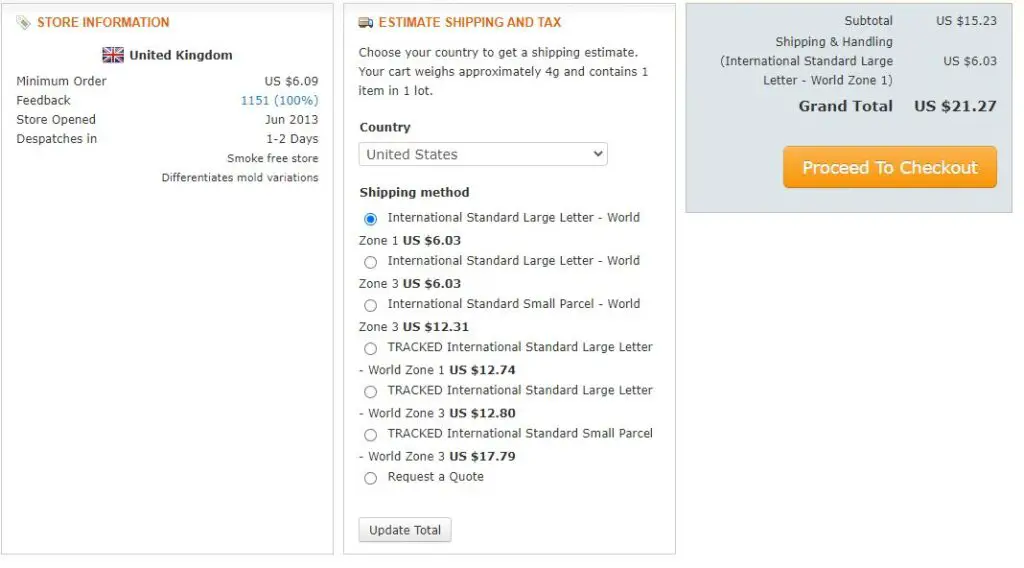 Step 5: Checkout
This will take you to the checkout page you will complete the final steps of the order including billing information, shipping information, shipping method, payment method, and review your order.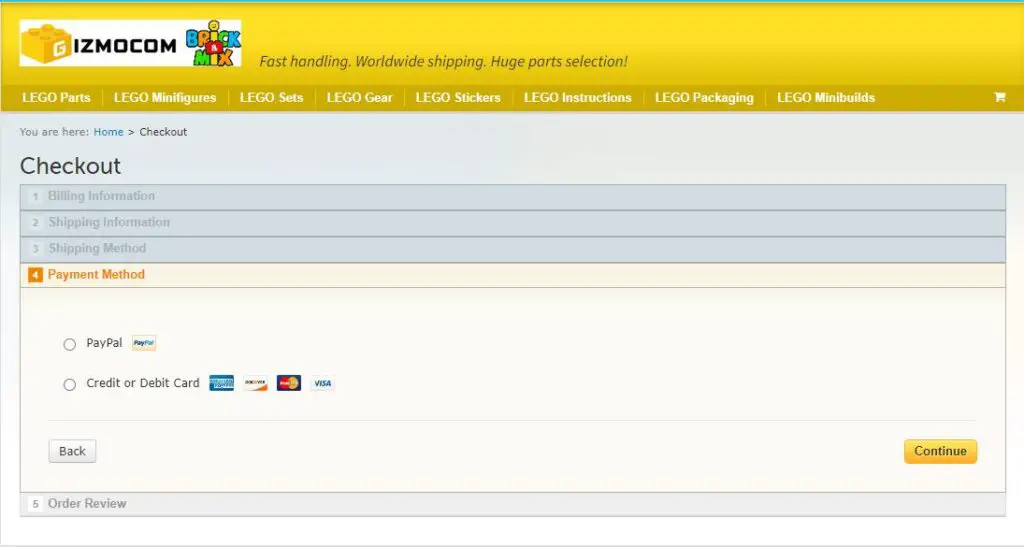 Brick Owl or Bricklink?
Wondering which one to go with between Brick Owl and Bricklink?
Both platforms are similar in many aspects, both containing a large number of LEGO products and thousands of sellers. 
There's also no disparity in prices since you are dealing with individual vendors, each with their set of prices and you will even find most of the vendors having stores on both platforms.
However, Bricklink is LEGO owned and contains more items and vendors than Brick Owl and vendors can sell only original LEGO products, but both are reputable marketplaces and you are good with either of them. Read our Bricklink Reviews here.