Last Updated on January 8, 2023 by Lisa D. Marsh
As a LEGO fan, you've probably come across BrickLink, heard about it from other LEGO fans, or seen many LEGO products sold on the platform.
This BrickLink review will give you an overview of BrickLink, whether it's safe or not to order from, how to order on the platform, and other important answers you should know about BrickLink.
Let's dive in.
What is BrickLink?
BrickLink is the world's largest online LEGO® fan community and marketplace and contains an exclusive catalog of every LEGO set and element you can think of.
The website was founded in April 2000 as a way to connect like-minded adult LEGO fans from around the world. BrickLink was acquired by LEGO group in 2019 and currently has more than 1 million members.
The platform is similar to eBay and Etsy but specific to LEGO products and comprises more than 10,000 stores from 70 countries.
It also includes a digital LEGO building software where you can design and showcase your creations and a vibrant online community/forum where LEGO fans can interact and share their builds and ideas.
What Type of Products are Sold in BrickLink?
You can find any LEGO elements and parts on BrickLink, including new and used LEGO sets, instructions, LEGO boxes, LEGO bricks, stickers, LEGO baseplates, Minifigures, custom builds, retired sets, pieces, books, gears, displays, and anything you can think of.
Is BrickLink Safe?
Yes, BrickLink is safe, and every LEGO fan I've interacted with had a positive experience with the platform. 
The service is quick, the customer service is top-notch, and the sellers are usually very friendly and helpful. Just make sure to check the seller's feedback, shipping cost, and, most important, the product's description to know what you are buying.
The majority of the sellers are fine, but there is the odd rotten egg too. If a seller has 90% + feedback and has at least 50+ positive feedback, you should be fine.
However, you should be cautious when sellers with little to no feedback score selling expensive items for considerably below the average selling price.
Additionally, if you are just buying parts, check the seller's feedback as far as parts being in good condition, too used, or dirty. In general, it is best to buy from sellers with an excellent reputation.
How Long Does BrickLink Take to Ship?
On average, BrickLink orders ship within 2 days and deliver within 4-to 7 days, depending on the individual seller and their terms of service (TOS). 
Most sellers have default shipping times reflected on their terms and conditions. It will be a good idea to get in touch with them before placing an order to clear processing and delivery times or leave a comment during checkout if you need fast delivery.
Those who have shipping time are mostly the ones who had to wait for payment processors to release the payment, which can take a few days.
How to Order From BrickLink 
Follow the following steps to make an order on BrickLink:
1. Create an account and verify your email

2.Use the search box on top to search for the product you want to buy

3. Click on the Go to buy option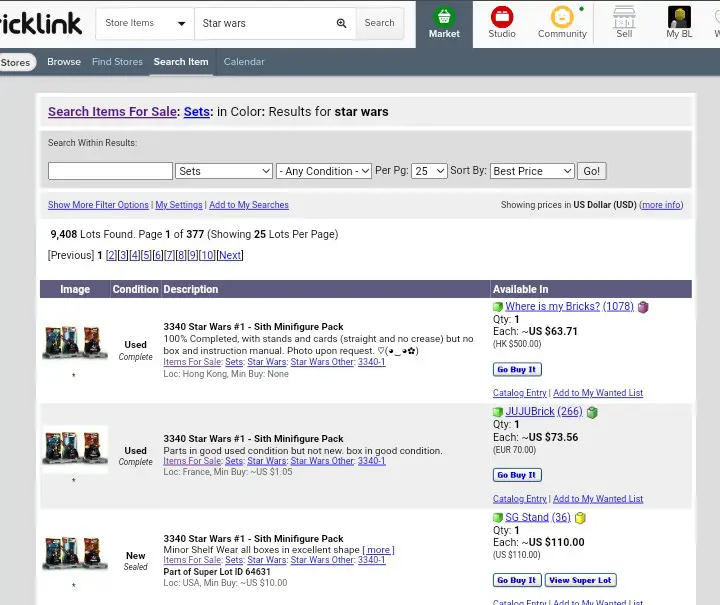 4. Add the product to the cart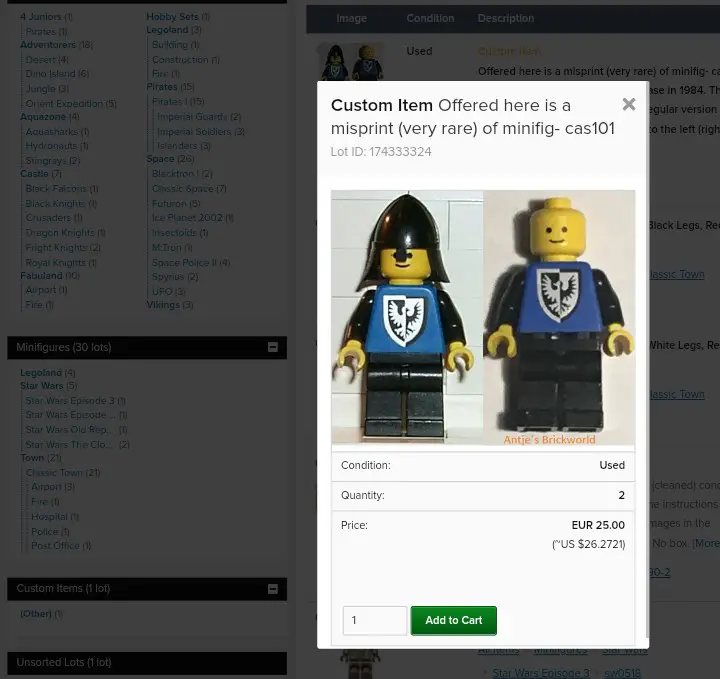 5.View your cart and proceed to check out
6. Read and accept sellers terms
7. Enter shipping details
8. Click Agree and continue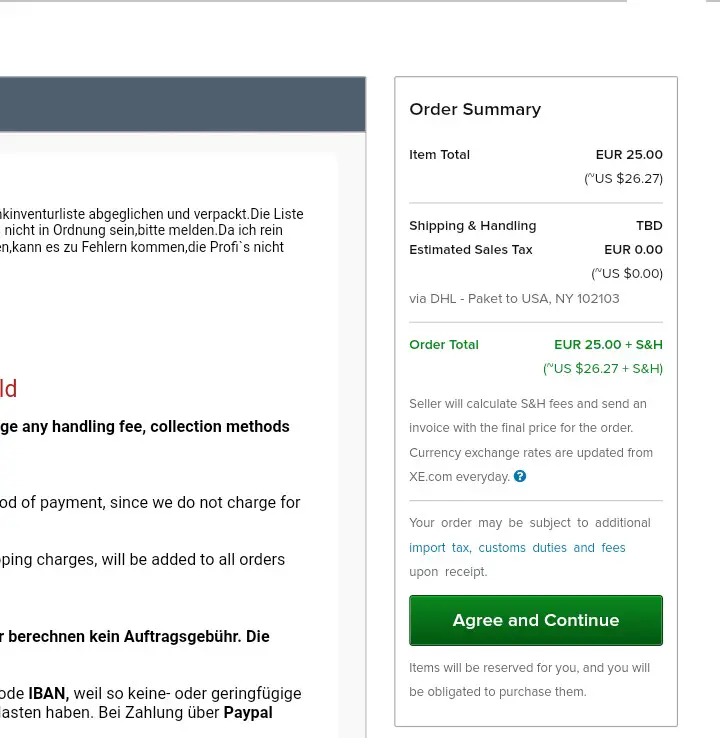 9. Click on Send and ship to this address
10. Select a payment method
11. Choose a shipping method. This will be the shipping method the seller uses
12. Optional: leave a note to the seller
13. Place your order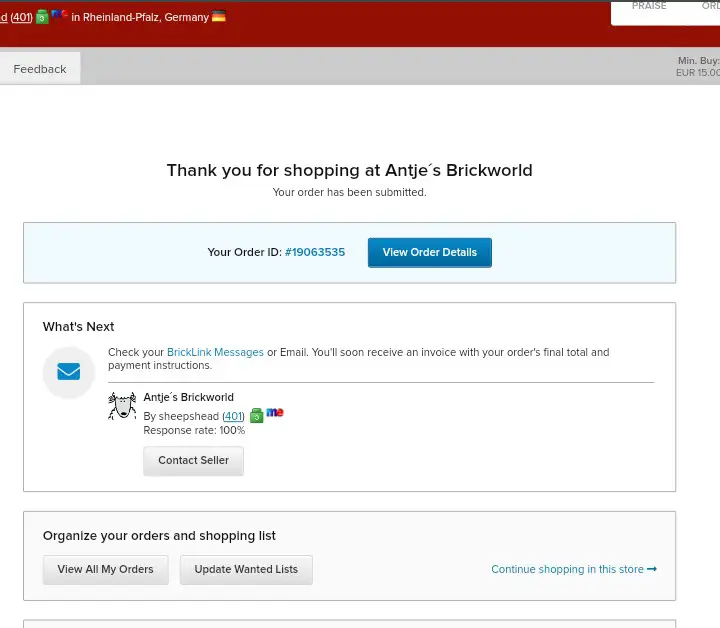 14. An email containing the order details will be both sent to you and the seller
15. Wait for an invoice from the seller
16  Make payment
17  Wait for the item to ship
What Does New Mean on BrickLink?
New means that the set/parts are brand new and have never been used in any manner. The product was purchased as new or directly taken from new sets.
What Does Used Mean on BrickLink?
Used means that the product has already been used by another person and is being sold as a second-hand product. They are cheaper than new products but will not come in good condition like a new product.
Can I Cancel a BrickLink Order?
Yes, you can cancel a BrickLink order by filing an order cancellation request if the order has any of these statuses: pending, processing, ready, updated, packed, but you can not cancel an order once it is processed or shipped. 
What Happens if You Don't Pay on BrickLink?
Failure to pay for an order on BrickLink within 7 days after being informed to pay the seller will lead to any of the following consequences: warning, penalty, or your buyer privileges be permanently revoked.
Final Thoughts
Owned by LEGO, BrickLink is the largest and most popular LEGO community and marketplace. The platform comprises all kinds of LEGO products from new and used products.
The platform is safe to order from, and you can get even the most sought-after LEGO set or part on the website.
The community comprises top LEGO fans and is great for sharing and discussing ideas with other LEGO fans and for displaying your own creations.