Last Updated on December 21, 2022 by Lisa D. Marsh
Did you just finish building your favorite LEGO set and don't know where to display it?
Or you just bought a new set that you're going to build later and are wondering where to store it?
In this article, I'm going to show you where to display LEGO sets and other important things you need to know about displaying LEGO sets.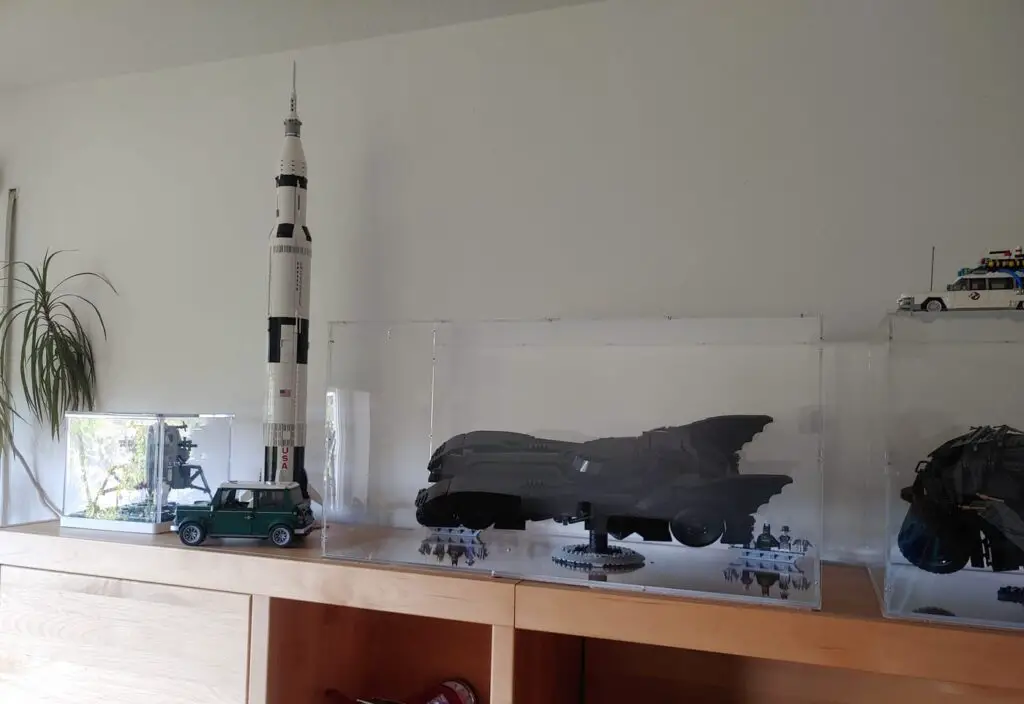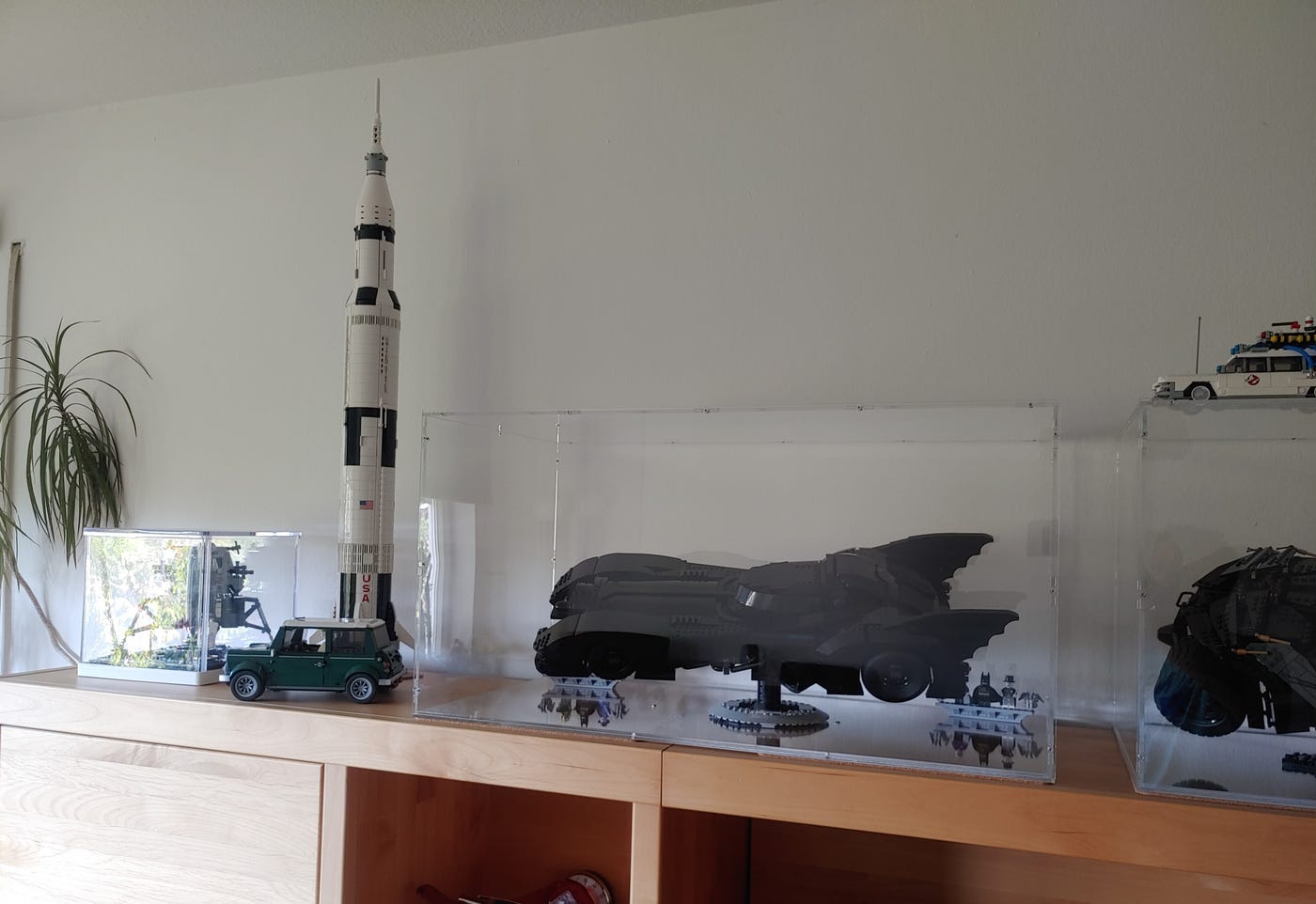 What Do You Do With LEGO Sets Once Built?
You can display your LEGO set once you finish building it and then disassemble them from time to time as you run out of space and depending on how much you like the set. 
However, it is better to organize your pieces so that you can sort them once they are disassembled and put them back into their boxes. So you should also keep the LEGO boxes as they're valuable and you'll need them once in the future.
Where To Display LEGO Sets
Below are some of the best places you can display your built LEGO sets:
LEGO Wall
You can create a LEGO display wall in your bedroom, playroom, or any other place in your home to display your LEGO sets. Creating a LEGO wall in a kid's room can be a cool and fun idea if there's space to have a wall to display LEGO sets.
A few spaced-out floating shelves will look very cool for displaying a few favorite sets. However, you should ensure that the shelf's weight limit is suitable for the weight of the set you're going to display.
You can get basic adjustable wall shelves to mount your LEGO sets. You can mount them high to keep them away from little hands, or low for easy access.
Display Case
You can get a large glass display case to display your built LEGO sets. This can make a great and fun talking point when visitors come to your house and see your creations.
This can help protect your sets from dust while displaying them in a very cool and creative way.
Glass Cloche
A glass cloche is one of the best decorative ways to display elaborate LEGO sets.
DIY Floating Shelves
Do-it-yourself (DIY) floating shelves are gorgeous and will provide you with loads of playrooms to store and display your LEGOs.
Create LEGO Shelves
You can use your extra LEGO pieces to build shelves for your LEGO sets. This is a cute and creative way to display small LEGO sets.
IKEA Bookcase with Glass Doors
Have a large LEGO collection? you can transform an IKEA bookcase with glass doors into a display case for LEGOs. This can be a perfect storage solution for large LEGO collections.
Sliding Shelves
Bookcases with sliding shelves are an awesome solution for creating little scenes and safely sliding them away. 
Underbed LEGO Table
You can use an under-bed LEGO table to display your completed sets for playtime.
Read Also: Best Way to Display LEGO Saturn V: 5 Cool Ideas!
How Do You Display LEGO Sets On The Wall?
Wondering how to mount your LEGO sets on the wall, I'm going to show you how to do it step by step.
You're going to need three things:
Craft wire or malleable metal wire. The stronger the wire, the more reliable they're going to stay on the wall.

Wirecutter (you can use scissors) depends on the strength of the wire that you have. 

Drywall anchor, a screw, and a drill if you're going to be drilling into drywall.
Step 1: Put a wire at the bottom of the set
Flip the set over and identify two technic pinholes towards the front of the set

Take your wire and measure about 3x the length of what it would be from pinhole to pinhole

Cut the wire and start putting it through the technic pin holes on the bottom

Bend the end of the wire so that you can put it in between the side of the LEGO set and the technic pinhole in the bottom so we're going to feed that through this pinhole right 

Push the way through to the other end you might need to re-bend the wire so that it can feed back up through in between the pinhole and the side of the LEGO set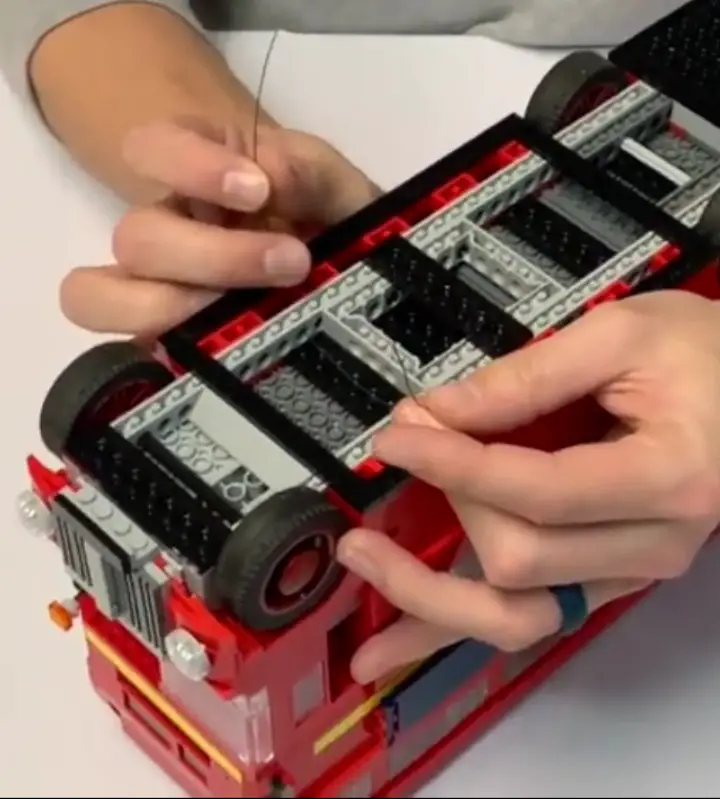 Once you've got both strings together, twist them even on each side anywhere from 10 to 12 times

Make sure you twist a lot so that it stays secure. However, you may not need to twist as much if you have a stronger wire. 

Use your scissors to cut off the excess once you've finished twisting it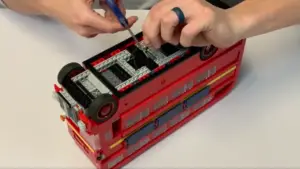 Once it's folded down flush, give it a good pull to make sure that it's in there securely because you don't want your LEGO set falling off the wall
That's it. Now let's move to step two
Step Two: Mounting your LEGO set to the wall
This is straightforward. 
Mount your screw directly on the wall

If you're using drywall, you're going to use a drywall anchor and a drill to make it much more securely, especially for those heavy LEGO sets 

You can probably just drill the screw straight into the wall. What you'll usually have to do is hold your finger on the string or the wire and kind of just guessed in the past and  just drill the hole straight in

Now since you've put the wire on the bottom of the LEGO set, you just simply hang it up on the screw and that's it
There you go, that's how you mount a LEGO set to the wall.
Read Also: Saturn V vs Eiffel tower: Which is Best for Display?
What Is The Best Way To Display LEGOs?
LEGO walls, display units, and glass door bookcases are the best way to display LEGOs. They provide a cool and fun way to show off your best LEGO creations while doing so safely and creatively.
How to Display LEGOs
Do You Keep LEGO Sets Together?
You can keep your LEGO sets together by sorting them by type. But you shouldn't combine bricks of the same color, instead, put bricks of the same type together.
This is because it will be easier to find a red 1×2 brick in a bin with all 1×2 bricks of all colors than in a bin with red bricks of different types.
After sorting them, you can put them in a plastic gallon ziplock bag and put those bags into large stackable plastic bins. Smaller sets can get disassembled and put into their plastic bags
Final Thoughts – Where To Display LEGO Sets
There are many ways you can display your LEGO sets once you build them which include LEGO walls, display units, and glass door bookcases.
Once you finish displaying your sets or run out of storage, you can take them apart and put them into plastic gallon zip lock bags and into bins or put them back into their respective boxes.
What do you think about this article? Let me know in the comments and don't forget to share it with your friends.