Welcome to Brick Mechanics
We are a website dedicated to all things LEGO, bringing you tutorials, guides, news, reviews, insights, ideas, as well as the best builds and features from the LEGO world.
Connect and give us a follow or like on social media. We are on Facebook, Instagram, Twitter, and Pinterest.
Become A Brick Mechanic
Our goal is to become the #1 resource and go-to website in the LEGO world and community, with a rapidly-expanding audience. Therefore, we're always on the lookout for top LEGO fans and talents to join our team.
If you're a top LEGO fan or are ahead of everyone when it comes to the latest news and views on LEGO.
Expert when it comes to LEGO sets, or video games, with an opinion or observation worthy of making the best LEGO sets review more intriguing.
A writer, photographer, or master builder capable of turning almost anything into LEGO form.
Whatever your expertise or calling, we would like to invite you to join The BrickMechanics team whose love and passion are everything LEGO.
Contact our editor, Lisa, via email at Pamela@brickmechanics.com
Lisa D. Marsh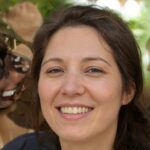 Hi, my name is Lisa and I'm the editor of BrickMechanics. LEGO has been part of my life ever since I was young. I have a deep love of LEGO and it has guided me through my early years, through school, and eventually through my degree in Engineering.
If you like to be part of The BrickMechanics team, you can contact me via email at lisa@brickmechanics.com
Follow us on social media:
You can also subscribe to our newsletter to stay ahead of the game and stay updated about the LEGO world.