Last Updated on November 27, 2022 by Lisa D. Marsh
Is Toypro a legitimate site?
So you are out there shopping for LEGO parts and you came across ToyPro and want to know if it is a legitimate site or not.
There are various marketplaces out there that deal in LEGO products, with the most popular marketplace being Bricklink. But what about ToyPro? Is it a legitimate website?
This article reviews the ToyPro website, compare it with Bricklink, and answers some important questions about the website so you can know if it's safe to order from or not.
Let's dive in.
What Is ToyPro?
ToyPro is an online store with a wide selection of LEGO products including LEGO sets, Minifigures, stickers, and parts.
Buying from the website means that customers don't have to go anywhere else, saving them a lot in shipping costs, the time in finding the parts they need, and waiting for orders to arrive from different vendors.
The website was started at the beginning of 2022 by some adult fans of LEGO (AFOL) who were finding it hard to get parts of iconic sold-out LEGO sets, so they decided to find an online store that has the widest selection of LEGO parts online.
Today, ToyPro has over 20,000 different LEGO replacement parts, and over 3,500 unique Minifigures, is available in six different languages, and ships to customers all over the world.
Is ToyPro a Legitimate Site?
Yes, ToyPro is a legitimate site. The site has been around since 2012 and has shipped over 1 million orders all over the world from warehouses in Pennsylvania and Europe.
available in six different languages and we ship to customers all over the world  To date, we have shipped well over 1 million orders. Our customer satisfaction rate is very high
How Long Does It Take ToyPro to Ship?
ToyPro orders take between 6 to 12 days to arrive. However, the exact shipping time depends on your location and how busy the ToyPro team is fulfilling orders.
They use USPS out of their warehouse in PA and they provide customers with USPS tracking numbers so they can track their shipment online, but it takes up to 5 days for the tracking number to arrive on ToyPro's website.
Additionally, ToyPro charges a $1.80 packaging fee for orders of less than $10, ships free within the US for orders of $100 or more, and offers free shipping on LEGO sets.
How to Order on ToyPro
Follow the following steps to order on ToyPro:
Step 1: Search
The first step is to fill out the part, set, or minifigs number into the search box available at the top on the ToyPro website and hit enter.

Step 2: Select Item
Select the desired item, part, set, or Minifigue you want to order. You can click on "View or Order" to see details about the product.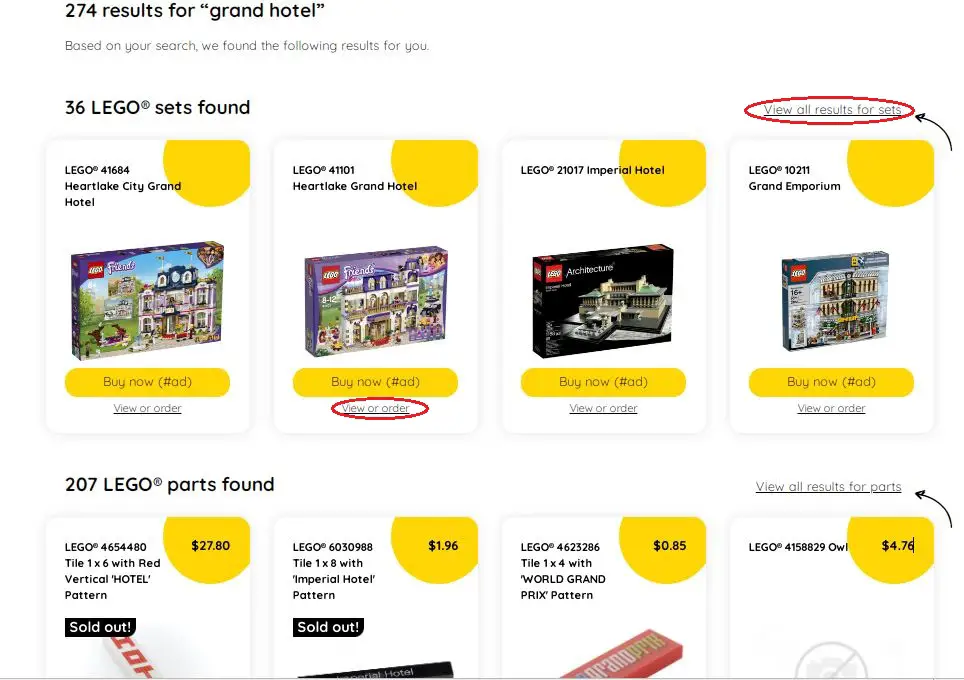 Products that are not in stock or temporarily not available will be shown on top of the search results and you can click on "View all results" for the specific category you are looking for to view other items.
Step 3: Place Order
You'll notice that some products have a "Buy Now #ad", this is because the ToyPro website includes ads to buy products on Amazon, and clicking on that item will redirect you to Amazon to complete your order.

Since this tutorial is about how to place an order on the ToyPro website, I clicked on the "View all results for Minifigs" tab on the search results page and selected an item that is available for order on the ToyPro website. LEGO Minifig Grandfather in my case and you'll notice that it has an add to cart/view or order tag.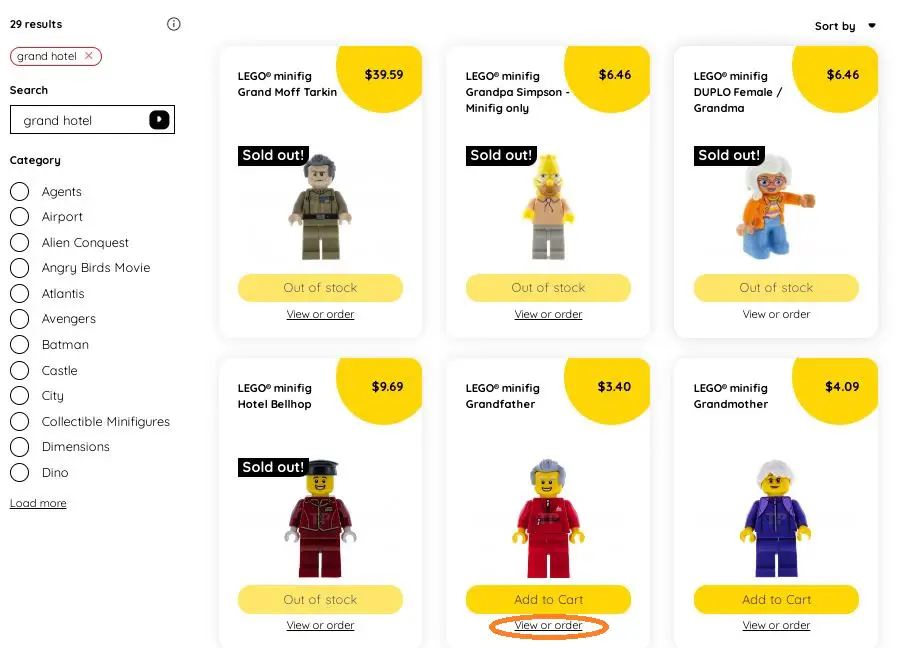 Clicking on the "view or order" took me to the product's description page. It's important to read the product description to know what you are getting and to determine if it's the actual item you are looking for. 
After that, click on "Order", enter the quantity you want, and click the View shopping cart.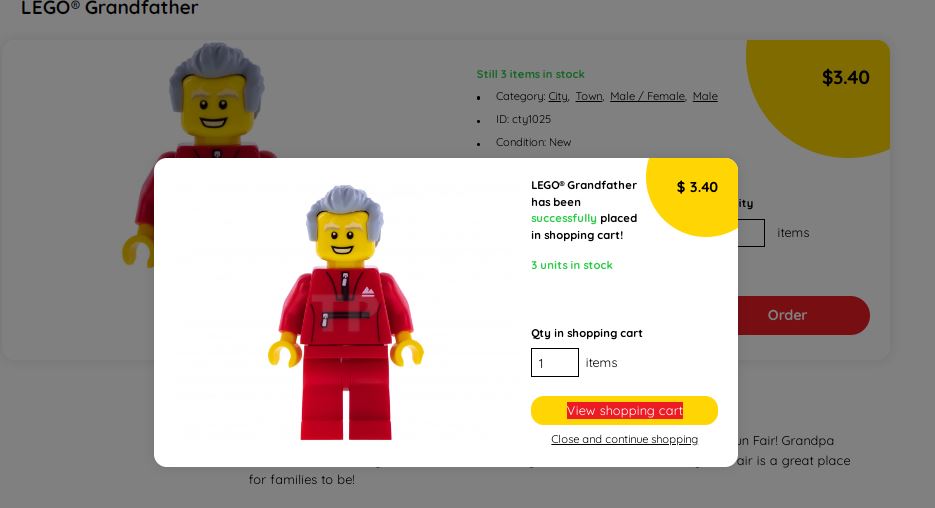 Step 4: Checkout
This will take you to the order summary page where you can enter a discount code or gift card if you have any.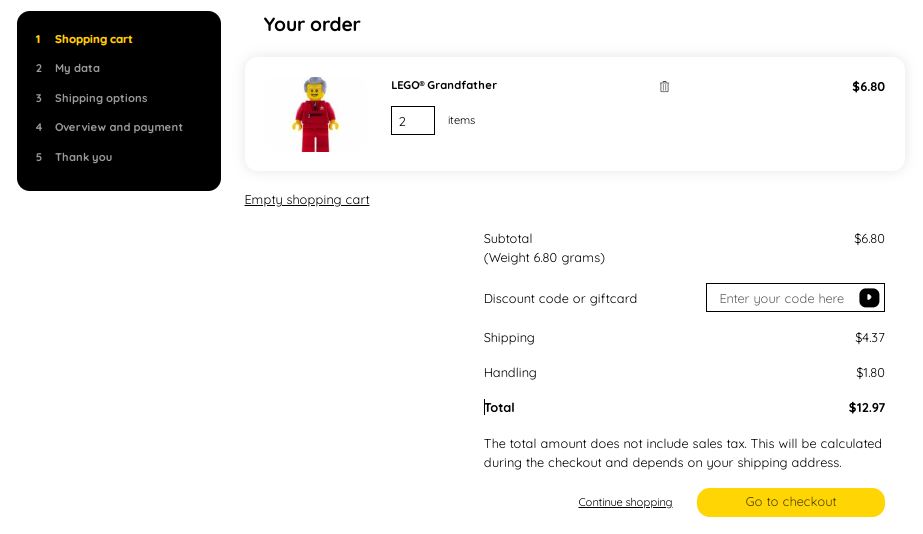 Next, click on Go to checkout and it will ask you to log in or create an account if you don't have one. 
After that, it will take you to the ship[ping options page where you select your preferred shipping method.
Next, it will take you to the checkout page where you choose your preferred payment method. You can checkout with PayPal, Mastercard, or VISA / V-PAY.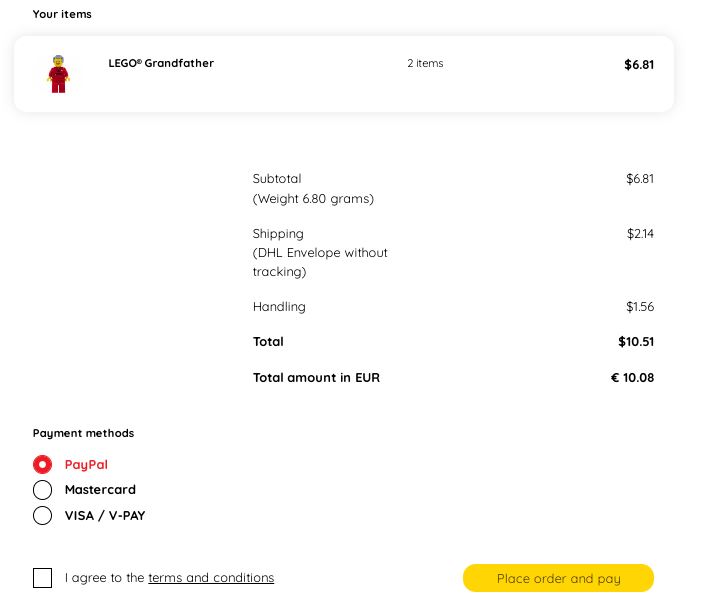 ToyPro Credits
ToyPro gives you credits (LEGO sets excluded) or loyalty points that you can use to partially pay for your next order. You will earn 5 cents in ToyPro credits for each dollar you spend on the ToyPro website and you can use the credits in units of 5 dollars.
To use the credits, you simply select the option to pay with credits on the checkout page and the credits will be deducted from the total amount of your new order. However, the credits can not be cashed out and can only be used on the Toypro website.
ToyPro vs Bricklink: Which is Better?
Products
Bricklink includes any type of LEGO products, both new and used including new and used LEGO sets, instructions, LEGO boxes, LEGO bricks, stickers, LEGO baseplates, Minifigures, custom builds retired sets, pieces, books, gears, displays, and anything you can think of.
Read: Bricklink Review
However, Bricklink is a peer-to-peer marketplace and you'll be buying products from other sellers (vendors) on the platform. This means that you are not guaranteed that the product will be in good condition or not.
On the order hand, ToyPro only sells LEGO sets, Minifigures, stickers, and parts. But you are buying directly from the owners and not dealing with individual sellers like on Bricklink. This means that you are guaranteed to get a good quality product in good condition
Price
Every vendor on Bricklink has its own specific price which means that you will find the same product for a more cheaper price. This is different with ToyPro since you are buying directly from the company and the price can be a bit higher compared to what you get on Brickling.
Shipping Time
Bricklink orders ship within 2 days and about 4-7 days to deliver, while ToyPro orders take between 6 to 12 days to deliver.
Which One is Better?
Bricklink includes anything LEGO and you can find anything you are looking for, their products are cheaper, and their shipping time is faster than ToyPro's. 
On the other hand, you are guaranteed to get a clean product that is in good condition on ToyPro which is not always the case with Bricklink. 
Where Is ToyPro Based?
ToyPro is based in Nederweert, Netherlands.
Is ToyPro Good?
Yes, Toypro is good. The website is easy to use and you can find any item you are looking for, plus they have a quick delivery time.