Last Updated on April 18, 2022 by Lisa D. Marsh
Are you new to the LEGO world and want to buy your first LEGO set but are wondering if LEGO sets come with instructions on how to put it together?
All LEGO sets with a specific build come with clear instructions that will guide you and make the building process easier. However, sets with assorted bricks don't come with instructions, but sometimes they give a booklet with the idea with it. LEGO instructions can also be found online on the LEGO website which you can download for free as a PDF.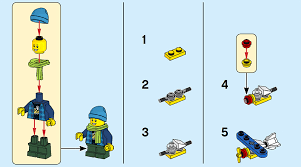 LEGO instructions are kind of IKEA-like instructions with pictures, but no words. They are very easy to follow and you'll love them.
What Do I Do If I Lose My LEGO Instructions?
Did you lose your LEGO building instructions and are concerned because you haven't finished building that set? Or maybe the building instructions are damaged, or you bought a retired set that doesn't come with instructions and you're not sure if you can get another one.
There is no need to worry if your original LEGO building instructions are missing or damaged. 
You can get a replacement from the LEGO website through Bricks & Pieces and they'll send you a copy as long as they are available. You can also buy one from other marketplaces that deal in LEGO products.  
Alternatively, there is a "Building Instructions" section on the LEGO website which contains thousands of complete building instructions you can download for free in PDF format. 
You'll find building instructions for many older and new LEGO sets and you just need to search by theme or year and you'll find the instructions for your set and download them instantly. 
Is LEGO Building Instructions Free?
Yes, LEGO building instructions are 100% free and come together with every new LEGO set. A digital version of the instructions is also available on the LEGO website which you can also download for free in a PDF format.
Do All LEGO Sets Have Instructions Plus
Instructions plus is not available to every LEGO set, but only for some selected special sets which you can build in multiple ways. 
To get the instructions plus, you simply need to scan the QR code on the instructions booklet inside your LEGO set. You can also find the instructions plus by searching  "LEGO sets" on the LEGO Building Instructions app.
Where Do I Get LEGO Instructions For Free?
To get LEGO instructions for free, you'll just need to visit the "building instructions' page on the LEGO website, enter your set details, and download a digital version of the instructions in a PDF format for free. However, digital instructions for new LEGO sets might not be available instantly and can take some days to be available for download.
How To Download LEGO Instructions?
To download LEGO building instructions for your LEGO sets, all you have to do is to visit the building instructions section of the LEGO customer site. There, you can find instructions for thousands of LEGOs which you can download for free in a PDF format.
How to download LEGO Instructions:
Visit the

building instructions

section on the LEGO website

Type in your set number, keyword, year, or theme in the search box

Select the instruction you want to download

Click on the "Download PDF" button at the bottom of the page and wait for the instructions to download
It is important to note that the download speed will depend on your internet connection and the instructions file size. It is also recommended that you save the instructions before opening them.
How Does LEGO Make Their Instructions? 
LEGO made their instructions by taking photographs of each step, tracing and hand-drafting over them, and coloring them in bright and uniform colors.
The process is very expensive and they've made an effort to condensate the instructions into a few steps, by adding many pieces at once and then leaving certain elements concluded by the kids following the directions.
In the mid-1990s, LEGO started developing computer-generated instructions which is much cheaper. This has allowed them to afford to take more steps with fewer elements added at a time. 
This has also resulted in a much larger instructions booklet and made it easier to automatically insert images in instructions to show you the steps to follow and the exact pieces you'll need for the next step.
Can I Buy LEGO Instructions?
Yes, you can buy LEGO on the LEGO website through Bricks and Pieces, or on other marketplaces such as brickowl, eBay, BrickLink, among others.
Does LEGO Mario Come With Instructions?
LEGO Mario doesn't come with traditional paper instructions, but a digital version is available for download in the LEGO Super Mario app.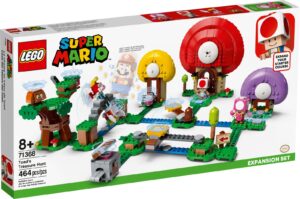 The digital instructions are clear and easy to follow, using the same interface as instructions plus. The benefit of the digital instructions is that when a section is complete, the app demonstrates how to use it with a short video.