Last Updated on August 6, 2023 by Lisa D. Marsh
Are you looking to buy LEGO sets for cheap prices and don't know where to start?
LEGO sets are great toys and fun to play for both children and adults. They teach various skills that will shape the way people work and think, such as problem-solving, creative thinking, teamwork, and storytelling skills, among others.
However, LEGO sets are expensive, and it'll be challenging to find your favorite sets at low prices you can afford.
So in this article, I'm going to show you  best places where to buy LEGO sets cheap, and other important things you should know about where to buy LEGO sets cheap.
Let's get started.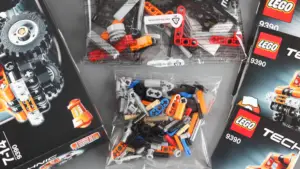 Top 10 Places To But LEGO Sets At Cheap Price 
Auction Sites
Auction sites are a great way to buy used, new and discontinued LEGO sets for cheap price. 
You may usually find people who have bought a LEGO set but are in need of money and want to flip their sets to make extra money. 
eBay is one of the best auction sites that we recommend to buy cheap LEGOs, but you do your due diligence, ask questions, and request the seller to send you pictures/videos of the product so that you don't end up buying the wrong product or an empty LEGO box.
You should also check the seller rating to ensure they have a really good satisfaction rating.
You can find an exact same brand new, and unopened LEGO set there for a lower price than Amazon; though you may have to pay for shipping, it can still be a better deal.
Read Also: LEGO August 2023 Releases: All Sets Confirmed for Summer 2023!
BrickLink
Just like eBay, BrickLink is a marketplace but specifically products and parts. They have thousands of vendors selling different LEGO parts, including LEGO sets, Minifigures, bricks, boxes, stickers, and more.
BrickLink is one of the best places to find very specific sets, both new and used, and they have a pricing guide that will help you understand when you're getting a good deal.
The LEGO store
LEGO store is another place to buy LEGO sets for cheap prices, but you must first become a VIP member to enjoy great deals.
It's free to join, and you will earn points for every purchase you make; you get $5 for every 100 points, which you can spend online or offline.
They also offer double VIP point sales on individual sets and also have double points month, usually April & October, where you only have to spend $50 to earn 100 points.
Furthermore, they also provide free shipping on orders above $35, which is not that hard to reach, and they often have "things on sale" checkout where you can buy products for up to 30% off.
Read Also: Best LEGO Sets for 4-Year-Olds
Local Yard Sales
Local yard sales are another way to get LEGO sets at a cheap price. You can usually find used sets and specialty sets at a great price. However, it's very rare and doesn't always happen every day, and you'll have to keep your eyes open for this kind of deal.
But these sets will usually not be brand new, and you should be very cautious and check for damage and completeness.
Brick boxes
Brick boxes are another way to buy LEGOs at cheap prices. These are just large boxes with hundreds of LEGO bricks and accessory pieces.
You can have a better deal on buying in large quantities than just buying through the special sets that usually come at higher prices. The box can even come with a huge amount of non-specialty pieces, which you can use to create your own model.
The cool thing about the Brick Boxes is that they are not difficult to find, and you can easily get them at any LEGO shop.
Bricks and Minifigs
Bricks and Minifigs is a chain of stores that exclusively sell LEGO products.
They have a pretty good selection of specialty and had to find LEGO sets, and you can get a great deal on bulk LEGO pieces at a cheap price.
Right now, they have around 40 stores around the United States, and you will be lucky to find one near you.
Thrift Stores
Thrift stores are also another best place to find LEGO sets at cheap prices. They offer items that include LEGO products, and you can get some really good deals there.
Goodwill online is an example of a really good source for buying LEGOs for cheap, and you can find LEGO products there at even lower prices than on eBay.
Read Also: Best Places to Buy Retired LEGO Sets 
Final Thoughts – Where To Buy Sets Cheap 
There you go; 7 best places to buy LEGO sets at cheap prices.
Auction sites

BrickLink

LEGO shop

Local yard sales

Brick boxes

Bricks and Minifigs

Thrift Stores
I hope you'll be able to find your favorite LEGO set at cheap prices from these stores. Also, if there's any other place where you can buy LEGOs cheap, you can contact us so that we can add them to the list.
Also, if you have any questions, let me know in the comments, and don't forget to share this article with your friends.
Read Also: Top 10 Best LEGO Friends Sets