Last Updated on January 8, 2023 by Lisa D. Marsh
So you just visited the LEGO website and saw something called "VIP Points" but don't know what it is about?
But what are LEGO VIP Points? While the name sounds exclusive, I'm going to share with you everything you need to know about the LEGO VIP program and how you can join today.
So let's get started.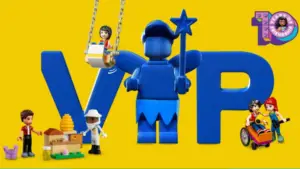 What Is LEGO VIP Program?
LEGO VIP is LEGO's loyalty program which rewards customers for buying LEGO products through the LEGO shop, for following the company's social media accounts, or for completing simple surveys.
It allows LEGO customers to earn points (VIP Points) and redeem those points to unlock discounts, exclusive sets, promos, and more.
What Are LEGO VIP Points?
VIP points are points earned through the LEGO VIP program and occasionally offer bonuses like discounts, early access to certain LEGO sets, special shopping events, or double points promotions.
How Do I Use VIP Points?
You can use your VIP points on discounts for future purchases, exclusive items and sets, digital products available for sale on the LEGO website, and any other LEGO product.
You can also use your VIP points to purchase tickets to LEGO events and experience and enter VIP-exclusive sweepstakes. However, LEGO is constantly adding new rewards, which you can find by visiting the VIP Center to see what's available.
However, there are few exceptions to spending the VIP points, which include:
You can't spend points when you shop for LEGO products elsewhere which include certified LEGO shops and stores at LEGOLAND parks and LEGOLAND discovery centers.

The LEGO VIP program is not available in mainland China, so you can not spend your points at LEGO flagship stores there.
Benefits Of The LEGO VIP Program
Below are some of the benefits of the LEGO VIP program:
Earn 1 VIP point for every $1 you spend

You get access to exclusive member-only gifts

Be among the first to purchase exclusive and hard to find LEGO sets before anyone else

You can take advantage of special bonuses and double point offers

Invitation to member-only LEGO store events
Read Also: Top 10 Best LEGO Friends Sets 
Do LEGO VIP Points Expire?
Yes, LEGO points will expire after 18 months without redeeming them on the LEGO website or LEGO stores. So you have to redeem your points within 18 months of your previous purchase, or else you'll lose them.
However, you'll get notified before the points expire so that you can have the chance to spend them before they do.
How Many LEGO VIP Points Equal Dollar?
6.5 LEGO points equal 1 dollar. However, the amount of VIP points you earn will depend on your region and the currency you're shopping in. 
For example, if you're in the US and want to send LEGO toys to another country like Canada, you'll be charged and earn VIP points on the order amount in CAD (1 CAD equals 5 points).
What Are 4000 LEGO VIP Points Worth?
4000 LEGO VIP points are worth $615.38. However, the value of VIP points depends on how they are redeemed since there are a variety of rewards. And it isn't easy to value a lot of the rewards since they're mostly digital and don't have a monetary value.
What Are The Benefits of The LEGO VIP Program?
Just like any other loyalty program, the LEGO VIP program rewards you with points every time you make a purchase from LEGO.
Once you have accumulated enough VIP points, you can redeem your points for coupons and other rewards available in the reward center.
However, the rewards usually change constantly, and physical products are always on a first-come, first-serve basis, so it can be a good idea to be checking the rewards page very often so that you don't miss any particular reward.
Additionally, the LEGO VIP program provides you with early access to specific sets and hard-to-find sets before they are available for purchase by non-VIP customers. This can be a great advantage considering how quickly popular sets sell and is an excellent way to get your foot in the door early.
The VIP program also lets you add free add-on items and sets when purchasing specific products, which can help ensure that you get the most out of your money.
So at the very least, the LEGO VIP program can save you a decent amount of money on your LEGO purchases. 
How To Join The LEGO VIP Program?
To join the LEGO VIP program, you simply visit the LEGO VIP page and click on "join," and follow the usual account creation method. Once registered, LEGO will send you a welcome email and your digital VIP card.
Alternatively, you can sign up via phone by contacting LEGO customer service, provide your details, and they'll send a welcome email with instructions for registering your account. You'll need to complete the registration process in order to receive and start using your digital VIP card.
Additionally, you can also sign up by visiting the LEGO physical stores and asking one of their Brick Specialists to sign you up. Similarly, you'll also receive a welcome email and instructions to complete your registration to get your new digital card.
Read Also: Best LEGO Sets for 4 Year Olds 
How Can You Earn LEGO VIP Points?
There are various ways in which you can earn LEGO VIP points which includes:
Purchasing from LEGO.com and LEGO stores

Filling out surveys

Watching videos

Visiting LEGO's Facebook page

Referring your friend to the VIP program

And more
However, there are few exceptions to earning LEGO VIP points which include:
You can't earn points when you buy LEGO gift cards

You won't earn points for purchases made outside of LEGO's owned official stores like LEGOLAND and Amazon

The program is not currently available in China Mainland, and you'll not earn points at LEGO flagship stores there
You can read the LEGO VIP program's terms to learn more about their terms and conditions.
Read Also: Why Are LEGO Sets Expensive?
How Much Are LEGO VIP Points Worth?
You get 6.5 points for each $1 you spend on official LEGO stores. The rewards have a flexible structure which makes it easier to redeem VIP points anytime or save for something big. You'll get at least 5% VIP points for discounts on your subsequent purchases.
How To Get A Physical LEGO VIP Card
Your physical LEGO VIP card will be sent to your home address by mail within forty days after you sign up for the LEGO VIP program.
Additional you can also pick it up in an official LEGO store.
What Is LEGO VIP Black Card?
LEGO VIP black card is a special VIP card given to customers who purchased 75192 UCS Millennium Falcon the first few months that it was available after its release. 
Do You Need To Pay For LEGO VIP?
No, joining the LEGO VIP program is completely free, and there are no sign up fees or subscription charges. The VIP card is also free; redeeming points are also free. You just need to purchase LEGO products or complete some tasks to earn points.
Can You Merge LEGO VIP Accounts?
No, you can not merge LEGO VIP accounts. According to the terms and conditions of the LEGO VIP program, You can only have one VIP account in your legal name. 
However, if LEGO discovers that you have multiple VIP accounts, they will cancel the account with the lowest amount of points and transfer the accumulated points into the other account. 
Read Also: Where To Buy Retired LEGO Sets