Last Updated on December 21, 2022 by Lisa D. Marsh
Are you looking for the best way to store LEGO sets? LEGO sets can take up a bit of storage space and it is best to find the best storage idea for your set.
Keeping LEGO pieces especially those smaller pieces can be a daunting task and overwhelming especially if you have several of them in your house.
So in this article, I'm going to show you where to store your LEGO sets, the best way to sort your LEGO bricks, things to consider when storing your LEGO sets, and other things you should know.
Let's dive in.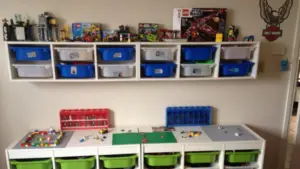 Things To Consider When Storing LEGO Sets
The best LEGO storage idea will depend on many factors such as your collection size (whether it's small or huge), how your sets are organized, and the storage space available in your house.
Below are some of the things to consider when deciding the best storage idea for your LEGOs:
Do you need a quick and easy to clean storage space? Storage bags will occupy less space and are easier to move around than storage boxes. So you should consider whether you will be storing them in your room or other places in your house.

Do you need a storage unit that will allow your kids to sit and play with their sets? A multipurpose option like a LEGO table can be a good choice for this purpose.

Do you or your kids often leave the LEGO pieces intact after you're done building? You can consider a storage solution that will also act as a display.

Do you have different sizes of LEGO elements that must be separated and stored? Are you storing your pieces by type, size, or by LEGO set? A LEGO storage solution with different compartments (like drawers) can be the best option for this.

Do you have kids, babies, and pets that can damage your LEGO sets? A heavy-duty and high-quality drawer or storage bin can keep your pieces safe and protect them from damage.
Where To Store LEGO Sets – Best Ways!
You don't need a fancy storage system to store your LEGO sets and keep them organized. And you likely have some local storage systems at home which you can improvise to store your LEGO sets.
However, if you're looking for a specific system to keep your bricks tidy, there are several options to choose from, but it is important to make sure that you nominate a play area as well.
Just like a creative building, there are so many ways to sort and store your LEGO collection and there's no right or wrong way to do that so you should find the way that best works for you.
Additionally, when storing your LEGO bricks, it is recommended to store them somewhere that is dry and away from any heat source. Storing your LEGO bricks in direct sunlight or where the temperature exceeds 104°F (40°C) may cause them to brittle or discolor over time.
Read Also: 10 Best Ways to Display LEGO Sets
7 Best Ways To Store Your LEGO Bricks
1. Clear storage bins
Storage bins are a good way to store your LEGO bricks and work much the same way as drawers. You can have an individual bin for each set, brick type, or color.
2. Tool or craft boxes
A tool or craft box can be a simple and portable solution to keep your LEGO bricks. A smaller plastic toolbox can be a great idea for storing smaller collections which you can even carry around or take with you when travelling.
3. Sandwich bags
If you're looking for a decent block storage solution for your LEGO pieces, a ziplock sandwich bag is a handy and portable way to store your LEGO bricks.
4. Plastic drawer systems
Plastic drawer systems have become a popular choice for storing LEGO elements. You can store and sort your LEGO bricks based on their size, type, shape, etc. depending on the size of your drawer and the size of your collection.
Plastic drawers are a more sturdy LEGO storage option than toolboxes and cardboard containers.
5. LEGO Storage Cases
LEGO storage cases are a great way to store plenty of LEGO bricks and sets. You can store all your bricks and pieces together creatively and playfully in a LEGO storage box.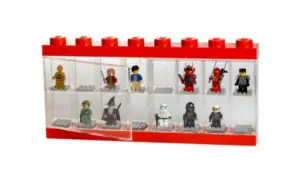 6. Minifigure Display Cases
Minifigure display cases are an attractive way to display your favorite collectible Minifigures and keep them perfectly posed. They are very sturdy and suitable for display on a flat surface and wall mounting.
7. LEGO Table With Storage
If you want a storage solution that includes a place for kids to play and build their LEGO sets, a LEGO storage with table can be a good choice. 
Best Way To Store Unbuilt LEGO Sets
There are many options for storing unbuilt LEGO sets, and sometimes a ziplock bag is all you need, but there are many options as well.
A storage bin is probably the best way to store and keep unbuilt LEGO sets individually together. You can store your sets upright in their original boxes, or put them in a ziplock bag if you don't have the original box.
3 Best Ways To Store LEGO Instruction Manuals
It is best to store your instruction manuals in great condition because there's nothing worse than missing manuals, bent or missing pages.
Below are some of the best ways you can safely store your LEGO instructions:
Binder with plastic sleeves

Drawer or tub

Magazine holder
Ways To Store LEGO Minifigures
If you have a large collection of Minifigures that you aren't playing with or want to display, here are some cool ways to store and display them:
Minifigure display cases

Square Minifigure display frame

Leveled display case

Redbrick display case

Wooden display shelf
How Do You Organize LEGO Sets?
You can organize your LEGO sets together by sorting them by type. But you shouldn't combine bricks of the same color, instead, put bricks of the same type together.
This is because it will be easier to find a red 1×2 brick in a bin with all 1×2 bricks of all colors than in a bin with red bricks of different types.
How to Store & Organize LEGO Sets
Final Thoughts – Where To Store LEGO sets
There are many ways to store LEGO sets depending on your requirements. But you should always consider your collection size, available space, the type of storage system you need, and whether you need quick and easy access to your sets.
Some of the best ways for storing LEGO sets include:
Clear storage bins

Tool or craft boxes

Sandwich bags

Plastic drawers

LEGO storage cases

Minifigure display case

LEGO table with storage
What do you think about this article? Let me know in the comments and don't forget to share it with your friends.