Last Updated on December 14, 2022 by Lisa D. Marsh
LEGO sets are currently the most popular toys and are great at developing essential skills such as problem-solving skills, imagination, decision making, teamwork, communication skills, and creativity among others.
LEGO has been releasing sets since 1967 there are thousands of LEGO sets out there, and dozens are constantly released each year.
This article shares the top 5 most popular LEGO sets of all time and answers important questions about the most popular LEGO sets to give you a solid understanding.
Let's dive in.
The Top 5 Most Popular LEGO Sets of All Time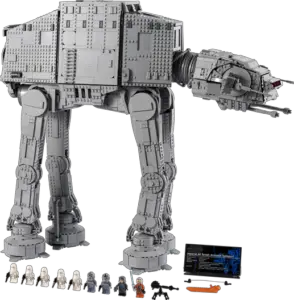 Star Wars sets are among the best and most popular LEGO sets out there.
The 75313 AT-AT is currently the most popular LEGO set available and the second-largest Star Wars set. It was released on November 26, 2021, and includes 6,785 pieces and 9 Minifigures.
The set is always out of stock and constantly sells out within hours after restocking.  It features posable legs and head, cannons with a realistic recoil action, rotating cannons, a bomb-drop hatch, and a hook to attach to Luke Skywalker's line, just like in the Battle of Hoth.
This collectible LEGO Star Wars set for adults makes a special gift for yourself, Star Wars fans, and any advanced LEGO builder, and comes with clear instructions so you can enjoy every step of the immersive and challenging build.
The set allows the player to construct some of the most iconic characters and equipment. It is thrilling and requires concentration and unleashing of your full creativity.
The equipment and characters are massive, and you can keep playing for hours. Players have definite goals, and the step-by-step successes make the game engaging. The most important thing is that it is fun to play. If you don't already have the set, consider acquiring one.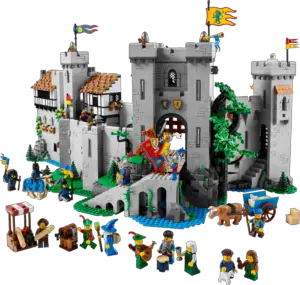 This set has about 4 514 pieces and is the largest Castle set ever released and one of the biggest LEGO sets. It comprises mini-figures, items, VIP points, pieces, and ages. 
It was released in August 2022 and ranked at number 65 of the most owned set despite being a few days old since its release. It is popular because of its design and its big size. 
The 10305 Lion Knights' castle is a monumental challenge that will unleash your creativity and keep you thrilled in the step-by-step construction of the castle.
Construction of each unique room, wall, floor, and staircase is fun and provides you with ultimate satisfaction as each part of the castle takes shape. It is an engaging game for children and adults, and its greatest beauty is that you can play as a group. Playing with this set is challenging and fun.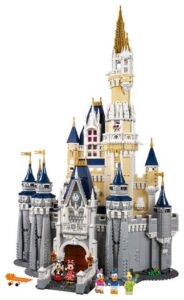 The 71040 Disney castle has 4,080 pieces that allow you to reconstruct the Disney castle in Walt Disney World. It was designed to capture the most iconic building in Disney land and provide a fun experience that can only be equated to being in a real castle. 
The set was released in 2016 and is a great motivation and an ultimate goal that keeps you glued to the game. 
The detailed rooms make it not so obvious to crack and give you the thrill as you construct and decorate each part. It will take time to build the castle, but you will have fun.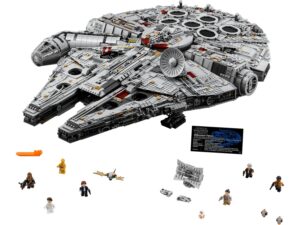 The Millennium Falcon of Star Wars is a unique set that has 7541 pieces and is adapted from the Star Wars film series. It involves the construction of an iconic spaceship. It was released in September 2007. 
There are many versions of the 75192 Millenium Falcon set due to its popularity as it recreates scenes in the Star War film. Unlike the construction of castles, the spaceship is more challenging and requires creativity and the ability to follow the instructions to the letter. 
The beauty of this LEGO set is that it allows you to achieve smaller goals by constructing parts of the spaceship and joining them together to build the ultimate wonder. It has mini figures that make the final result realistic and beautiful. Science fiction lovers will be thrilled by this set. 
The galaxy explorer is a set that several generations have used to create ultimate fun. It is one of the sets that LEGO lovers will remember from their childhood. Its original version was made in 1979, and you must have been a lucky child to have owned one then. 
The current version was released in August 2022 and is popular because it was made to commemorate the 90th anniversary of the company. 
The set is frequently out of stock, and you should grab an opportunity to purchase it if you are lucky to find it in stock. It will give you the ultimate thrill of being a space explorer.  
What Is the Most Popular LEGO Set Ever?
LEGO Star Wars 75313 is the most popular LEGO set of all time. 
What Is the Most Popular LEGO Set 2020?
LEGO Ideas 21322 Pirates of Barracuda Bay was the most popular LEGO set in 2020. 
The set includes 2,545 pieces, and 8 Minifigures and allows fans to rekindle nostalgic memories of childhood LEGO construction projects.
It was inspired by real-life action heroes, iconic movies, popular TV series, or totally original concepts and can be built and played with or displayed.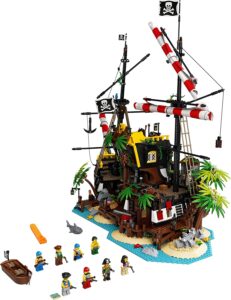 What is the most popular LEGO set in 2021? 
The Star Wars 75313 AT-AT was the most popular in 2021.
What is the most popular LEGO set in 2022?
LEGO ICONS 10305 Lion Knights' Castle is currently the most popular, but things could change before the end of the year
Which LEGO Set Is the Most Popular for Girls?
LEGO Friends sets are more popular among girls. The sets are primarily designed for girls and depict scenes from a suburban life set including houses, hobbies, cars, and favorite places for the characters to spend their free time in the fictional town of Heartlake City.