Last Updated on February 7, 2022 by Lisa D. Marsh
Do you have old or worn-out LEGO bricks that are not suitable to play with and are deciding what to do with them?
Maybe you don't want to dispose of your old LEGO bricks and are thinking of recycling them but don't know if they are recyclable. 
So are LEGO bricks recyclable?
There have been some misconceptions about whether LEGO bricks are recyclable or not. But According to LEGO, you can recycle your LEGO bricks with the rest of the plastics in your household if they have worn out and are no longer suitable to play with. So this statement confirms that LEGO bricks can be recycled along with other plastics.
However, LEGO has recommended donating your old LEGO bricks to someone else or a local charity shop, school, or nurseries.
LEGO also has a recycling program called LEGO Replay which is an initiative that seeks to reuse old LEGO bricks and to help you donate bricks to kids in need (more on this later).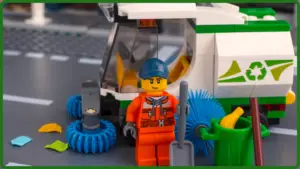 Now that you have an idea about whether LEGO bricks are recyclable or not, I'm going to show you how to recycle your old LEGO bricks, shed more light about the LEGO Replay program, and other things you should know about recycling LEGO bricks.
So let's get started.
How Do You Dispose Of Old LEGO Bricks?
Sell
Instead of disposing of your old LEGO bricks, you can make extra cash by selling them on marketplaces like BrickLink, eBay, Brickowl, and other places. Although their worth will depend on their quality and demand on the market.
You can also gift it out to a family member or a friend who has a kid that you use them.
Another option is to donate them via the LEGO Replay program where they will sort and clean them and then donate them to Teach for America or Boys & Girls Clubs of Boston.
How To Recycle LEGO Bricks – LEGO Replay
Follow the following steps to send over your LEGO bricks to LEGO for donation and recycling:
Head to the LEGO Replay website

Print a free mailing label

Box up the unwanted LEGO bricks 

Get them to your closest post office 

The bricks will be sent out to the LEGO company

That's it
Alternatively, you can also visit any LEGO store to get a free shipping label or just drop them there.
The bricks will then be cleaned and donated to Teach for America or Boys & Girls Clubs of Boston, non-profit organizations that will donate them to classrooms across the United States.
Bricks that don't meet LEGO standards after being molded will be thrown away. However, they sometimes grind them down to make some new pieces, while bricks that can't be ground and reused will be used to generate power in LEGO facilities.
Also, when LEGO makes too many bricks of one kind, they donate them to charities all over the world through the LEGO foundation.
Additionally, other organizations such as Brick Recycler accept old or mismatched LEGO bricks, sort and clean them up, and then send them to persons in need such as charities, schools, and hospitals.
Are LEGO Boxes Recyclable
Yes, LEGO boxes are recyclable. According to the LEGO sustainability program, all the cardboard and paper used in LEGO product packaging is recyclable, and about 75% of the cardboard used to make LEGO boxes comes from recycled material. 
Additionally, in 2019, LEGO boxes in the US and Canada featured a How2Recycle label. This was to promote package recycling and provide their US and Canadian customers with clear guidance on how to responsibly recycle or dispose of their LEGO packaging.
Are LEGO Bags Recyclable?
Yes LEGO plastic bags are recyclable and are accepted by recycling services like Trex Recycling, Whole Foods, and other municipal recycling programs.
However, the LEGO group is optimizing for efficiency and dependability and is reportedly moving to paper bags. They will begin testing paper bags in LEGO boxes to eliminate the single-use of plastics and begin using bags that can be thrown into the recycling bin.
According to LEGO sustainable packaging, the test paper bags will be designed to help children understand the importance of recycling and to also ensure that they have the best possible play experience.
Can You Put LEGO In The Recycling Bin?
Though LEGO recommends recycling your old bricks with the rest of the plastics in your household, it is not a good idea to put LEGO in the recycling bin unless your recycling service accepts LEGO bricks.
Instead, you can send the bricks to LEGO for recycling through their Replay program, gift them away, or donate it to schools, hospitals, and charities.
Can LEGO Packaging Be Recycled?
Yes, LEGO packaging can be recycled. All of the materials;  paper and cardboard used in LEGO product packaging comes from recycled materials.
Are LEGO Instructions Recyclable
Yes LEGO instructions are recyclable. They are printed on high-quality, glossy paper which is recyclable and can go in the recycle bin. However, it is not a good idea to recycle your LEGO instructions because you might need them in the future or when you want to rebuild, give away, or sell your LEGO set.
Final Thoughts – Are LEGO Bricks Recyclable?
There are different ways in which you can recycle your LEGO bricks. You can gift it away to a friend or family, sell it, donate, or recycle them through the LEGO Replay program. You can also recycle your LEGO bricks along with the rest of the plastics in your household. 
LEGO bags and instructions are also recyclable and the cardboard and paper used in LEGO product packaging come from recycled materials.