Last Updated on January 8, 2023 by Lisa D. Marsh
Since its launch in 2012, the LEGO Friends theme has become one of LEGO's biggest successes and has widened LEGO's customer base within the girl's sector.
Despite receiving criticism regarding its representation of girls and their interests, LEGO Friends is among the most popular LEGO sets and has been regularly listed among one of the best-selling LEGO themes.
In this article, we answered 15 important questions about LEGO Friends to help you have a solid understanding of LEGO Friends and clear any doubt you might have about the Friends theme.
Let's Dive in.
What Is LEGO Friends?
LEGO Friends theme is a series of LEGO construction toys that are primarily designed for girls. The Friends theme introduced five Minifigures which are about the same as traditional LEGO Figures but are more detailed and realistic.
The theme depicts scenes from a suburban life set including houses, hobbies, cars, and favorite places for the characters to spend their free time in a fictional town of Heartlake City. 
What Are the Names of the LEGO Friends?
The names of the five LEGO Friends are Andrea, Olivia, Stephanie, Mia, and Emma. The LEGO Friends characters are curious, caring, hard-working, independent, and passionate about science, music, sport, nature, and art. Each character has different has her own pet and a personality that sparks your child's creativity and imagination.
The personalities of the Friends characters are:
Andrea:

Confident and charismatic singer

who loves to perform. Has a pet bird called Pepper and loves being the center of attention and dreams of becoming a celebrity and a great singer of all time.
Emma:

Creative and imaginative

. She expresses herself through art and has a pet cat called Chico. She is the silliest of the group, is shown to be smart, and loves cheese a lot.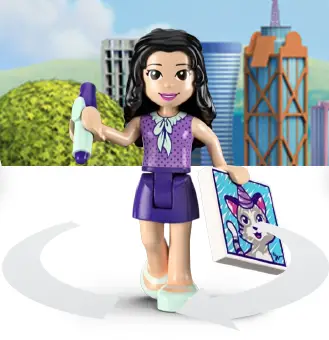 Mia:

An

animal lover

who enjoys being outdoors and has a pet Rabbit called Twister. She loves being sarcastic and doing anything to protect the wilderness.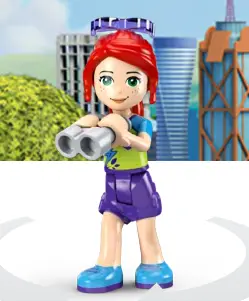 Olivia:

A curious character with a

passion for science

and has a pet hamster called Rumble. She is the smartest in the group and usually stays with the robot thingy that Olivia built for her.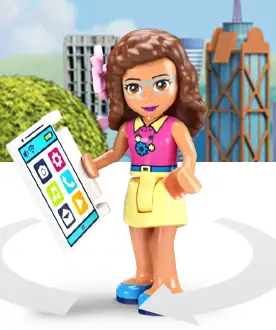 Stephanie:

 A sporty and the

most competitive

character in the group and has a pet dog called Dash. She loves health and fitness and will turn anything into a competition.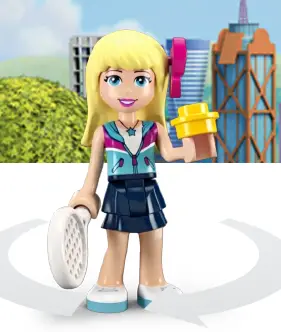 Can You Buy LEGO Friends Figures Separately?
Yes, you can order LEGO Friends Figures separately from the Bricks & Pieces section of the LEGO website, on Amazon, eBay, BrickLink, BrickOwl, Target, and many other places that sell LEGO products.
How Many LEGO Friends Sets Are There?
There are currently 58 LEGO Friends sets out there, with the first 14 sets released in January 2012 including Olivia's House #3315, City Park Cafe #3061, Heartlake Vet #3188, Andrea's Stage #3932, Heartlake Dog Show #3942, and others.
How Old Are LEGO Friends Characters?
Olivia is 16 years, Liz is around 8 years old, and Daniel is in his late teens or early 20s.
How Many LEGO Friends Are There?
There are five LEGO Friends; Andrea, Emma, Mia, Olivia, and Stephanie – as unique as the world they live in. They're curious and independent, hard-working, caring, and passionate about music, science, sport, nature, and art.
What Is Hlc in LEGO Friends?
HLC means "Heartlake City", a fictional town and the home of all the LEGO Friends characters and places and has many features that are made into sets.
Why Did LEGO Friends Change?
The LEGO Friends were changed in response to feedback from children to make the characters more diverse in their appearance, add more depth to their personalities, and make even more engaging and relevant experiences for children.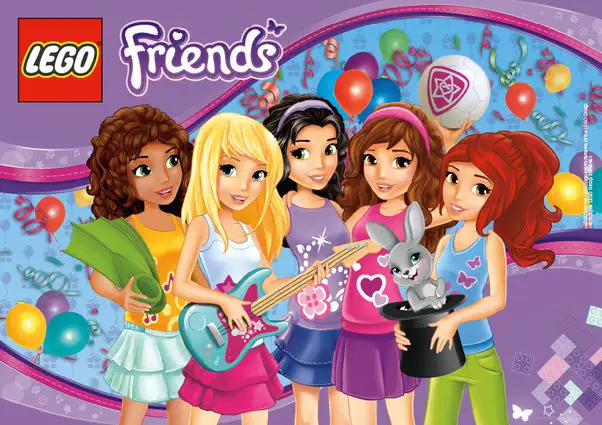 Are LEGO Friends Compatible with Regular Legos?
Yes, LEGO Freinds sets and Minifigures are fully compatible with other LEGO sets and you can easily play with them alongside other sets.
How Much Does LEGO Friends Cost?
The LEGO Friends price ranges from $9.99 to $149.99 with Forest Waterfall being the cheapest and Main Street Building the most expensive currently available.
How Much Does the LEGO Friends Grand Hotel Cost?
The LEGO Friends 41101 Heartlake Grand Hotel Building Kit costs $388.98 on Amazon while the Heartlake City Grand Hotel 41684 costs $99.99 on the LEGO website and Amazon.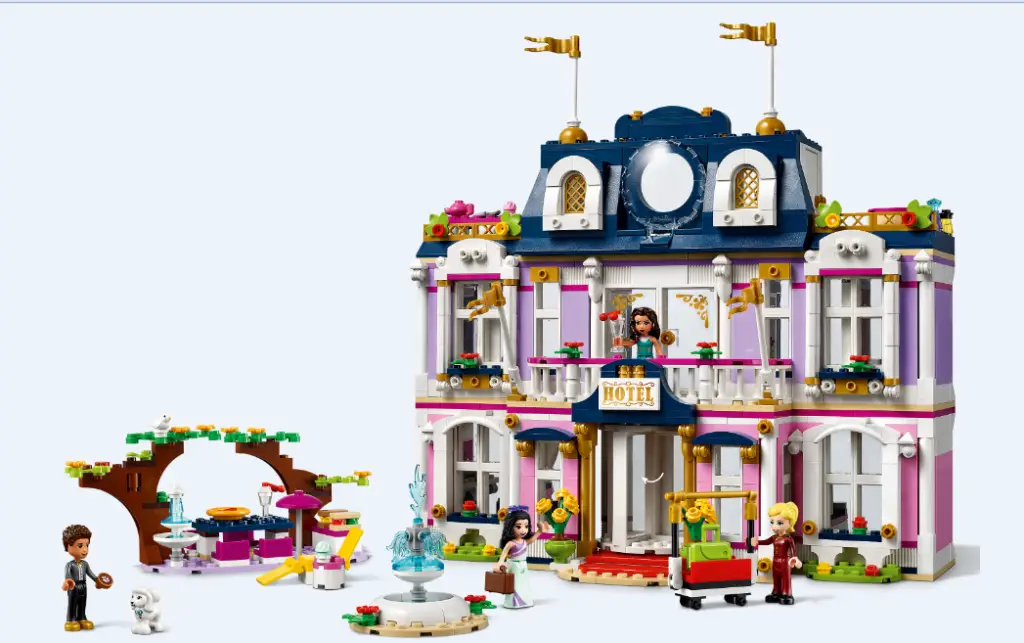 What Age Is LEGO Friends Suitable For?
The LEGO friends sets are for kids aged between 6 to 12 years.
What Happened to LEGO Friends?
The LEGO Friends characters were physically changed in 2018 in response to feedback from children and to make the sets even more engaging and relevant experiences for children.
What Are the LEGO Friends Pets Names?
The LEGO Friends pet names are:
Andrea's bird:

Pepper

Emma's Cat:

Chico

Mia's Rabbit:

Twister

Olivia's hamster:

Rumble

Stephanie's Dog:

Dash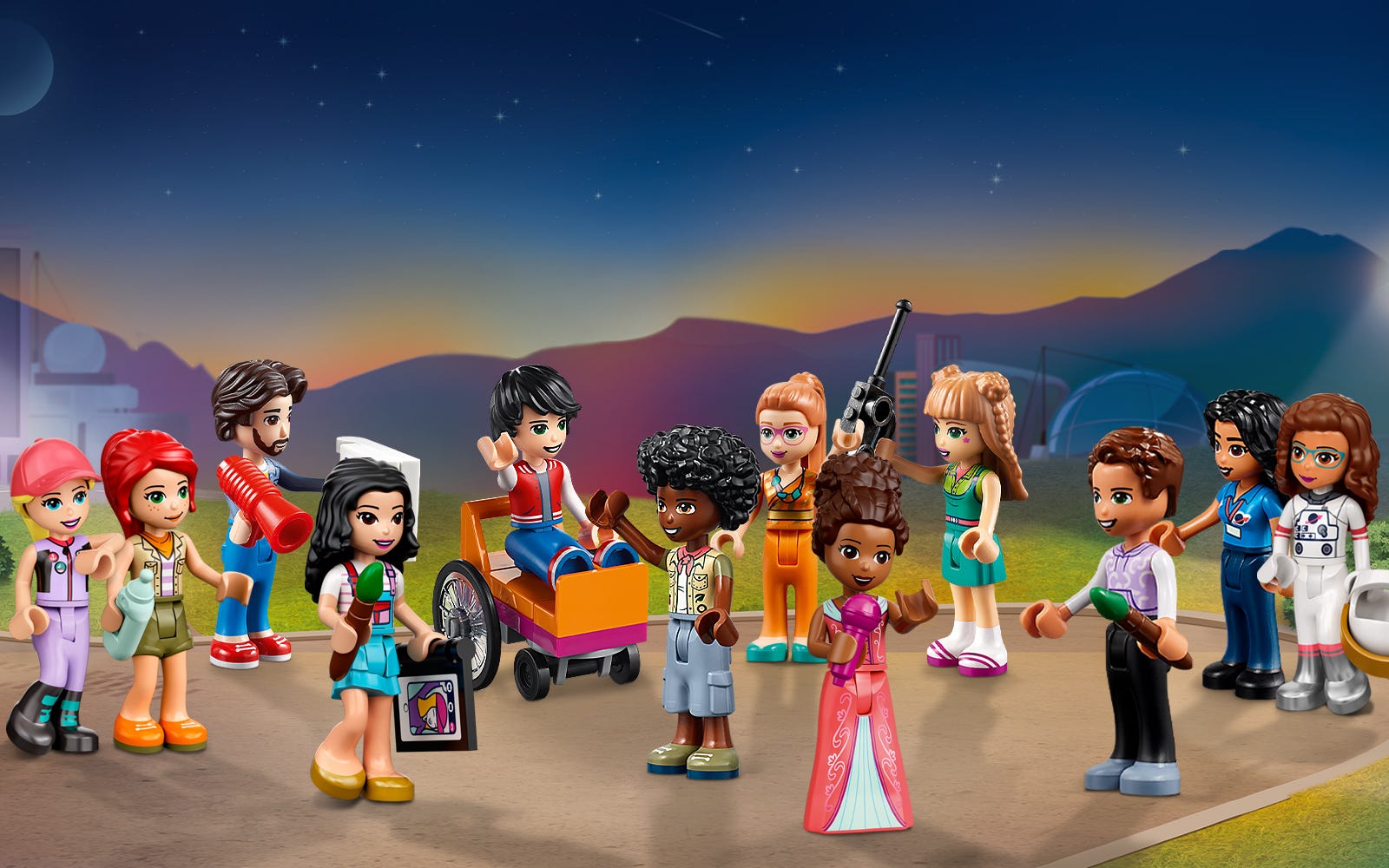 Do Lego Friends Hair Pieces Fit on LEGO Minifigures?
Yes, LEGO Friends hair pieces and other head-gear accessories can fit on regular LEGO Minifigures.
Do Regular Base Plates Work with LEGO Friends?
No, regular LEGO baseplates are not compatible with LEGO friends.
How Tall Are LEGO Friends Minifigures?
LEGO Minifigures are usually 4cm/1.5 inches tall.
What Age Is LEGO Friends TV Show Suitable For?
The LEGO Friends TV show is suitable for children 6 years up. 
What Is LEGO Friends Brickmaster?
The LEGO Friends Brickmaster is an entertaining book that is packed with exciting stories and clear building instructions. The book features more than 100 bricks and two Minifigures and allows children to create an adventure of their very own or follow Mia and Chloe as they search for buried treasure hidden somewhere in Heartlake city.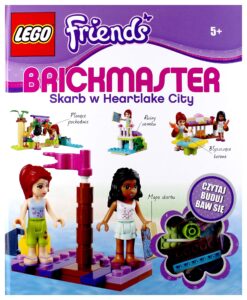 What Is the Difference between LEGO and LEGO Friends?
There's no difference between LEGO and LEGO Friends. The Friends is a LEGO theme with various sets designed primarily for girls.
What Is the Most Famous LEGO Friends Character?
Mia is the most popular LEGO Friends character and has appeared in most of the LEGO Friends sets.
Are All LEGO Friends Girls?
Yes, all the five main LEGO Friends characters are girls.
Are LEGO Friends Compatible with Duplo?
No, LEGO friends and all LEGO bricks are not compatible with Duplo. Although some LEGO parts can fit together with Duplo parts but with limitations.
Why Are LEGO Friends Minifigures Different?
LEGO Friends Minifigures are different because they are a specialty set and the characters have different personalities designed to spark children's imagination and creativity.
What Font Is Used for LEGO Friends?
The LEGO Friends' fonts closely resemble the following fonts: Nabana Shadow Blur Bold by Alifin art Studio, Krimhilde A Display Shadow Bold by FDI, Kush Shade by Our House Graphics, Nabana Shadow Blur Bold Italic by Alifin art Studio, and Bushy Shadow by VladB.
How Do You Feed the Turtle in LEGO Friends?
To feed the Turtle, you need to give him a bone. To get the bone, you have to go to the main street and find a snack machine. Just stand on the circle and it will give you the bone, you then go back to the turtle, and in the bottom right-hand corner click that button in front of the turtle, and there you go.
Where Can I Watch LEGO Friends on a Mission?
You can watch LEGO Friends on a Mission on Netflix, Amazon Prime, JustWatch, Showmax, Roku, TVguide, and other popular movie streaming platforms.