Last Updated on November 27, 2022 by Lisa D. Marsh
LEGO Dimensions was one of the most popular LEGO video games and come with an array of features and Minifigures from different franchises.
This article goes over the game and outlines 15 answers you should know about the game.
Let's dive in.
What Is LEGO Dimensions?
LEGO Dimensions is a LEGO-themed action-adventure platform crossover video game that features levels from different themes such as Super Heroes and Ninjago as well as levels that merge all the themes together.
The game was developed for the PlayStation 4, PlayStation 3, Wii U, Xbox One, and Xbox 360 and follows the toys-to-life format, in that players have LEGO figures and a toy pad that can be played within the game itself where it features characters and environments from over 30 different franchises.
The game allows you to play with different Minifigures from different worlds, use each other's vehicles and gadgets in a way never possible before, and team up with unlikely aliases as you journey through unexpected worlds on the quest to defeat the evil Lord Vortech.
LEGO Dimensions includes sets of releases with the first release started in September 2015 and included characters and builds from:
The LEGO Movie

The Lord of the Rings

DC Comics

Ghostbusters

The Simpsons

Ninjago

Scooby-Doo

Back to the Future

Legends of Chima

Jurassic World

The Wizard of OZ

Doctor Who

Portal 2, and 

Midway Arcade.
The second set of releases started in September 2016 and introduced another 16 franchises including:
Harry Potter, Ghostbusters 2016

The LEGO Batman Movie

Teen Titans Go!

Fantastic Beasts and Where to Find Them

LEGO City Undercover

Adventure Time

Sonic the Hedgehog

The Goonies

Mission Impossible

E.T. the Extra-Terrestrial

Gremlins

Beetlejuice

The A-Team

Powerpuff Girls, and 

Knight Rider.
How Does LEGO Dimensions Work?
LEGO Dimensions feature the same style of gameplay as previous LEGO Video games developed by Traveller's Tales, and up to two players can control LEGO Minifigures based on various franchises.
The game is essentially a unique experience within the LEGO universe and the characters you play as within the game are actual LEGO Minifigures that you construct and beam into the game via the portal.
Characters are entered into the game by placing their respective Minifigures onto a USB toy pad, and the Minifigures have an NFC tag in the base which is recognized by the portal which activates the character in the game.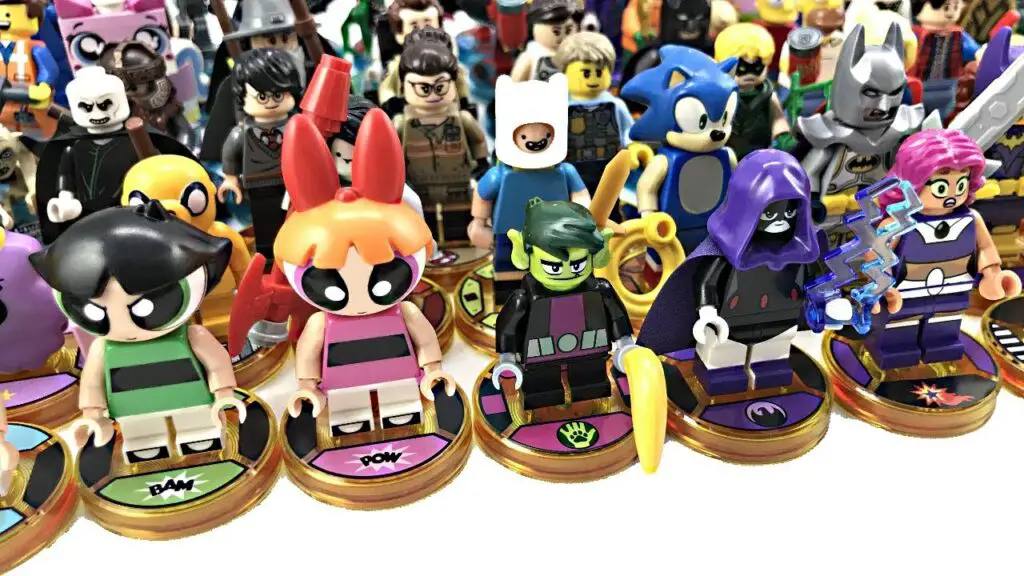 Each character possessed unique abilities that can be used to solve puzzles or reach hidden areas and players progress through linear levels, using their characters' abilities to solve puzzles, defeat enemies, and attempt to reach the level's end.
Using a character from a certain franchise also unlocks that franchise's Adventure World, which is an open-world area for players to explore and complete in-game objectives.
When Did LEGO Dimensions Come Out?
LEGO Dimensions was released on September 27, 2015, in North America and on September 29, 2015, in the European Union. 
What Do You Need for LEGO Dimensions?
You'll need a Starter Pack to play the game. Nothing will work without it.
This is different for every console and contains everything you need to get up and running including the game disc, Toy Pad, and all the parts, Minifigures, and Toy Tags needed to build the Gateway and start playing.
However, if you want the full game, you'll need the Starter Pack plus all three story packs, ten level packs, and 14 more team packs/fun packs to get access to every world that doesn't have its own level or has a level in the main game. 
Read: LEGO Dimensions Packs – Everything You Need to Know
Additionally, buying one set for all the 30 franchises may also not be enough as you'll also need to make sure that you have all the abilities necessary, and some of these abilities are not necessarily covered by all characters from a franchise. 
You don't need to buy all the characters to complete the game 100% as it comes down to having access to each of the 30 worlds using characters primarily from level packs.
Having all the abilities across the character also spreads to get every Minikit and citizen in peril in each level  (along with the stud total, but that's just collecting studs), and every gold brick (and stud total and red brick) in each world.
Are LEGO Dimensions Minifigures the Same?
No, LEGO Dimensions Minifigures are not the same. The game includes different Minifigures from various franchises each with its own unique abilities.
How Many LEGO Dimensions Characters Are There?
LEGO Dimensions has 78 characters:
Year 1 characters: 44

Year 2 characters: 34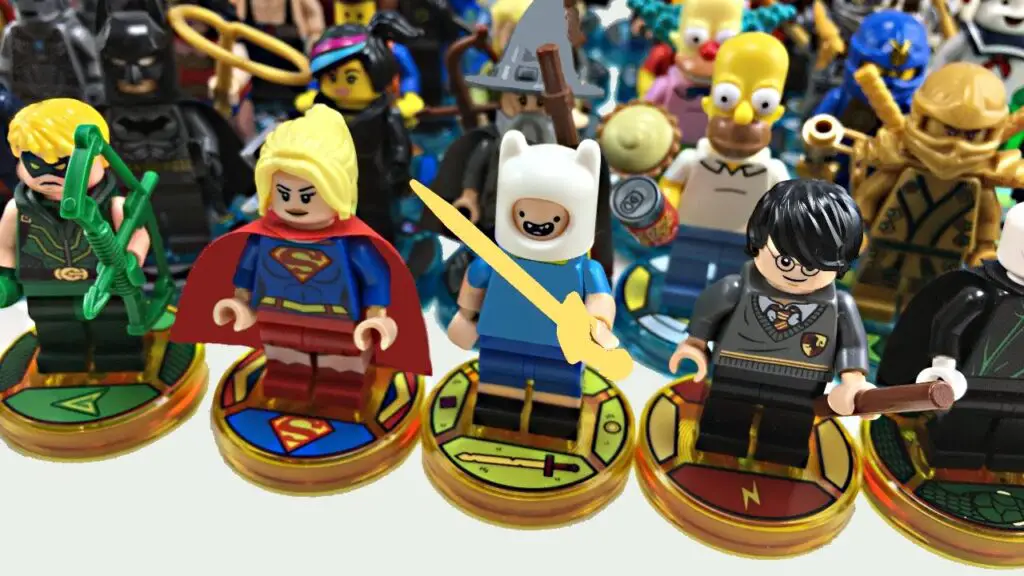 How Many Levels Are There in LEGO Dimensions?
LEGO Dimensions has 10 level packs:
Back to the Future Level Pack

Doctor Who Level Pack

Ghostbusters Level Pack

Midway Arcade Level Pack

Portal 2 Level Pack

The Simpsons Level Pack

Adventure Time Level Pack

Mission: Impossible Level Pack

Sonic the Hedgehog Level Pack

The Goonies Level Pack
Does LEGO Dimensions Still Work?
Yes, LEGO Dimensions still work but with no new expansion packs in development. This means that players are stuck with what they've got.
There is still ongoing server and customer support for all the  LEGO Dimensions packs and existing packs existing packs have continued to work interchangeably and remained available for purchase.
How Many Franchises Are in LEGO Dimensions?
There are 30 different franchises in the LEGO Dimensions game.
What Is the Toy Pad on LEGO Dimensions?
The Toy Pad allows you to bring any combination of up to 7 characters, vehicles, and /or gadgets into the game all at once. It lights up, flashes, and even changes color to give you clues as to where to go, what to look for, or how to solve a puzzle in-game. 
Players command the action – where and when the physical toys are moved on the Toy Pad will impact what happens in the game.
Why Is LEGO Dimensions So Expensive?
I'd assume it's generally due to branding, tech bundle, royalties, and the physical LEGO contents themselves.
Based on what you get, we can say it's a good deal. For example, given that the starter pack is also close to 300 pieces, and includes the actual portal baseplate unit and the game itself, the reasoning behind the price tag starts to appear.
Can You Play LEGO Dimensions Offline?
Yes, you can play the game offline. You just need an internet connection to download the content and you can play the game when not connected to the internet.
How Many Players Can Play LEGO Dimensions?
Up to two players can play the game at once and control LEGO Minifigures based on various represented franchises.
Does LEGO Dimensions Have Online Multiplayer?
No, LEGO Dimensions doesn't have online multiplayer, it only supports offline multiplayer via split screen.