Last Updated on January 8, 2023 by Lisa D. Marsh
If you're buying used LEGO sets on BrickLink, eBay, at garage sales, or in thrift stores, you may encounter that most of the bricks are dirty and will require cleaning.
LEGO sets can also get dirty when kept for a very long time which can be time-intensive getting your bricks back into looking good. So how to clean and dry LEGO bricks?
In this article, we are not only going to share with you how to clean LEGO sets, we are also going to share with you the best way to dry them and other things that you should know about cleaning LEGO sets.
So let's get started.
Things You Need For Cleaning and Drying LEGO Bricks
Brick Separator
You need to clean each individual LEGO piece separately. You can use LEGO's custom-made brick separator to separate the pieces together. 
Large Plastic Bin
Fill this bin with water and a decent amount of detergent, then put the LEGO bricks inside. It is advisable to use mild dish detergent and never use anything that contains bleach because it can damage the bricks.
Sponge or Soft Cloth
LEGO advises using either sponge or soft cloth to scrub each brick.
Small Plastic Bin or Mesh Bag
You can use this to wash bulk LEGO bricks in batches.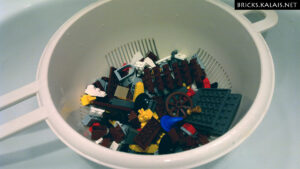 Towels
You can use as many towels as possible to spread out the bricks as they dry.
Fan
The fan is the best and fastest way to speed up the drying process. It is not recommended to subject your LEGO bricks to extreme heat or dry them with the oven, microwave, or hairdryer because they can damage the bricks.
Check our article on how to wash LEGO bricks to learn more about this process.
How To Dust Displayed LEGO Sets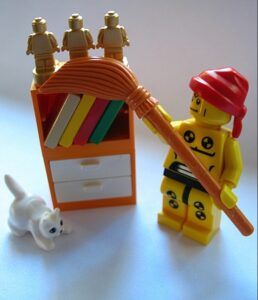 You can use small brushes to dust your displayed LEGO sets. They are easy for navigating through tight spaces as you clean off dust, and a cordless vacuum will help in finishing the job.
How To Restore Discolored LEGO Bricks
You can use safety glasses and latex dishwashing gloves for this purpose. They help protect you as you clean your dirty bricks in hydrogen peroxide.
You can do this by soaking the bricks in a 3% hydrogen peroxide solution for a few hours to revive certain colors that have dulled over time.
How To Clean LEGO Bricks
Cleaning LEGO bricks is quite simple and straightforward:
Use a sponge or soft cloth and a mild detergent, and rinse with clean water.

Use cold or lukewarm water and never use water that's hotter than 104°F or 40°C because hotter than that will damage the bricks.

Also refrain from putting them through a dishwasher, washing machine, oven, microwave, or hairdryer because they can damage the bricks.
How To Dry Bulk LEGO Bricks
Drain water from the bucket or container you washed your LEGO bricks in

Drain the water carefully and be careful and never let any brick slip into the tub or sink. You can drain the container by shaking and pouring again.

Get a big super absorbent towel and stay about two inches from the edges.

Take four corners of the towel and pull it upwards and make sure the bricks didn't spill out.

Carefully pull in both sides of the towel to enclose it around the LEGO bricks.

Shake it gently and firmly, ensuring no brick has fallen out.

By this time, the bottom of the towel will be very wet. So cover as much of the towel surface as you can.

Then get an electric fan, switch it on and set it up facing the towel. You can let oscillate but ensure that the breeze is hitting the entire bricks.

Leave the fan until the brick pieces are dry.

Sort it out and build up your set.
How Long Will This Process Take?
The process of cleaning and drying the LEGO bricks can take between 30 minutes to several hours, and sometimes up to 3 days depending on the number of your LEGO pieces.
What Is The Best Way To Dust LEGO Sets?
To dust off a custom or assembled LEGO creation, you can use a fine-haired brush like camel hair and use it to gently brush away the dust from around the crevices and studs.
You can also use a vacuum cleaner with a brush, but consider putting old nylon, a bit of cloth, or something similar in the vacuum pipe to catch small pieces that might slip.
Final Thoughts – How Do You Clean And Dry LEGO Bricks?
By now, you have an idea about how to clean and dry your LEGO bricks. Cleaning and drying LEGO pieces is pretty straightforward, however, the drying process can take up a long time depending on the number of pieces.
A small number of pieces will not take time, but large amounts can take several hours or even days in some cases.
I hope you like this article. Don't forget to share it with your friends.