Last Updated on November 29, 2022 by Lisa D. Marsh
So you're building an unofficial LEGO set and can't find all the pieces in the colors they are supposed to be. 
Maybe you have a uniquely shaped LEGO brick that you want to change the color but have no idea if LEGO bricks can be painted.
So can you paint LEGO bricks?
The answer is Yes, you can paint LEGO bricks, but the results may vary depending on the kind of paints and the method used. However, the painting is likely to wear off because LEGO bricks are colored throughout and not just surfaced colored.
But you don't need to panic because I'm going to share with you the kinds of paints that can work well on LEGO bricks, how to paint your LEGO bricks the proper way, and other important things you should know about painting LEGO bricks.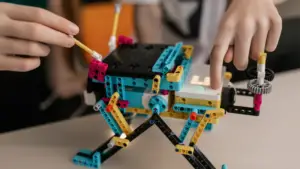 What Kind Of Paints Works On LEGO Pieces?
Finding the paints that stick and have the correct color can be tough when it comes to painting LEGO pieces. However, you will be mostly looking at enamel and/or acrylic paints.
Although either of them can be an option, acrylic paint is mainly used, and different painting techniques may be involved depending on the type of painting.
Both acrylic and enamel paints can work; you need to try and see what works best for you.
However, It is recommended to use water-based acrylic paints from brands such as Craft Smart, Apple Barrel, Lumiere, Games Workshop, and Folk Art. It is not recommended to use oil-based paints on your LEGO bricks.
Kind Of Paints To Use On LEGOs
Searching for paints that stick well and match your existing LEGO colors can be a tedious task. So I'll save you the trouble by giving you a list of paints we've found that work best.
Types Of Paint
Enamel and acrylic paints are probably the best and cheapest paints that stick with LEGO bricks.
Enamel: Sticks much better and usually look more polished but are usually thinner and hard to apply.
Acrylic: Usually thicker, easier to apply, but are more prone to wearing off.
Paintings
Below are some of the paints that have been used to match some LEGO colors; however, some of the paints are glossy because they were the ones that have been found for that color.
Black:

Any black paint can do
White:

Humbrol – White Matt (code #34) – enamel
Yellow:

Tamiya Color – Yellow (code XF-3) – acrylic Or
Humbrol – Yellow Gloss (code #69) – enamel
Green:

Humbrol – Emerald Green Gloss (code #2) – enamel
Blue:

Tamiya Colour – Sky Blue (code X-14) – acrylic
Orange:

Tamiya Color – Orange (code X-6) – acrylic
Red:

Humbrol – Scarlet Matt (code #60) – enamel
Lime:

Humbrol – Pastel Green Matt (code #36) – enamel

Tan:

Humbrol – Cream Matt (code #103) – enamel

Dark Gray:

Humbrol – Dark Slate Gray Matt (code #224) – acrylic (thick & difficult to apply evenly)

Light Gray:

Humbrol – Light Gray Matt (code #64) – enamel
Things To Note When Painting LEGO Bricks
Painting LEGO pieces is time-consuming and requires three coats at a minimum.

Keep the painting environment free from dust and hairs to prevent bumps from appearing in the painted pieces.

Paint in a well-ventilated area or room to avoid the headache and dizziness from the painting solvent.

Use spare bricks or stands to attach painted pieces

Enamel paints work better than acrylic

Spray paint can cause the paint to pool in the corners and crevices of the LEGO pieces. So it's not a good idea to use.

If spraying, mask off and protect the mating surfaces, but don't paint them.

Spray paint could add thickness to the brick and could interfere when you try to mate the brick up with others

Matching the original could be challenging, so don't expect it to be perfect

Most painting methods might not withstand abuse
Using clothing dye to change the color of LEGO bricks works for wear and tear and doesn't wear off because it dyes the pieces rather than coating them.

Acrylic paints are much easier to clean up but chip off pieces quickly.

Spraying large areas works better than using a brush.

A small airbrush works best for painting small LEGO pieces.

Enamel paints tend to get sticky when they react with certain plastics and stay sticky forever. You can use a primer first.

Vinyl dye spray paints are pretty cool and hold better than standard acrylic paints.

It is not a good idea to paint smooth surfaces by hand because you may get lots of torn paints, bumps, noticeable brush strokes, hair stuck in the paint, and lots of blemishes. Instead, consider using a spray can (for larger pieces) or a small airbrush (for smaller pieces).

The paint will scrape off no matter what, especially on studs if you're going to be connecting things to them. Although some decent sealant can protect the paint from everyday handling and help it last longer depending on how much abuse the pieces take.

Some areas will require sanding (enough) to prevent them from chipping.

Never expect the paint to last forever because toys aren't painted with the kinds of paints available over the counter.
How To Paint LEGO Bricks
Depending on the type of paint you're going to use, more layers may be required (enamel will require multiple layers). In some cases, you may need to apply a primer, and some people also like to use sealers after applying the paint.
Follow the steps below to paint your LEGO bricks:
Buy the paint color you plan to use

Clean and dry your LEGO bricks

Wear a protective mask when you're spraying because spray paints are highly volatile and contain volatile organic content

Work in an open area and away from sources of fire or flame

Cover the surface of the piece with a newspaper

Aim the nozzle of the spray can towards the pieces at a distance of 1 to 14 inches away from the parts.

Paint from side to side, sweeping from left to right and right to left until all the surface of the brick has been painted

Leave the brick for 5 to 10 minutes to dry

Turn the brick to the other side and repeat the above process
Effects Of Painting LEGO Bricks
Thickness: The paint will add a layer of thickness which can make the size of the brick thicker, making it difficult to plug into another piece. 

Scratching and Chipping: The pieces may eventually scratch after a bit of usage.

Bump and Sloppiness: 

Things might not be uniformed: Pieces might have different sorts of looks, and the painted pieces will not give the same shine as the original pieces
Read Also: How to Fix Peeled LEGO Stickers
Can LEGO Bricks Be Painted?
Yes, LEGO bricks can be painted, but the result will vary depending on the type of paint and the painting method used. Also, finding the correct color is complex, and acrylic and enamel paints work best when painting LEGO bricks.