Last Updated on July 30, 2022 by Lisa D. Marsh
Saturn V LEGO sets are created based on Saturn V, a super heavy-lift launch vehicle developed by NASA and used in the Apollo program during the 1960s and 1970s to take humans to the moon.
LEGO Saturn V sets are among the best LEGO sets ever built, and one of the best family sets where everyone can participate in the final goal, feel rewarded, and also learn something new.
This article outlines 15 important answers you should know about LEGO Saturn V sets so you can have a solid understanding and become a pro when it comes to Saturn V sets.
Let's dive in.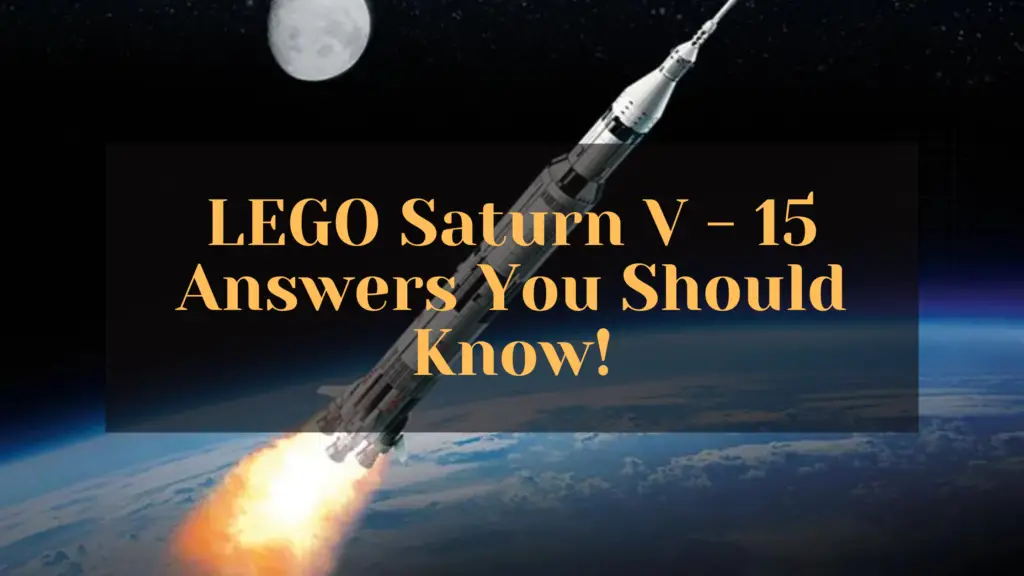 What LEGO Series is Saturn V?
LEGO Saturn V sets belong to the "LEGO Ideas" series, which allows you to come up with a fantastic idea for LEGO products and submit it to be turned into potential sets.
The LEGO Ideas series currently have about 40 sets produced, including the Saturn V sets and about 46 announced.
How Many Pieces are in the LEGO Saturn V?
The LEGO Saturn V set includes 1969 pieces.
Is Lego Re-Releasing the Saturn V?
Yes, LEGO has currently re-released the NASA Apollo Saturn V set, which is one of the best LEGO sets in decades. The newly reissued Saturn V set has a new number, "92176," which is just a formality because the first version has stopped production.
Otherwise, not much has changed, and everything remains the same, including the price, features, Minifigures, and the number of pieces.
Is the Lego Saturn V Worth It?
Yes, the LEGO Saturn V set is worth it. It is one of the best LEGO sets in decades and is packed with authentic details and masterfully designed.  
The set is fantastic to build, looks great on display, and is by far one of the most well-designed models out there, with tons of ingenuity and creativity put into its design. Totally worth the money.
How Long Does It Take To Build Lego Saturn V?
It can take anywhere between 4 hours to a couple of days to build a LEGO Saturn V set, depending on your LEGO building skills and the effort you put into building the set.
You can build the set in less than 4 hours if you have experience building LEGO sets and dedicate time to focus on the building process.
But if you are someone who spends little time working on it, it can take you more hours and even days to complete building the set.
How Many Lego Saturn V Are There?
There are currently two (2) LEGO Saturn V sets out there, which are; LEGO Ideas NASA Apollo Saturn V 92176 (1969 Pieces) and LEGO 2017 21309– Ideas NASA Apollo Saturn V Set.
Both sets are available on Amazon, while only NASA Apollo Saturn V 92176 is available on LEGO.
What Scale Is the Lego Saturn V?
LEGO Saturn V has a scale of 1:110 with a dimension of  14.88 x 18.9 x 4.41 inches and a weight of 6.62 pounds. The set measures over 39 inches (100 cm) in height and will make a big impression wherever it is displayed.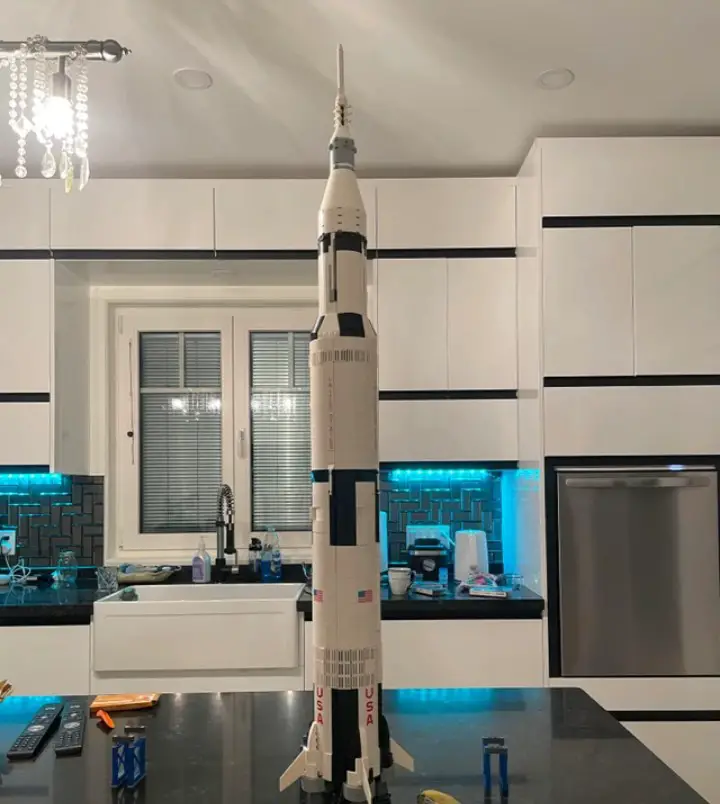 When Will LEGO Saturn V Retire?
The hard-to-find 92176 NASA Apollo Saturn V LEGO set is due to retire by the end of 2022, though it's not official, and LEGO has not yet added it to the "retiring soon" page or added the retiring tag to it.
So you should grab this set as soon as possible before it retires and goes forever. You know LEGO sets typically increase in value when they are retired, so now is your chance to get hold of this awesome LEGO set.
Will LEGO Saturn V Be Back in Stock?
LEGO Saturn V is already back in stock, and it is available on LEGO and Amazon, but it's not going to stay forever, so your best chance is to grab it now before it is gone again, which will likely be forever, and it might not be re-released again in the future.
How Long Will the Lego Ideas Saturn V Be Produced?
The LEGO Ideas Saturn V will continue to be produced as long as there is demand for the set. LEGO sets usually have an average lifespan of at least two years before they are retired, depending on their performance, marketability and profitability. However, there is no specific formula that determines when a LEGO set will retire.
When Does LEGO Saturn 5 Become Available?
NASA Apollo Saturn V was first released on June 1, 2017, with a set number of 92176 and the number of pieces (1969) corresponds with the year the NASA Apollo 11 landed on the moon.
When Does the New Saturn V LEGO Come Out?
The new Saturn V LEGO set was reissued in late 2020, three and a half years after the first Saturn V set was released. The reissued Saturn V set was released under a new set number, 92176 due to the first version of the set has stopped production.
When Will LEGO Apollo Saturn V Be Stocked?
As of writing this article, the LEGO Saturn V set is already in stock, available both on LEGO shop and on Amazon. However, popular LEGO sets can take weeks to be restocked if they get out of stock.
Where Can I Buy the LEGO Saturn V?
You can buy the LEGO Saturn V either on Amazon or the LEGO website. But rare and popular LEGO sets tend to be more available on Amazon than on the LEGO website and sometimes even at a lower price.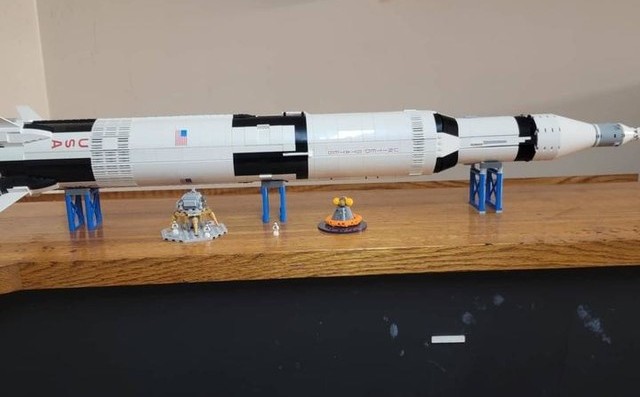 Why is LEGO Saturn V Out of Stock?
The LEGO Saturn V set usually gets out of stock faster due to the popularity of the sets and increased demand. Also, since the set was reissued after it was retired, people are collecting the set because this is probably the last chance to get hold of the set before it is retired again and gone forever.
Why Is the Saturn V Not Available in Lego Stores?
The Saturn V is not available in LEGO stores due to high demand and inventory issues. The set usually sells out faster, and LEGO didn't have enough to be made available in LEGO stores.
Will LEGO Make More Saturn V Sets?
There's no certainty whether LEGO will make more Saturn V sets or not. But as you can see, LEGO reissued Saturn V 92176 after the first Saturn V set retired due to increased demand and popularity.
So we can assume that more Saturn V sets could be produced if the demand and performance of the set increase.