Whether you're designing your own buildings or recreating creepers, treehouses, and other places, LEGO Minecraft sets feature authentic details and can be built and rebuilt for endless play.
These collectible toys for kids 6+ and adult Minecrafters alike let you explore the infinite worlds of Minecraft and master your building skills.
Check out the best LEGO Minecraft sets in 2023 at the top of our lineup!
Affiliate disclaimer: Brick Mechanics is reader-supported. When you buy through links on our site, we may earn an affiliate commission.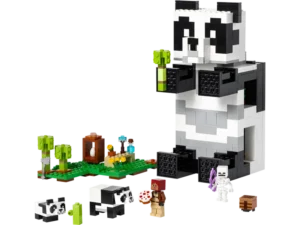 Editor's Choice
The Panda Haven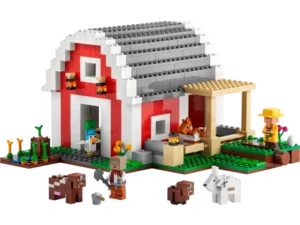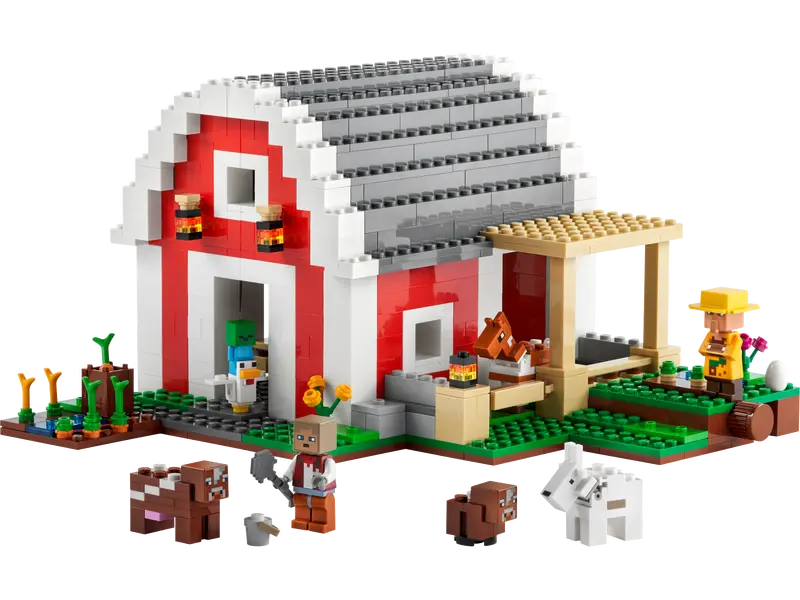 2nd Best Choice
The Red Barn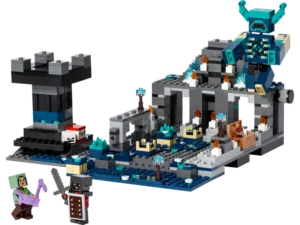 3rd Best Choice
The Deep Dark Battle
What Are LEGO Minecraft Sets?
LEGO Minecraft is a LEGO theme based on Minecraft: a sandbox video game developed by Mojang Studios and LEGO's celebration of one of the most innovative and successful video games ever.
The theme was developed to provide a unique experience for LEGO and Minecraft fans passionate about recreating the game's iconic scenes and narratives using LEGO bricks.
LEGO Minecraft sets brings the world of Minecraft to life and feature authentic Minecraft characters and iconic pixelated details from the Minecraft world. 
They take all the action and storytelling of this creative sandbox video game and place it squarely into kids' hands.
111 Minecraft sets have been released to date. But currently, the LEGO store features 30 available sets, with 84 being retired.
Who are LEGO Minecraft Sets for?
LEGO Minecraft sets are perfect for kids 6+ and adult Minecrafters alike. It is basically for anyone who enjoys playing Minecraft and is something that goes beyond age ranges.
The Top 10 Best LEGO Minecraft Sets
1. The Panda Haven
2. The Red Barn
3. The Deep Dark Battle
4. The Llama Village
5. The Training Grounds
6. The Ice Castle
7. The Skeleton Dungeon
8. The Bee Cottage
9. The Mushroom House
10. The "Abandoned" Mine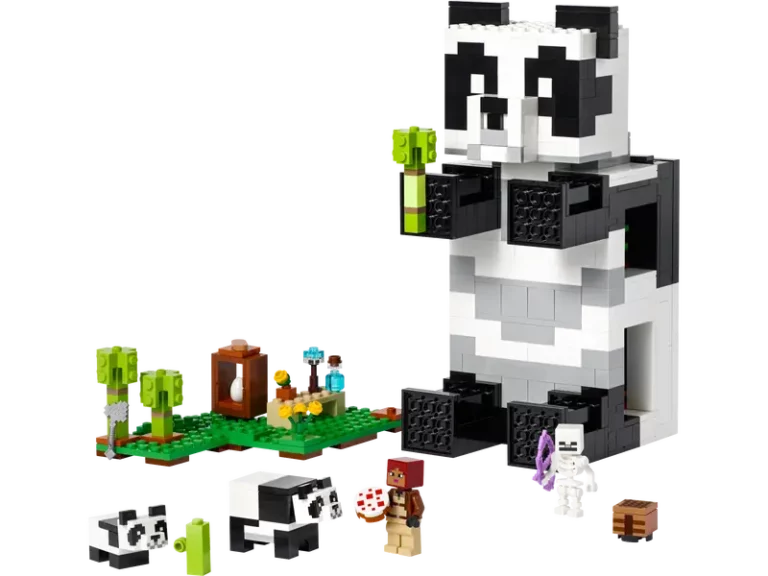 Released in 2023, The Panda Haven 21245 is one of the best LEGO Minecraft sets and the ultimate fun toy for Minecraft players with a passion for pandas.
The Panda Haven is a buildable 3-story panda-shaped house with rooms and jointed limbs that looks and moves like a panda.
It features an opening back that opens to reveal a furnished interior and comes with authentic accessories and figures, including a jungle explorer, panda, baby panda, and a skeleton, to inspire endless Minecraft adventures.
This jointed structure includes a hinged head, which means the panda house can be positioned either standing upright, on all fours or sitting and the room interiors can be reconfigured accordingly in each case.
Outside of the main structure includes a bamboo jungle where players can indulge in a favorite Minecraft pastime and feed cake to the pandas. 
The finished model measures over 8.5 in. (22 cm) high, 4.5 in. (11 cm) wide, and 4 in. (10 cm) deep and combines with other sets in the LEGO Minecraft range.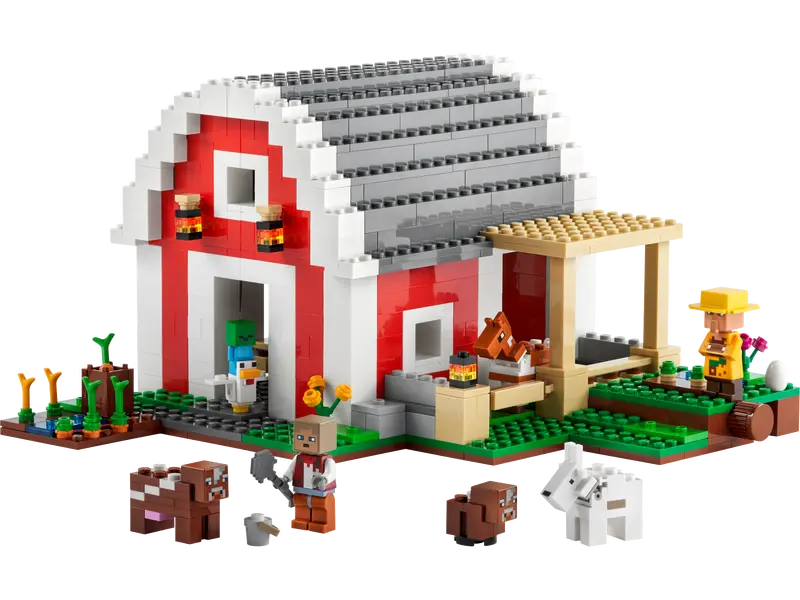 LEGO Minecraft Red Barn 21187 has made it to the top of our best LEGO Minecraft sets list.
The 799-piece Red Barn lets LEGO fans ages 9 years and up bring the Minecraft game's iconic red barn into the real world and gives your hands on toys that you will admire.
With this reconfigurable set, you can grow vegetables outside the barn, including potatoes that pop out of the ground at the turn of a knob, and care for the farm animals including cows, a horse, a goat, and a chicken.
To add to the fun, there's a dangerous zombie taking the chicken for a ride, and players must help the rancher defeat it before it causes any harm.
The hinged barn opens up to give kids easy access to more play space inside, where they will find a bedroom, stables for the horse and goat, animal pens, a crafting box, and tools. 
Measuring over 5.5 in. (14 cm) high, 10 in. (26 cm) wide, and 9.5 in. (24 cm) deep, this impressive building looks great on display in any Minecraft player's room.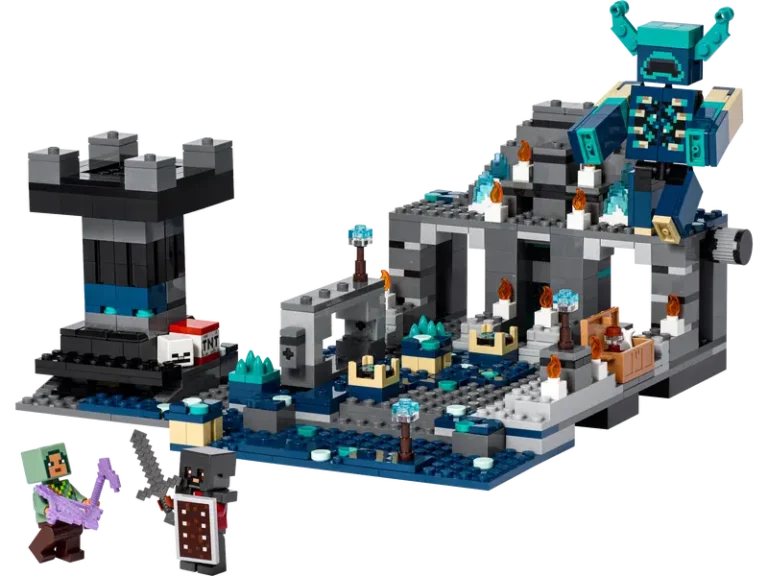 Released in 2023, The Deep Dark Battle includes 584 pieces, this set features an action-packed Minecraft mining adventure and offers an entertaining building experience.
The LEGO Minecraft The Deep Dark Battle 21246 takes players aged 8 and up on Minecraft missions in the deep dark biome filled with all the game's classic elements: exploration, excavation, and explosions.
There's lots to explore, mine, and battle with this set. Fans can discover an ancient city, extract precious resources, cause a monstrous warden to rise from the earth, trigger a big explosion, and attempt to escape to safety.
The set includes Minecraft heroes, the elven Arbalest knight and the dwarven Netherite knight, a large buildable warden, and authentic weapons and accessories.
Set no: 21188
Pieces: 1,252
This 1252-piece, fun-packed, and endlessly reconfigurable LEGO Minecraft bursts with characters, accessories, and features for Minecraft fans to bring adventures with Minecraft llamas into the real world.
The LEGO Minecraft The Llama Village features a classic cast of Minecraft characters including a llama herder, llama knight, savannah villager, blacksmith villager, pillager, vindicator, llama, baby llama, and a baby sheep. 
The big Llama opens up so fans can explore and customize the fully furnished rooms inside to bring their creative construction skills into the real world. The outside includes animals to care for and 6 customizable modules that can be positioned anywhere around the llama, between its feet, or even on its back. 
There's also battle action and players can operate their secret weapon that makes the big llama 'spit' at the hostile mobs when pillagers attack.
This reconfigurable model measures over 12 in. (31 cm) high, 12 in. (30 cm) wide, and 11.5 in. (30 cm) deep and will make a versatile birthday, holiday, or any-day gift for Minecraft fans aged 9 and up.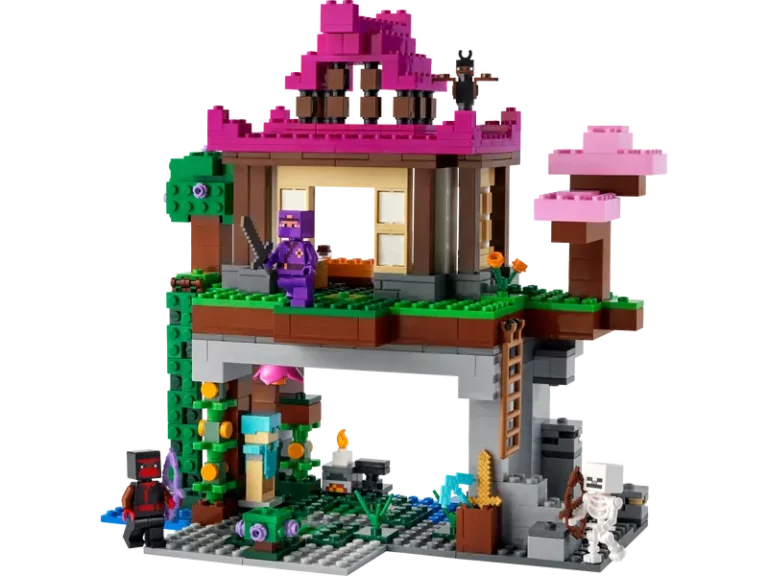 Also released in 2022, The Training Grounds is still among the best Minecraft sets. This detailed dojo and blacksmith's cave is packed with authentic accessories and activities from the popular Minecraft game.
This 534-piece set is large, detailed, highly versatile, and gives lasting pleasure to Minecraft players and any child aged 8+ who enjoys creative construction and imaginative play.
The downstairs is a blacksmith's cave that features an anvil, oven, armor stand, and more for kids to craft and repair their weapons while the upstairs is a dojo where the Minecraft warriors live and train. 
The set features a trapdoor that connects the two levels, operated by pushing a block beneath the tree, and the levels separate and reconfigure to create a new play experience when players feel like a change.
This set also features a classic cast of Minecraft characters including a ninja, rogue, skeleton, and a bat.
The finished model measures over 9.5 in. (24 cm) high, 9.5 in. (24 cm) wide, and 5.5 in. (15 cm) deep and can be reconfigured and combined with other sets for extra enjoyment.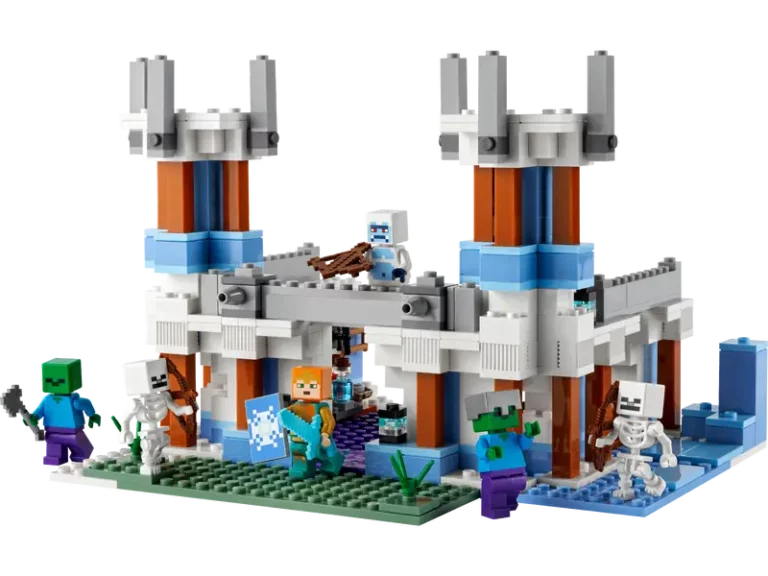 This action-packed ice castle for Minecraft gamers puts all the creativity, action, and reconfigurable fun of the Minecraft game into kids' hands.
The LEGO Minecraft The Ice Castle 21186 comes with a wealth of authentic accessories, such as a cauldron for mixing potions, a treasure chest packed with precious supplies, and a classic crafting table from the Minecraft game. 
The Ice Castle features familiar Minecraft characters including the Royal Warrior, a yeti, and a hostile group of skeletons and zombies, ready to attack the toy castle with a cool selection of weapons. Hands-on features include a launcher on the castle's battlements that fires arrows at the advancing enemy. 
The finished model measures over 6 in. (16 cm) high, 9 in. (23 cm) wide and 7.5 in. (19 cm) deep and easily reconfigures to inspire a whole new world of creative Minecraft fun.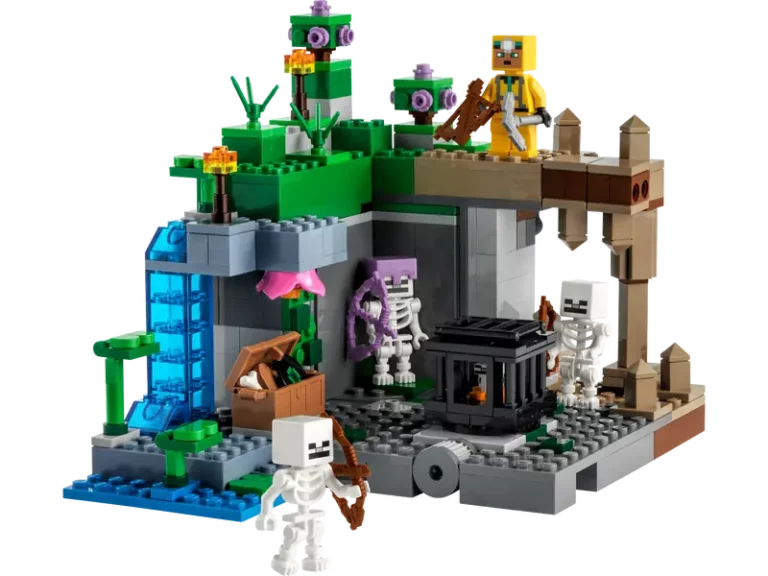 LEGO Minecraft The Skeleton Dungeon 21189 is another action-packed LEGO Minecraft set and also one of the best.
This versatile playset comes with iconic features including the cave explorer, 3 skeletons, and 3 biomes: a dripstone cave with a rock-fall function; a lush cave with bushes, clay, and torches; and a dungeon with a skeleton spawner.
The set features everything a Minecraft player needs to enjoy endless creative adventures with weapons including a crossbow and pickaxe and also includes a chest containing a music record, bread, and a bone. 
The finished model measures over 5.5 in. (14 cm) high, 7.5 in. (19 cm) wide, and 5.5 in. (14 cm) deep and can be rebuilt for even more creative play.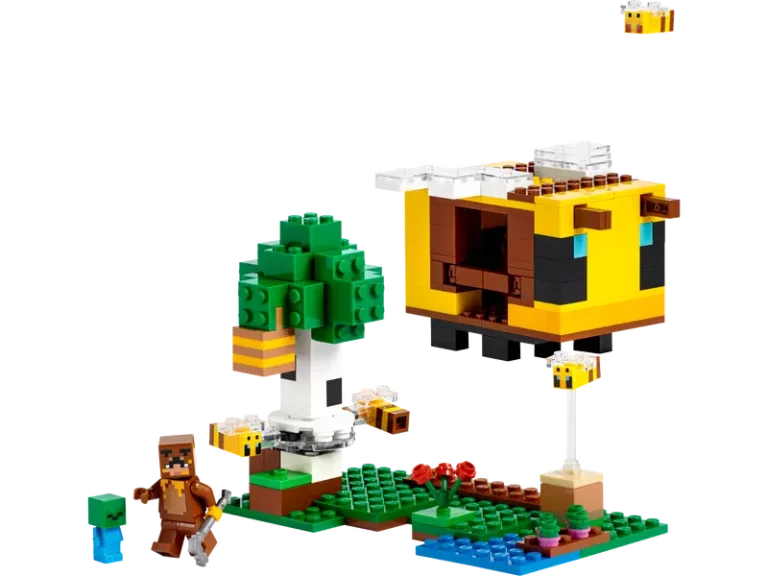 The Bee Cottage is also one of the best and a must-have set for real-world Minecrafters. This versatile Minecraft set is packed with endless play possibilities both inside and out and features the game's iconic bees.
This fun-packed Minecraft set lets players harvest honeycomb from the beehive, grow crops on a farm, and battle a baby zombie as they build a bee-shaped base for their Minecraft adventures.
The set features classic characters including a Honey Bear player character, a baby zombie, 3 bees, and 1 angry bee. 
It features a removable roof that provides easy access to the interior. The outside features a honeycomb to harvest from the beehive, crops to grow at the farm, and hostile mobs to defend against. 
The finished model measures over 4 in. (10 cm) high, 5.5 in. (14 cm) wide, and 3 in. (8 cm) deep and will make an ideal birthday, holiday, or any-day treat for Minecraft players aged 8 and up.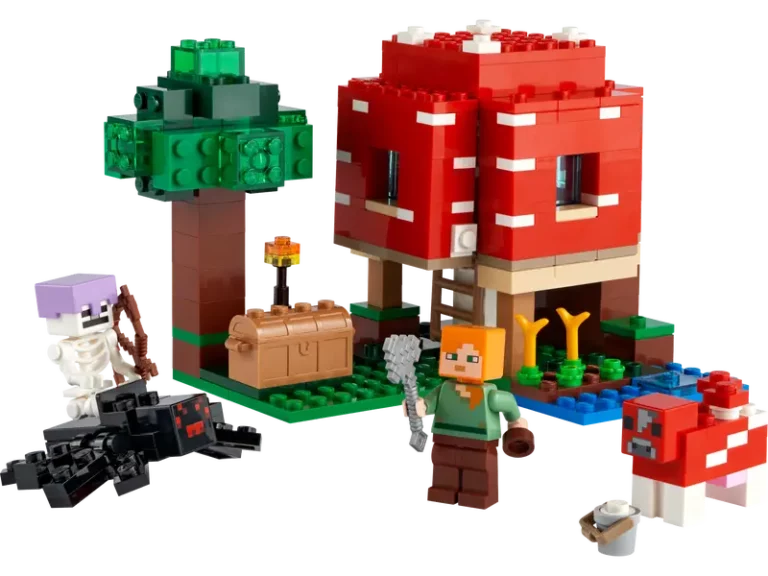 This hands-on, 272-piece, feature-packed set lets Minecraft players aged 8 and up take their enjoyment skills to the next level. 
Also released in 2022, The Mushroom House 21179 is a versatile LEGO Minecraft set packed with developmental activities that build key skills. The set features a classic cast of Minecraft characters including favorite Alex, Mooshroom, and a spider jockey, along with cool features and fun accessories
The walls and roof of this giant mushroom house lift off for easy access to the crafting table and furniture. The outside features Alex using a bowl to collect soup from the mushroom cow but the plan changes when a skeleton spider jockey rampages through the scene.
The Mushroom House measures over 4 in. (10 cm) high, 5 in. (13 cm) wide and 5.5 in. (15 cm) deep, while the tree and chest area can be reconfigured to make different layouts.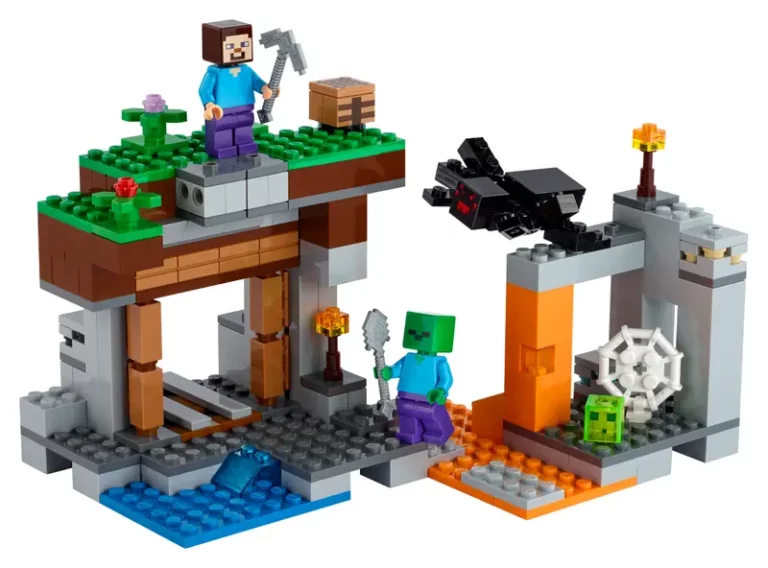 Released in 2021, the LEGO Minecraft The "Abandoned" Mine 21166 is still one of the best Minecraft LEGO sets.
With so much to build, explore and imagine, this great-value set is bursting with play possibilities. It brings classic Minecraft action to life in the real world as kids help the game's leading character mine, build and explore while trying to survive constant attacks by a variety of hostile creatures.
The set features collectible characters including Steve, a zombie, and cool slime and spider mobs. Players join Steve as he attempts to unearth coal, iron, and diamond – while under attack from a scary zombie, creepy spider, and living slime. 
Kids must lure the hostile creatures to the cave entrance and use a hand-operated device to bring the high-level gravel crashing down on them.
The finished model measures over 5" (14cm) high, 7" (19cm) wide, and 4" (12cm) deep, is designed to inspire endless imaginative play, and combines easily with other LEGO Minecraft toys.
There you go. Our list of the best current LEGO Minecraft sets. I hope it helps you find the perfect present for the gamer life.
Frequently Ask Questions (FAQs)
The Mountain Cave 21137 is the most popular Minecraft LEGO set. The set was released in 2017 and includes over 2,860 pieces.
The Llama Village 21188 is currently the biggest LEGO Minecraft set with 1,252 pieces and costs $129.99. 
Currently, 111 LEGO Minecraft sets have been released.