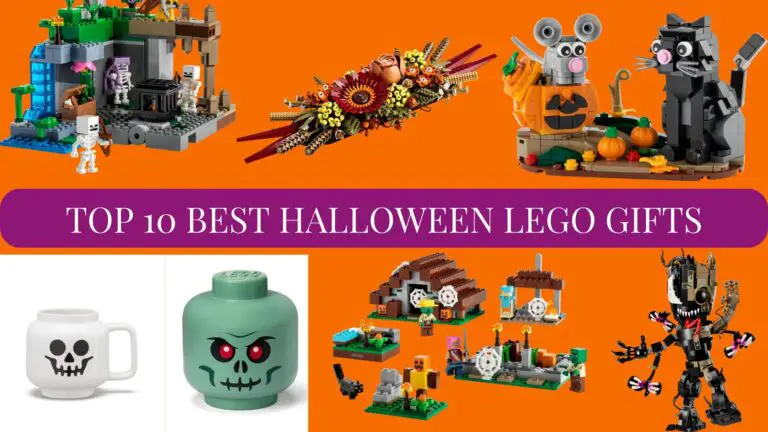 As the leaves begin to change and the air turns crisp, it's that time of year when the magic of Halloween takes over. 
Whether you're a die-hard LEGO enthusiast or just looking for the perfect treat to celebrate the season, we've scoured the brick-filled corners of the web to bring you the most spine-tingling, spine-tinglingly fun, and downright bewitching LEGO sets and gifts for this Halloween. 
So, grab your cauldron and broomstick, because we're about to explore a world where building and haunting collide in the most enchanting way possible.
Let's dive in.
Affiliate disclaimer: Brick Mechanics is reader-supported. When you buy through links on our site, we may earn an affiliate commission.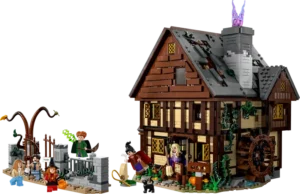 Editor's Choice
Disney Hocus Pocus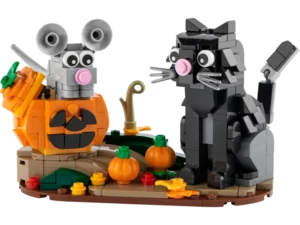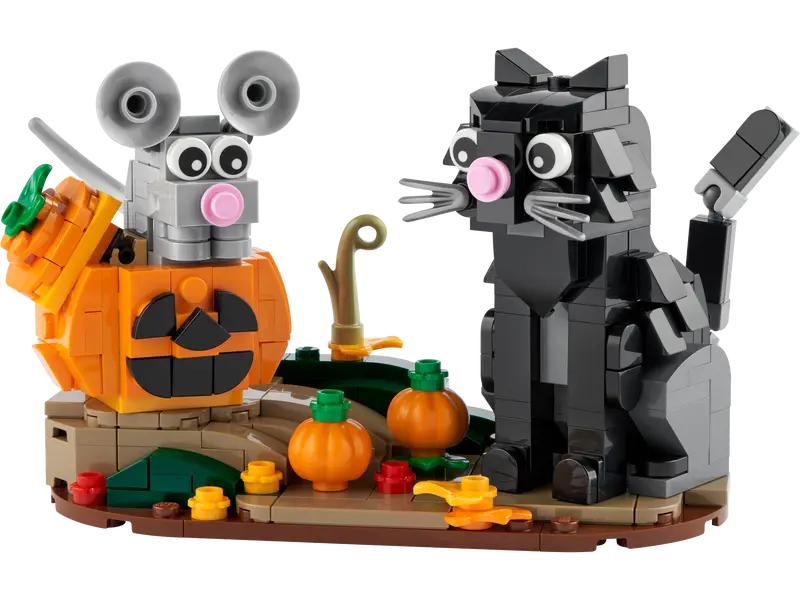 2nd Best Choice
Halloween Cat & Mouse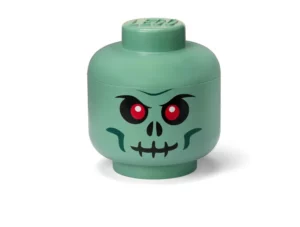 3rd Best Choice
Skeleton Storage Head
1. Disney Hocus Pocus
2. Halloween Cat & Mouse
3. Skeleton Storage Head
4. The Abandoned Village
5. Haunted House
6. Skeleton Ceramic Mug
7. Dried Flower Centerpiece
8. The Skeleton Dungeon
9. Venomized Groot
10. Hedwig
Set no: 21341
Pieces: 2,316
The Disney Hocus Pocus: The Sanderson Sisters' Cottage is a spellbinding tribute to a Halloween classic and lets you celebrate Halloween every day with a set based on this bewitching Disney classic.
The cottage can be opened in multiple ways for easy viewing of the interior details, which include a museum gift shop, a cauldron with a LEGO light brick to illuminate the fire underneath, a Book of Spells, and the witches' bat-infested bedroom. 
It includes 2,316 pieces and six characters: Winifred Sanderson, Sarah Sanderson, Mary Sanderson, Max Dennison, Dani Dennison, and Allison Watts, plus a Thackery Binx (in cat form) figure and accessories.
This fan-inspired set is boiling over with nostalgic details from the 1993 Disney movie, Hocus Pocus and will make a top Halloween gift idea for fantasy-comedy fans. The finished model measures over 10.5 in. (27 cm) high, 10 in. (26 cm) wide and 9 in. (24 cm) deep.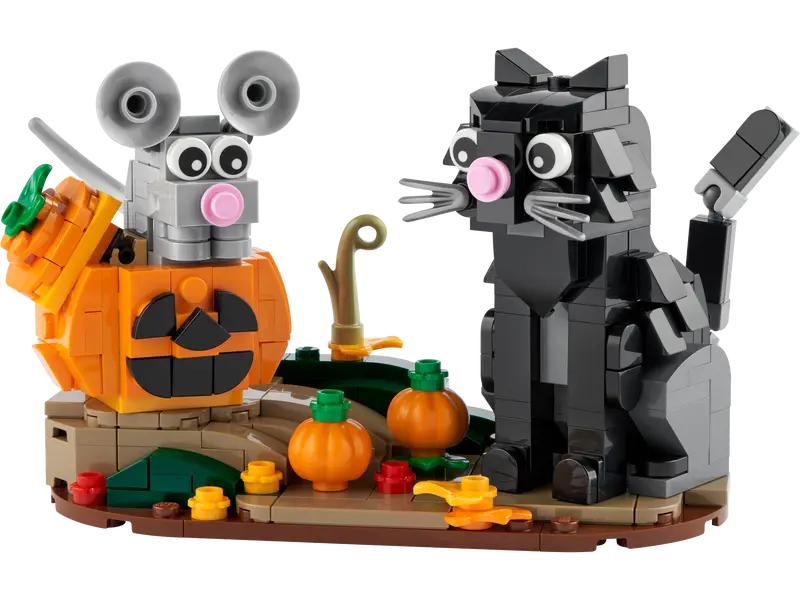 This LEGO Halloween Cat & Mouse set lets you build a cute Halloween seasonal display and assemble seasonal scene complete with pumpkins and a cat and mouse that rotates playfully on the base when it's turned by hand. 
This set will make a great addition to any Halloween display. It features a rotating base and includes mini pumpkins and colorful autumnal flowers that decorate the rotating base.
The model stands over 3 in. (8.5 cm) tall and lets you assemble a seasonal scene complete with pumpkins and a cat and mouse that rotate playfully on the base when it's turned by hand.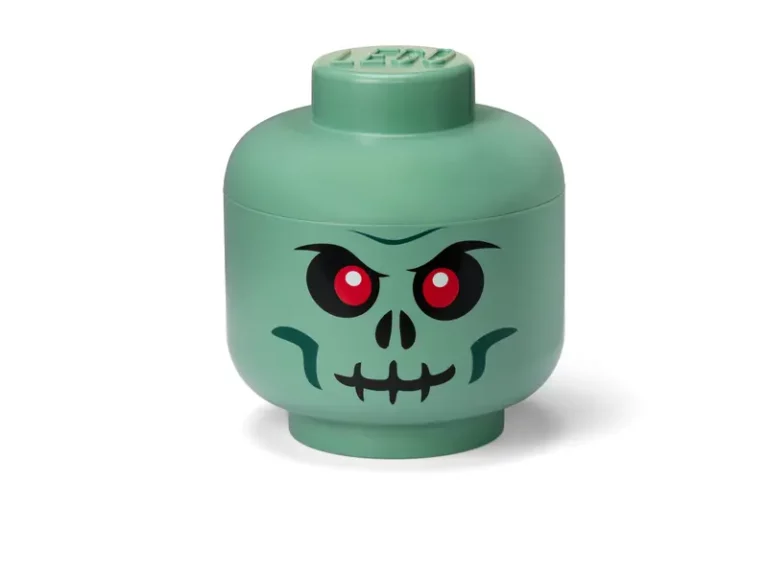 This LEGO Large Skeleton Storage Head makes tidying up fun and is big enough to provide lots of storage for toys, LEGO bricks, office utensils, food items, Halloween candy, and more. 
This giant skeleton minifigure container comes in four different colors including white, green, yellow, and orange, and has the facial features of the LEGO skeleton minifigure
The container is made from durable plastic in a wonderfully gruesome shade of green and is also stackable, so kids can build displays to startle their friends. 
It measures over 10.5 in. (27 cm) high and 9 in. (24 cm) in diameter, and is big enough to hold lots and small enough to carry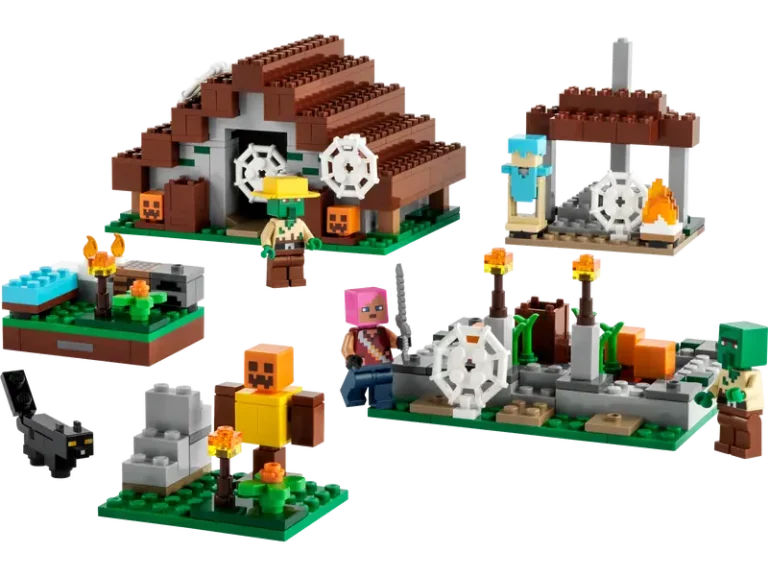 This set is a battle and build action for Minecraft players and offers hands-on Minecraft action in a zombie village and lets Minecraft players explore an iconic setting packed with creative play possibilities.
This Multi-section Minecraft set features 4 sections including 2 zombies and a zombie hunter, a zombie hunter's campsite, a zombie villager's workplace, a zombie farmer's pumpkin patch, an abandoned house, and lots of authentic accessories.
The abandoned house measures over 3 in. (8 cm) high, 5.5 in. (14 cm) wide, and 4 in. (10 cm) deep and will make a great Halloween treat for Minecraft players aged 8 and up.
Set no: 10273
Pieces: 3,231
Theme: Creator Expert
Age: 18+
If you love ghosts, ghouls, and things that go bump in the night, this stunning building project is a must-have. 
The LEGO Haunted House is a nostalgic throwback to a classic LEGO adventure set and lets you take time out of everyday life and explore something extraordinary as you discover the thrills and surprises packed into this stunning building project.
The house opens up, making it easy to explore inside where you'll discover a working free-fall ride plus automatic doors at the top of the tower for a spooky effect. 
The model measures over 26.5" (68cm) high, 9" (25cm) wide, and 9" (25cm) deep, making it a challenging construction kit for adults and a great brick-built model to display.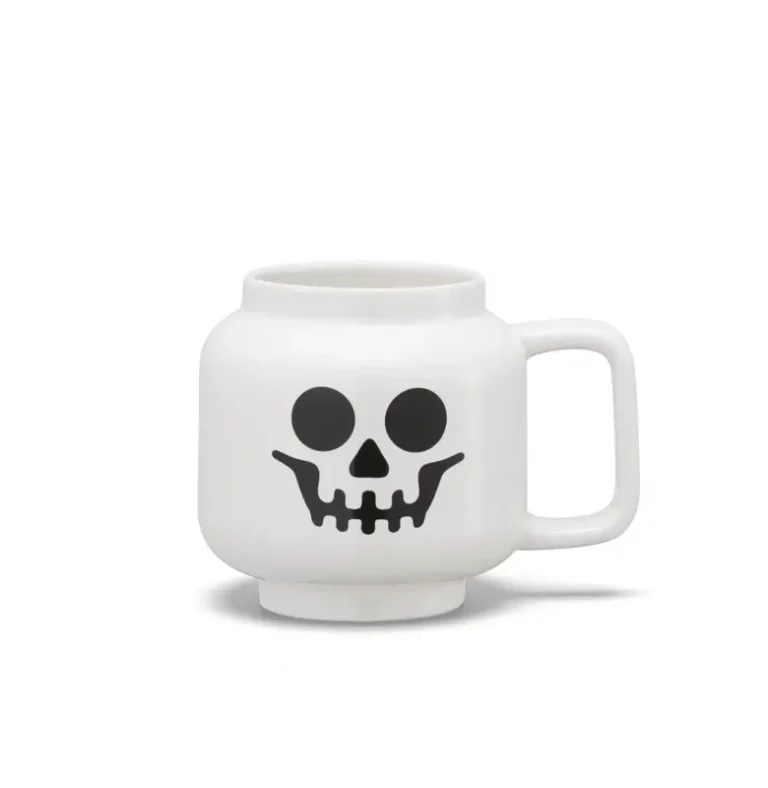 The LEGO Skeleton Ceramic Mug lets you add a playful touch to refreshments with a classic black and white color scheme and also comes in different styles and different colors including green and yellow.
The LEGO skeleton minifigure head design is the perfect way to quench the thirst of LEGO fans of all ages and lets you celebrate Halloween in a fun and playful way. 
The large mug holds a generous 530 mL of your favorite beverage, measures over 4 in. (10 cm) high, 5 in. (13 cm) wide, and 4 in. (10 cm) deep, and can be used for hot drinks, cold drinks, and even breakfast cereal.
7. Dried Flower Centerpiece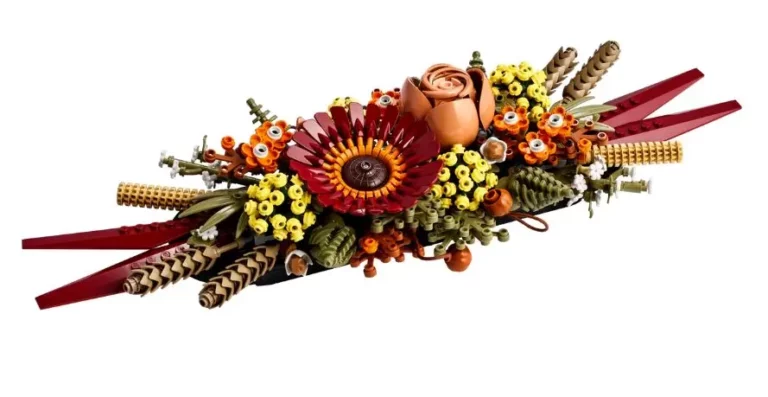 The LEGO icon Dried Flower Centerpiece is inspired by the colors of fall and lets you celebrate Halloween in a cool and colorful way. It bursts with vibrant blooms inspired by the colors of fall and includes a gerbera and rose as its focal point.
Once complete, the set becomes a meaningful piece of home decor and can be used as a striking centerpiece or hung as flower wall decor to create a floral display to cherish forever.
The centerpiece can be built by multiple people. It has a split design that allows 2 people to construct it at the same time, providing the perfect way to spend quality time with a friend or family member.
The model measures 3 in. (7 cm) high, 16 in. (40 cm) wide, and 5 in. (13 cm) deep and lets you celebrate Halloween in a cool and colorful way.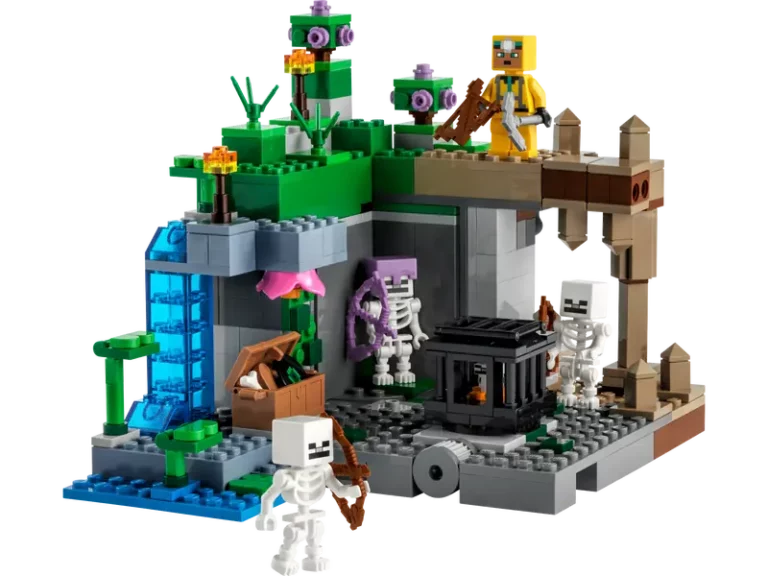 This action-packed LEGO Minecraft set will make a great Halloween treat for Minecraft players. The set has everything kids need for endless adventures, with classic details, hands-on features, and multiple biomes.
The Skeleton Dungeon comes with iconic features including the cave explorer, 3 skeletons, and 3 biomes: a dripstone cave with a rock-fall function; a lush cave with bushes, clay, and torches; and a dungeon with a skeleton spawner.
There's everything a Minecraft player needs to enjoy endless creative adventures with weapons that include a crossbow and a pickaxe, and a chest containing a music record, bread, and a bone.
The set measures over 5.5 in. (14 cm) high, 7.5 in. (19 cm) wide, and 5.5 in. (14 cm) deep, and offers many ways to play and Minecrafters can build, explore, battle, and operate cool features, then reconfigure the set for even more creative play.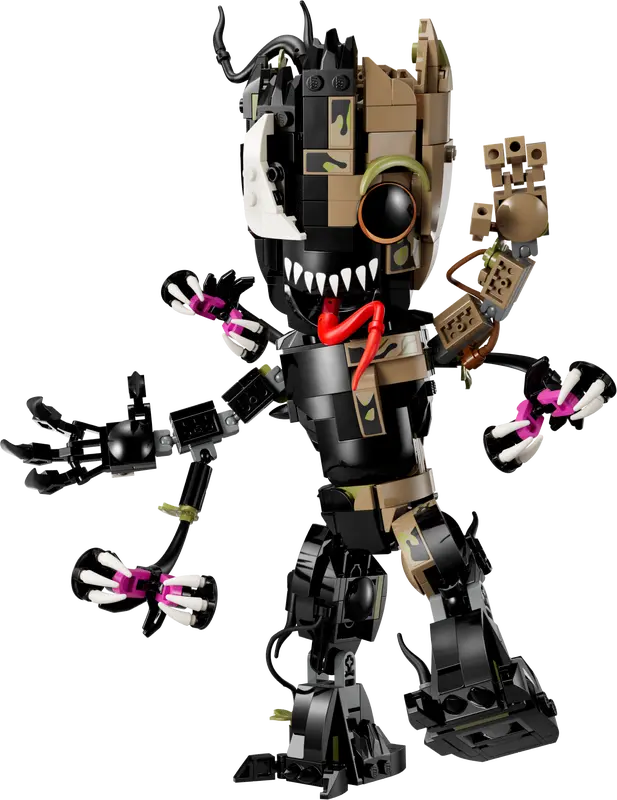 This LEGO Venomized Groot will make a great Halloween gift for kids who are fans of Marvel movies, the cute Baby Groot, or the Slobbering Alien Venom.
This movable, transformable figure is a great way to put Marvel excitement into the hands of fans aged 10 and up. Marvel fans can build their own movable, half-Venomized Groot – then Venomize him even more, brick by brick
The model's arms, legs, hips, and head are movable, with adaptations that include Venom's familiar long tongue, sharp teeth, tentacles, and large white eyes, letting kids take their Venomized Groot on endless imaginative adventures.
This versatile play-and-display figure stands over 11 in. (27 cm) tall and lets kids enjoy imaginative adventures with Venomized Groot wherever they go.
Theme: Harry Potter
Age: 10+
If you're looking for a cool Halloween gift or a popular buildable model for kids or Harry Potter fans of any age, this Hedwig model is sure to provide endless magical pleasure.
Fans of Harry Potter will love to build and display this detailed model of Hedwig, the famous owl from the series. The model brings the magical personality and elegant movement of Hedwig with a realistic depiction of Hedwig in flight delivering an important letter.
Once the build is complete, the Hedwig model stands on a sturdy base incorporating a detachable Harry Potter Minifigure and a smaller Hedwig and a turn of a handle causes the jointed wings to move gracefully up and down.
This 630-piece brick-build model has a wingspan of over 13" (34cm) and a beak-to-tail measurement of over 7" (20cm) and will make an impressive display that is sure to be the center of attention.