Last Updated on January 8, 2023 by Lisa D. Marsh
LEGOs are wonderful toys and occupy small hands for hours. They stimulate imaginations and come in fun shapes and colors that can be used in many different ways.
LEGOs are also great gifts for children and it makes them happy when they open a present and it's LEGO. They help children become creative, learn about engineering and gain the benefits of small-world play. 
But why is LEGO hated? Why do people hate LEGO?
This article outlines 6 reasons why people hate LEGO.
8 Reasons Why People Hate LEGO
1. Missing Pieces
Even though it is very rare for LEGO sets to have missing pieces, it's frustrating when after spending hours building your newly bought LEGO set to find out that a piece is missing.  And there is no way to build that set without that missing piece. 
If you lose a piece, there is no way to build that set and even if you managed to, the resulting build will be terrible and you can't play with them or they'll fall apart. 
This eventually results in anger, frustration, and hatred for LEGO. 
2. Constant Presence in the Room
One of the main issues parents face with LEGO is a constant presence in the room and being all over the place. Even if you move any of it, the kids will run around and scatter every surface with LEGO pieces.
The problem is it will get everywhere and every time you move furniture, open a bag or empty a drawer, you'll always find LEGO. This is not even limited to the playroom or the spaces the kids occupied. Even your living room will be full of their creations.
3. It's Painful to Stand On
LEGO bricks are made up of ABS plastics and since it's everywhere, you can easily stand on them which is a very painful feeling. You'll feel like you stand on a nail just to discover it's a LEGO brick.
And you'll be like who the hell invented those things? What kind of sadist would make something so painful? And all you'll feel is anger and hatred. You're going to destroy them all!
4. LEGO Stickers
Some people hate the LEGO stickers because they find them annoying to place, kept peeling off, or feel like they kind of ruin the esthetics of a set.
5. LEGO Photos
The other place you can't escape is your phone. The kids will insist on taking photos of their latest creations. So your camera roll will be full of brightly colored, unidentifiable creations that you don't find attractive or deem worthy. This will make you hate LEGO photos and that's the last thing you want to see on your phone.
6. Instruction Booklets
Some people just hate the instruction booklets because of how glossy the pages are or because of the glare they make when laid flat on a table.
7. Washing  and Drying LEGO
One of the worst days in the relationship between parents and LEGo is when they had to wash it. While parents don't often find the washing so bad, it was the drying they find so frustrating. LEGOs spend days with towels covered and spread around the house for them to finally dry. This is often very frustrating, waiting days for LEGOs to dry which makes people hate LEGO.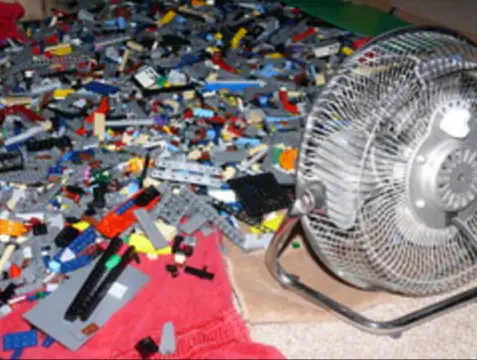 8. Expensive
Some LEGOs are expensive and cost way too much. Although you are paying for the architectural minds behind the LEGO creations, some people don't deem them worthy and will find them very expensive as they are basically plastics.
Is Lego Overrated?
I don't think LEGO is overrated, but it is my personal opinion. Because if you look on Amazon, you'll find that LEGO sets have an average rating of about 4.5 stars. And these reviews are from real customers that have actually bought and used the sets.
On the other hand, we can say that the bulk of their recent success is attributed to their recent ties with various brands and media properties, the major among them being Star Wars.
While this is great in terms of business, we can not say that it proves that the toy design is great or that the toy accomplishes what it intends to. 
The LEGO system is also flexible which is a good thing but is also expensive, can be slow to build, and are a bit prone to be delicate.