Last Updated on January 19, 2023 by rufaiamale
LEGO Advent Calendars are based on the "Advent Calendar"; a calender use to count the days of Advent in anticipation of Christmas.
Traditional Advent Calendars feature the manger scene, Saint Nicholas, and winter weather, while others range in theme, from sports to technology.
Advent Calendars come in a multitude of forms, from a simple paper calendar with flaps covering each of the days to fabric pockets on a background scene to painted wooden boxes with cubby holes for small items.
The first LEGO Advent Calender was released in 1998 and the earlier sets contained a Santa Claus Minifigure and typically to the basic theme which is a simple brick-made structure that can be assembled into a bigger model.
What Is LEGO Advent Calendar?
The LEGO Advent Calendar is a collection of seasonal LEGO sets released annually sometime before Christmas. 
LEGO Advent Calendars belong to many different themes and every Advent Calendar contains 24 little models for each day from the beginning of December till Christmas Eve.
The first LEGO Advent Calendar appeared in 1998 and the idea was continued (2001-2004) and included Max, Tina, plus 4 other figures.
Two Advent Calendars representing different themes appeared for the first time in 2004 which included an alternative set that belonged to the Clikits theme and then up to three sets are made available each year.
City theme Advent Calendars plus one or two sets from other popular themes have been released since 2005.
Apart from various LEGO Minifigures, the Adven Calendars contain the Mystery Windows which come with many useful accessories.
Apart from receiving surprise gifts every day, nowadays, the biggest advantage of purchasing the LEGO Advent Calendars is the possibility of obtaining rare parts and unique variations of certain Minifigures like Friends girls wearing winter clothes.
What Themes are the LEGO Advent Calendars?
The LEGO Advent Calendars belong to different themes including:
Basic

Belville

Castle

City

Clikits

Creator

Friends

Kingdoms

Pirates

Star Wars
What's in the LEGO Advent Calendar?
The LEGO Advent Calendars are packed with fun builds and festive surprises for kids and come with different builds that represent one for each day of the holiday season including items like a Christmas tree, a robot, a drone, a race car, a space shuttle, a monster truck, and more.
LEGO Advent Calendars also include several Minifigures based on the theme plus a bunch of surprise gifts, accessories, and tiny builds.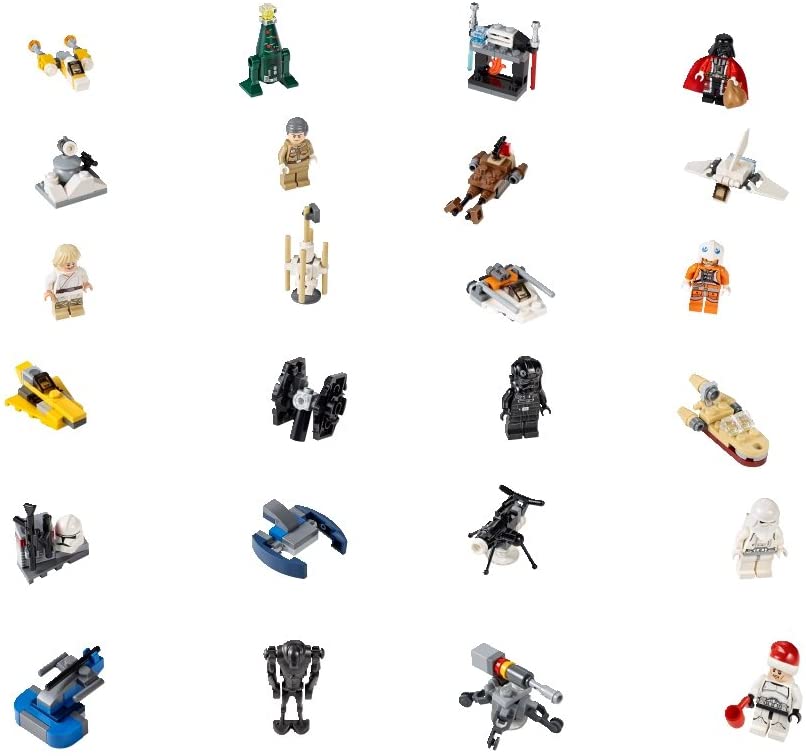 Many models hidden in City, Basic, Friends, and Creator Advent Calendars are connected to winter and Christmas activities and therefore represent typical holiday icons like a Christmas tree, Santa Claus, or a Snowman, which appeared throughout the years in many variations.
How Does LEGO Advent Calendar Work?
LEGO advent calendars work just like traditional advent calendars with each calendar having 24 slots marking the 24 days (Dec. 1 to Dec. 24) that lead up to Christmas.
Starting from December 1, you open a slot a day and it will reveal a new LEGO surprise from Minibuilds to Minifigures, to accessories and other surprise gifts.
Are LEGO Advent Calendars Worth It?
So you are thinking if LEGO Advent calendars are worth it? 
Well, Yes, they are totally worth it and are packed with festive surprises and fun builds plus gifts that can be played together or displayed for decorations to make your holiday special and memorable.
They are becoming incredibly popular each year and LEGO releases two to six Advent Calendars including branded options that are harder to find the closer it gets to Christmas which is great for collectors. 
The LEGO Advent Calendars are more subtle for referencing the Christmas and holiday seasons as they tend to be more oriented to these seasons to make them the most enjoyable in your household.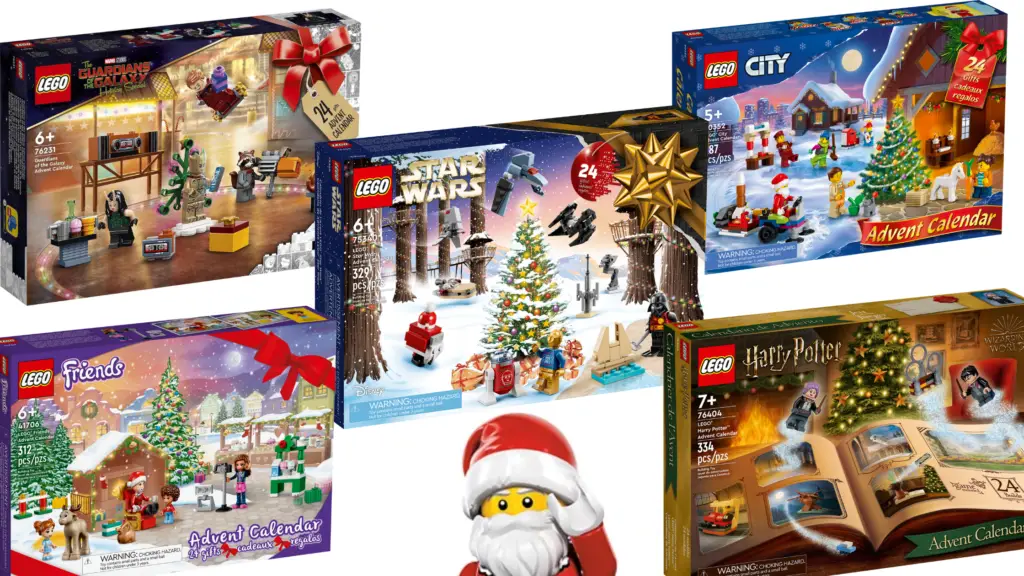 When Do LEGO Advent Calendars Come Out?
The new LEGO Advent Calendars are coming out on September 1. 
This gives you much time to grab yours as it's about 4 months before Christmas. While they are not released in limited quantities, they can become harder to find the closer it gets to December, especially with branded Calendar sets.
Do LEGO Advent Calendars Come with Instructions?
Yes, LEGO Advent Calendars come with building instructions and you can also download a digital version on the Customer Service page on the LEGO website.
Are LEGO Advent Calendars Different Every Year?
Yes, LEGO Advent Calendars are different each year and two to sex new sets are typically released each year.
How Many Harry Potter LEGO Advent Calendars Are There?
There are 4 Harry Potter Advent calendars which are: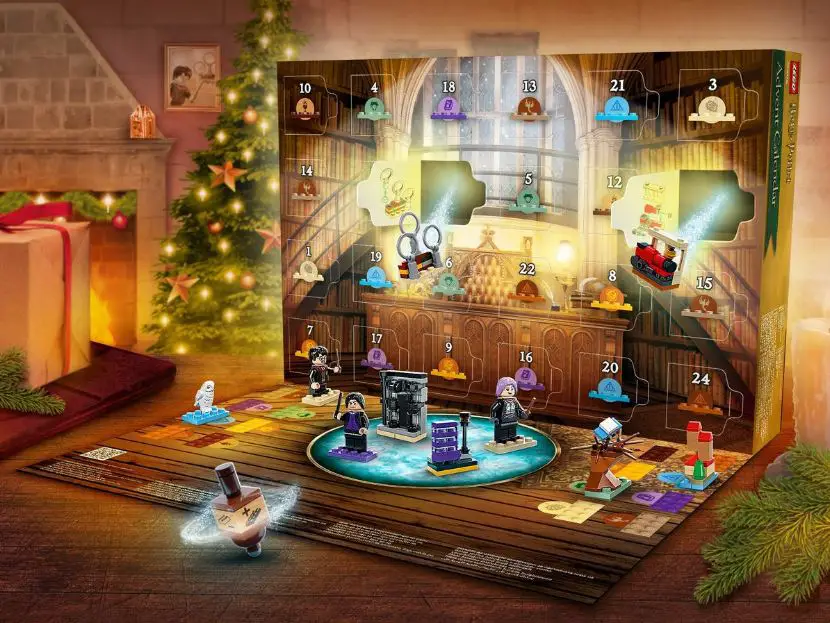 Where Can I Buy a LEGO Advent Calendar?
You can buy the LEGO Advent Calender on the LEGO website, LEGO stores, Amazon, Target, Walmart, ToyPro, and other marketplaces that sell LEGO sets.
Which LEGO Advent Calendar Is the Best?
LEGO City makes the best Advent Calendar out there! They are cool Christmas toys for kids and are packed with festive excitement, inspiration, and wonderful surprises for kids who love creative play.
Kids can enjoy imaginative play each December day with the LEGO City Advent Calendars as they count down to the big day with cool models, fun Minifigure characters, and a fold-down play mat where they can build and play out their very own festive LEGO City adventures!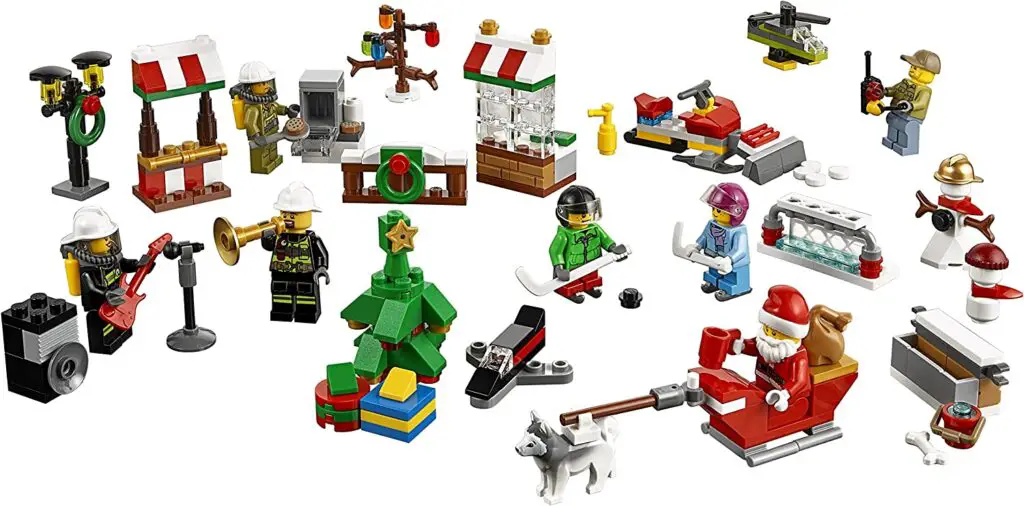 Can You Reuse LEGO Advent Calendar?
Find it frustrating LEGO Advent Calendar can create so much waste and want to know whether you can reuse them?
Well, you can reuse your advent calendar for the next year instead of purchasing one each year. 
What to Do with Old Advent Calendar?
There are many things you can do with old Avent Calendars:
Wrap the boxes and use them as your tree decorations

Warp them and fill them with sweets and gifts for an alternative advent calendar

Gift it away

Or just recycle them  if they are too old and you no longer need them