Last Updated on July 19, 2022 by Lisa D. Marsh
Introduced in 2011, the LEGO Ninjago theme is a flagship of the LEGO group and the first LEGO theme to be based on ninja since the discontinuation of the LEGO Ninja theme in 2000.
The new Ninjago theme is based on a more detailed storyline set within a fantasy world, primarily underpinned by the LEGO Movie series Ninjago, though it has retained some elements of the previous theme.
This article gives you an insight into the LEGO Ninjago sets and answers 17 important questions about the Ninjago theme so you can have a better understanding of the theme.
Why Is LEGO Ninjago So Popular?
LEGO Ninjago is so popular because was a fantasy theme and focused on "ninja" which was a result of ethnographic research of children's interests and the concept has gone through several rounds of testing.
The Ninjago theme features unique and relatable characters and employed the use of original stories that appealed to young boys by creating a cast of characters and figures that focused on a wide variety of villains and a group of ninja heroes.
Everything from the Minifigures, scenes, and characters as a result of research, and throughout the years, the Ninjago theme has managed to stay relevant and keep kids engaged in the universe with its changing stories.
What Is the Biggest Ninjago LEGO Set?
LEGO NINJAGO Ninjago City 70620 is the biggest Ninjago set ever. The set is 19.29 x 23.03 x 7.48 inches and includes 4,867 pieces and 16 Minifigures: Jay, Kai, and Lloyd Garmadon (each with new-for-August-2017 high school outfit decoration), Green Ninja Suit, Misako, Jamanakai Villager, Sally, Ivy Walker.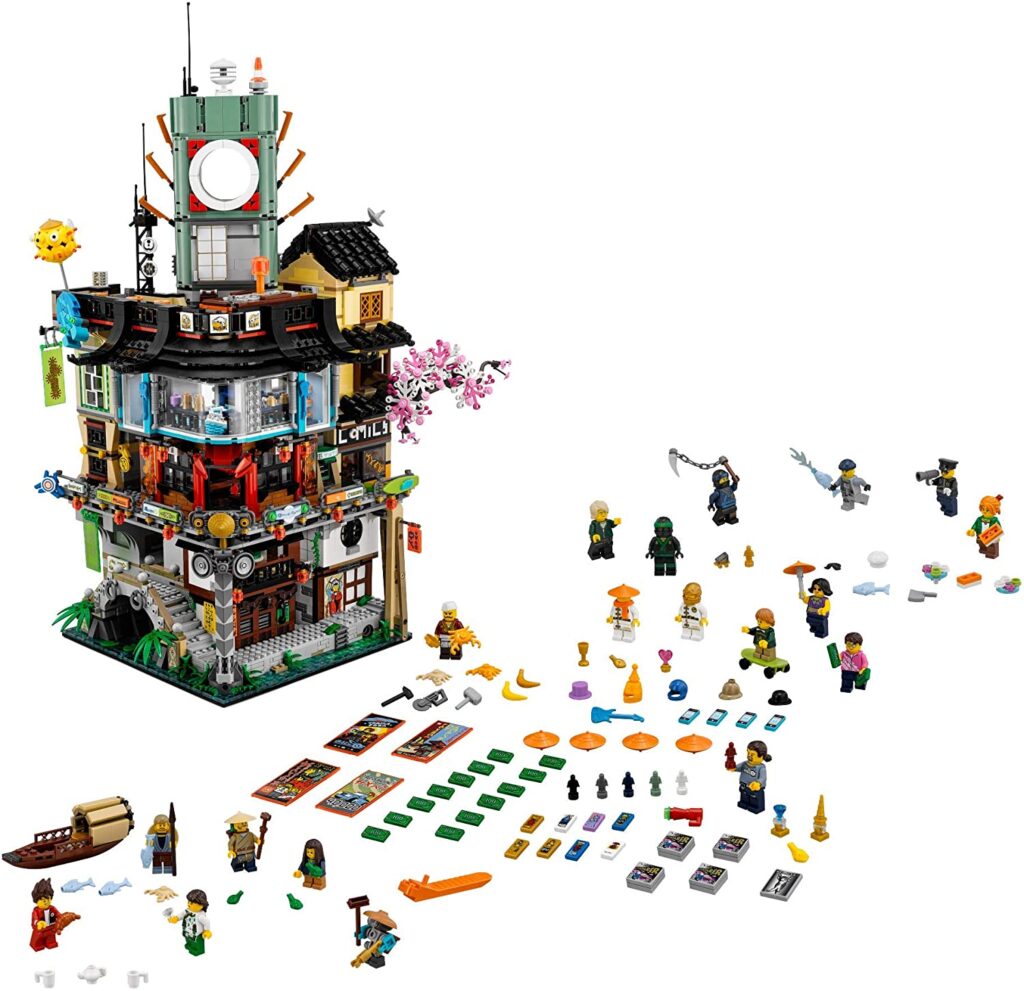 What Was the First LEGO Ninjago Set?
Ninja Ambush 2258 was the first LEGO Ninjago set released. The set was released on January 1, 2011, and retired on December 31, 2011. The Ninja Abush set is the first set in the Wave 1: Pilot Episodes of the LEGO Ninjago theme.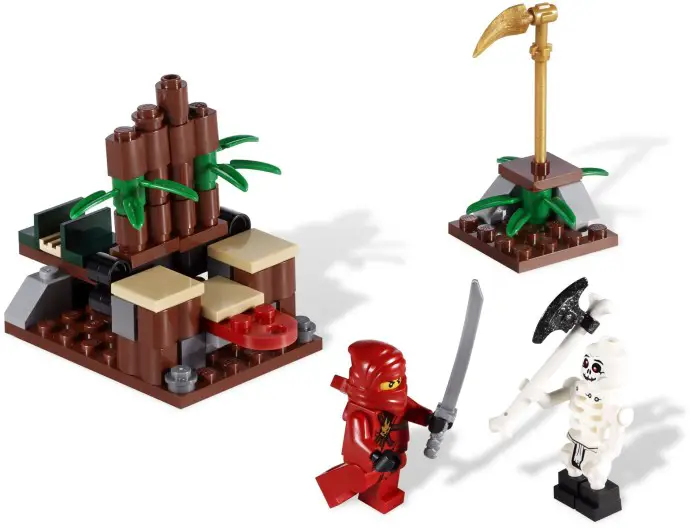 Will LEGO Ninjago Be Discontinued?
No, the LEGO Ninjago is confirmed to continue through 2023 and there's no official announcement regarding the discontinuation of the Ninjago theme. 
How Many Ninjago LEGO Sets Are There?
There are 201 LEGO Ninjago sets currently out there, released between 2011 to 2022.
What Is the Best LEGO Ninjago Set?
LEGO NINJAGO NINJAGO City Gardens 71741  is the best LEGO Ninjago set out there. This Spectacular NINJAGO set is a  5-tiered ninja house model and includes 5,685 pieces and 9 Minifigures to build and play with or display to celebrate the 10th anniversary of the NINJAGO world.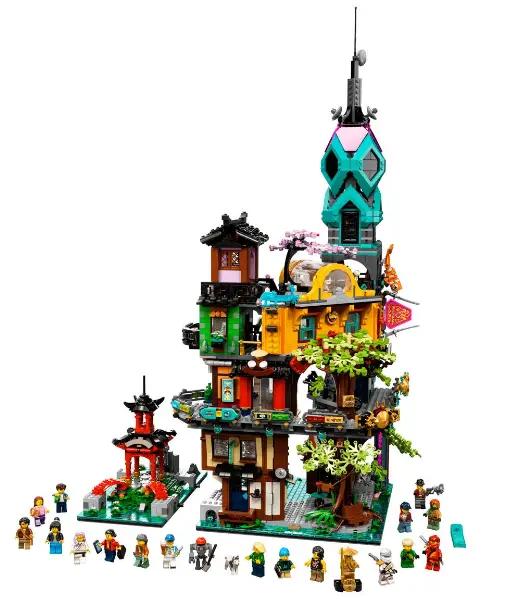 The set has 19 incredible Minifigures to enhance role-play including Young Lloyd, Kai, Zane, Urban Cole, Urban Jay, Urban Nya, Wu Legacy, Misako, Ronin, Hai, Cece, Mei, and Tito.
The LEGO NINJAGO NINJAGO City Gardens 71741 is packed with rooms, including an ice cream shop, Chen's noodle house, a ninja control room, and a museum, all with accessories and details inspired by the ninjas' rich history.
What Is the Most Expensive LEGO Ninjago Set?
LEGO Ninjago 6136350 City 70620 Building Kit is currently the most expensive LEGO Ninjago set with a minimum price tag of around $2,300.
What Is the Rarest LEGO Ninjago Set?
LEGO NINJAGO Ninjago City 70620 is the rarest LEGO Ninjago set. The set was released in 2017 and includes 4867 and 19 Minifigures. As of writing this article, there is only 1 of this set left on Amazon, and costs around $1,200.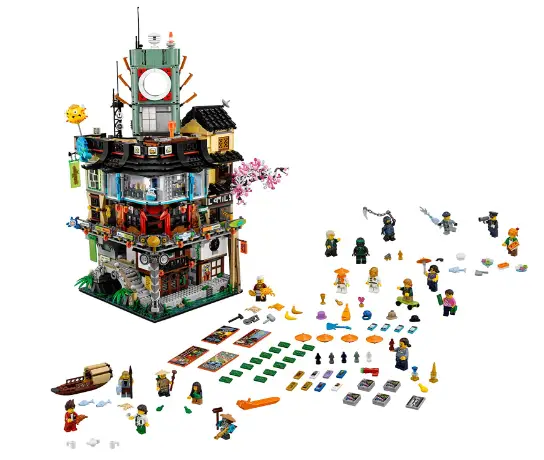 When Does the New LEGO Ninjago Set Come Out?
9 new LEGO Ninjago sets are scheduled for release on August 1, 2022, and these include: 
Ninja Dragon Temple 71759

Jay's Golden dragon Motorbike 71768

Cole's Dragon Cruiser 71769

Zane's Golden Dragon Jet 71770

The Crystal King Temple 71771

The Crystal King 71772

Kai's Golden dragon Raider 71773

Lloyd's Golden Ultra Dragon 71774

Nya's Samurai X mech 71775
How Many Levels Are in LEGO Ninjago?
The LEGO Ninjago contains 30 levels each consisting of puzzles and battle sequences.
What Age Is LEGO Ninjago Suitable For?
The LEGO Ninjago sets are suitable for children aged 5 to 7 years.
What Are the New LEGO Ninjago Sets?
The newly released LEGO Ninjago sets are:
LEGO 71767 Ninja Dojo Temple

71766 Lloyd's Legendary Dragon

71765 Ultra Combo Mech

71763 Lloyd's Race Car EVO

71762 Kai's Fire Dragon EVO

71761 Zane's Power Up Mech EVO

71760 Jays Thunder Dragon EVO
What Happened to LEGO Ninjago Tournament?
The LEGO Ninja Tournament was canceled because the development team of the film was not satisfied with it so they canceled the film and continued writing new scripts until they reached the final movie.
What Is the Most Expensive LEGO Ninjago Minifigure?
Lego Ninjago Skalidor Minifigure is the most expensive LEGO Ninjago Minifigure and currently sells for around $52 on Amazon.
What Is the Rarest LEGO Ninjago Minifigure?
Misako – LEGO Ninjago Movie Minifigures Series 71019 is the rarest LEGO Ninjago Minifigure. There's only one of this Minifigure left on Amazon.com and it's not available on other marketplaces as of the time of writing this article.
When Will LEGO Ninjago City Gardens Retire?
The LEGO Ninjago City Gardens is scheduled to stay on the shelves until at least the end of 2024.
Can You Play LEGO Ninjago Online?
Yes, there are currently 3 LEGO Ninjago games that you can play on the LEGO website and 43 that you can play for free on numuki.com.