Last Updated on November 27, 2022 by Lisa D. Marsh
LEGO City is very popular among the LEGO community, including some of the best and most popular sets and video games out there.
The LEGO City was awarded "Toy of the Year" and also "Activity Toy of the Year" in 2008 by the Toy Association and is so far one of the best performing LEGO themes.
Additionally, Deep Space Rocket and launch control 60228 was also awarded "Toy of the Year" and also "Construction Toy of the Year" in 2020 by the Toy Association.
So what is LEGO City and why is it so popular?
This article goes over the City theme and sets and answers some important questions to give you a clear understanding of the theme and why they are loved by LEGO fans worldwide.
Let's dive in.
What Is LEGO City?
LEGO City is a LEGO theme that is based on city life, with LEGO sets depicting cities and emergency services (such as police and fire), construction, train, airport, Transportation, Cargo, Traffic, Coast Guard, Farm, Great Vehicles, Mining, Space, and Stuntz.
The theme originated from LEGO town, a theme introduced with the first Minifigures in 1978 when a completely new range of buildings and vehicles were introduced for the European markets, although Lego sets with city buildings and vehicles had been commonplace since the late 1960s.
LEGO town was one of the three original themes produced by the LEGO group upon its launch of LEGO Minifigure in 1978 along with Space and castle. The theme was replaced with LEGO World City in 2003 and 2004 and was later rebranded as LEGO city in 2005.
In 2016, the LEGO group reported that the LEGO City, Star Wars, Ninjago, and Nexo Knights themes had delivered a turnover of DKK 15,692 million in the first half of 2016, a sales increase of about 10% compared with the same period in the previous year.
In 2022, the LEGO group also reported that the LEGO City, technic, Creator Expert, Harry Potter, and Star Wars themes had earned for the full year of 2021 with revenue growth of 27% versus 2020 and consumer sales grew 22 percent over the same period, outpacing the toy industry and driving market share growth globally and in largest markets.
Why Is LEGO City So Popular?
There are many reasons why LEGO City is very popular:
It is one of the first LEGO themes

It is based on city life

New sets are constantly released each year

It appeals to older children as well as adults

The sets are not so expensive 

It is the largest LEGO theme and contains the highest number of sets

The sets include several accessories that greatly increase the fun factor and playability of the models

It includes themed parks 

There are popular games around the City theme
How Many Sets of LEGO City Are There?
The City theme has released 1392 sets and promotional packs to date and is probably the largest LEGO theme to date, containing the highest number of sets.
What Was the First LEGO City Set?
Police Motorcycle was the first City set after the theme was rebranded in 2005. The set was from the City Police line and includes 18 pieces and 1 Minifigure.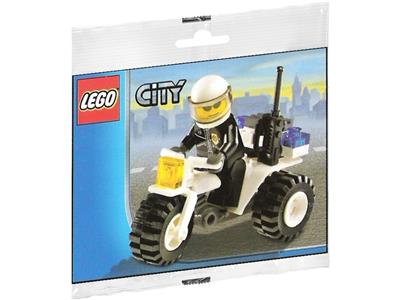 What Is the Biggest LEGO City Lego Set?
 LEGO City 60097 City Square is the biggest City set out there.
The set includes 1683 pieces and measures 22.91 x 14.88 x 4.65 inches:
Tram measures over 3 inches high, 14 inches long, and 1 inch wide 

Flatbed truck measures over 3 inches high, 6 inches long, and 2 inches wide

LEGO delivery truck measures over 3 inches high, 6 long, and 2 inches wide

Car dealership measures over 5 inches high, 11 inches wide, and 5 inches deep

LEGO Store measures over 5 inches high, 5 inches wide and 2 inches deep 

Coffee shop measures over 3 inches high, 5 inches wide, and 1 inch deep
The set lets kids enjoy an awesome day at the busy City Square and features a LEGO Store, a car dealership, 3 cars, a tow truck, a helicopter, a LEGO truck, a tram, a tram stop, a bike, and 12 Minifigures.
What Is the Best LEGO City Set?
LEGO City Fire Station 60320 is probably the best City set available. The set includes 540 pieces and allows kids to build a 3-level fire station, and includes a truck and helicopter, 5 Minifigures, a dog, and a cat figure, and a LEGO Road plate for connecting to other City sets.
The set contains a lot of details, adds fun function to the play and kids can shoot LEGO water splat elements from the fire helicopter and water dart elements from the truck.
The set stimulates imaginative role play and houses a control room, firefighter's headquarters, reception and a garage, firefighter Minifigures, and 2 LEGO City TV characters to fire up the fun.
What Is the Most Expensive City Set?
LEGO City 60022 Cargo Terminal is currently the most expensive City set. The set costs around $640 on Amazon.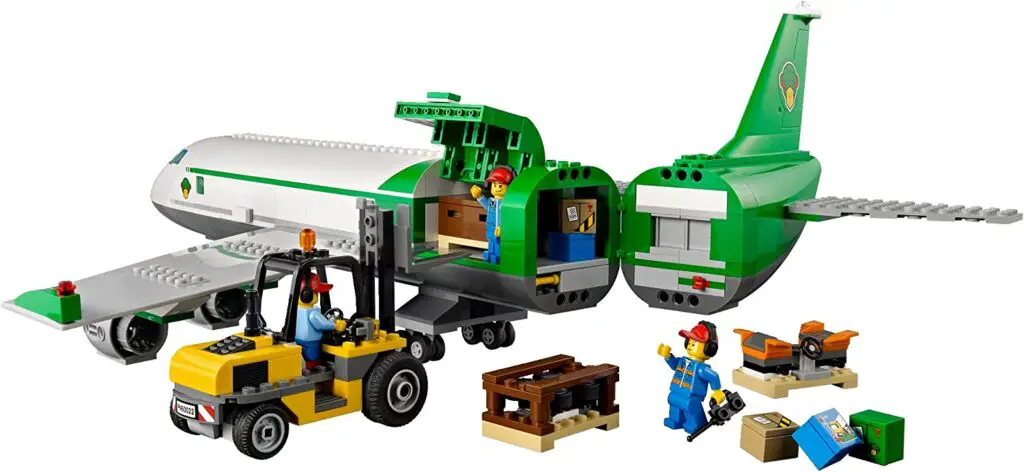 The set will be a great addition to any LEGO City collection and LEGO fans ages 6-12 will love to roleplay with the set.
The set is fun and easy to build and children can put the plane, control tower, and support vehicles together for fun and imaginative play.
The set includes 658 pieces and 5 Minifigures including a pilot, air traffic controller, and three workers. It features a cargo plane with opening doors and tail, conveyor belt, octan fuel tank, control tower with rotating radar dish, forklift, and buildable ATV.