Last Updated on November 27, 2022 by Lisa D. Marsh
Announced in 2016, LEGO BrickHeadz is a very popular theme and has several sets released across various themes including Minecraft, Star Wars, DC Super Heroes, Disney, LEGO Ninjago, and others.
BrickHeadz sets have been marketed worldwide since March 1, 2017, with some exclusive sets only sold at the Comic-con.
This article goes over the BrickHeadz theme, BrickHeadz sets and answers 10 important questions about the theme to help you get a clear understanding of the theme.
Let's dive in.
What Is LEGO BrickHeadz?
BrickHeadz is a LEGO theme that recreates iconic characters from themes like Star Wars, DC Comics, Marvel Comics, Minecraft, and Disney as buildable characters.
The theme was introduced in 2016 with the release of 4 exclusive sets which were exclusively sold for Comic-con.
The theme is designed for children with an age rating of 10+ or above who love playing with LEGOs but don't have time to spend hours on a build.
Each collectible figure in the BrickHeadz theme takes approximately 10 to 15 minutes to build and each set measures over 2 inches (7 cm) tall and contains at least 143 pieces.
The LEGO BrickHeadz theme was launched at the San Diego Comic-Con in 2017 and the first eight sets unveiled represent characters from DC Comics and the Marvel universes
Two characters were then presented from Beauty and Beast and then Pirates of the Caribbean: La Vengeance de Salazar.
The sets that feature Spider-Man and Supergirl are, as with the four sets of 2016, exclusively only available at Comic-Con in San Diego, in July 2017. 
The one on Boba Fett and Han Solo – the protagonists of the Star Wars movie saga – follows the same principle with New York Comic-Con in October.
How Many LEGO BrickHeadz Are There?
There are currently 120 BrickHeadz LEGO sets released from 2016 to 2022.
What Is the First LEGO BrickHeadz?
Batman & The Joker 41491 was the first BrickHeadz set released on July 21, 2016, as a San Diego Comic-Con International exclusive.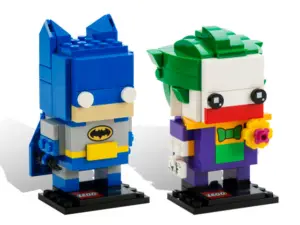 The set includes 212 pieces and was available for limited purchase to attendees of the San Diego Comic-Con and was only sold on Thursday, July 21st, 2016.
Three other sets were subsequently released on July 22, July 23, and July 24 2016 respectively. These include Black Panther and Dr. Strange 41493, Spiderman & Wonder Woman 41490, and Iron Man & Captain America 41492.
Are LEGO BrickHeadz Discontinued?
No LEGO BrickHeadz is not discontinued and new BrickHeadz sets are being released each year.
Are LEGO BrickHeadz Sets Worth Collecting?
Yes, BrickHeadz sets are worth collecting. The sets are highly collectible and are becoming hard to find with some commanding quite a high price if you want to buy them.
How Many Star Wars BrickHeadz Are There?
17 LEGO Star Wars sets have been released as part of the BrickHeadz theme. 
The following sets were announced in 2017:
Finn 41485 

Captain Phasma 41486 

Rey 41602 

Kylo Ren 41603

Han Solo 41608 

Chewbacca 41609

Darth Vader 41619

Boba fett and Han Solo in carbonite 41498

Kylo Ren & Sith Trooper 75232
The Mandalorian & The Child 75317 was released on February 20, 2020, and was based on The Mandalorian TV series. The set included 295 pieces and 2 baseplates and also included Mandalorian's a blaster rifle clipped on the back and a blaster pistol in hand and The Child's a hoverpram.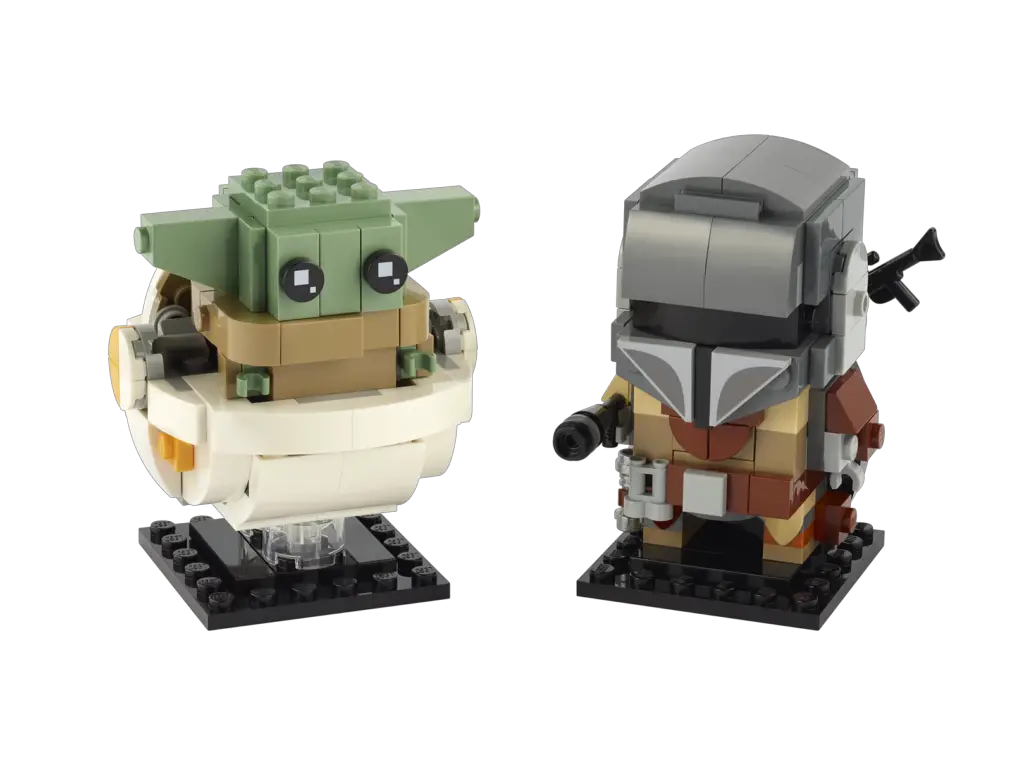 Ahsoka Tano 40539 was released in January 2022 and was based on Star Wars: The Clone Wars TV series. The set consists of 164 pieces, a baseplate, and included Ahsoka Tano's two lightsabers.
Obi-Wan Kenobi & Darth Vader 40547 was released in August 2022 and is based on the Obi-Wan Kenobi TV series. The set consists of 260 pieces and two baseplates and included Obi-Wan Kenobi's lightsaber and Darth Vader's lightsaber.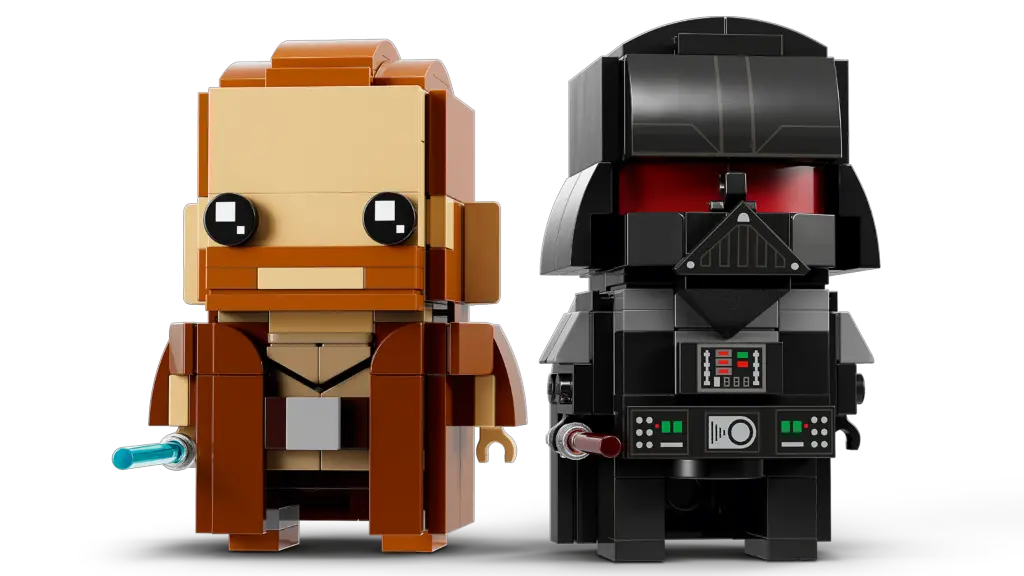 Where Can I Buy LEGO BrickHeadz?
You can buy LEGO BrickHeadz on the LEGO website, Amazon, Target, Toypro, at LEGO stores, and at other marketplaces that sell LEGO sets.
Are BrickHeadz Sets Available at LEGO Stores?
Yes, BrickHeadz sets are available at LEGO stores.
How Tall Are LEGO BrickHeadz?
Each BrickHeadz set measures over 2 inches (7 cm) tall and contains at least 143 pieces.
The legs are 4 plates high and are usually constructed from four 1×2 plates. The torso is two bricks and one plate high and is usually constructed on a 4×4 plate.
The arms are usually formed around a 2×2 plate and a 11476 Plate 1×2 W. 1 Horizontal Snap for the hand.