Last Updated on November 27, 2022 by Lisa D. Marsh
LEGO Architecture is one of the most popular LEGO themes and includes some of the best sets out there.
Architecture sets are incredible gift ideas for just anyone, from kids with moderate building skills to professional LEGO builders.
This article goes over the Architecture theme and Architecture sets and answers important questions to give you a complete understanding of LEGO Architecture.
Let's dive in.
What Is LEGO Architecture?
Architecture is a theme and product range of LEGO based on the world of architecture, engineering, and construction and focuses on taking famous structures of unique design such as Falling Water and turning them into sets.
The theme was introduced in 2008 and features the world's most iconic buildings and structures across three sub-themes, Architect Series, Landmark Series, and Skyline.
LEGO Architecture has released sets based on popular buildings and landmarks such as the White House, taj Mahal, Eifel Tower, Burj Khalifa, Marina Bay Sands, Imperial Hotel, and cities including Dubai, Tokyo, Berlin, New York, Las Vegas, London, among others.
Besides the building instructions, Architecture sets contain a premium booklet that includes various information and pictures of the buildings, cities, and landmarks.
What Is the Best LEGO Architecture Set?
LEGO Architecture Statue of Liberty 21042 is currently the best Architecture set. The set includes 1,685 pieces and delivers a rewarding experience to all with an interest in architecture, travel, design, and history.
 The set allows you to bring America's iconic symbol of freedom and faithfully reproduces the monument's harmonious blend of sculptures and architecture with its intricately detailed shield-lined pedestal, brick detailing, and columned balconies.
This symbolic centerpiece will make a great display in the home or office and measures over 17-inch (44cm) high, 5-inch (14cm) wide, and 5-inch (14cm) deep. 
The set is finished with an authentic sand-green and beige color scheme, and a decorative nameplate to deliver a highly satisfying building experience and make a truly symbolic centerpiece to your home or office.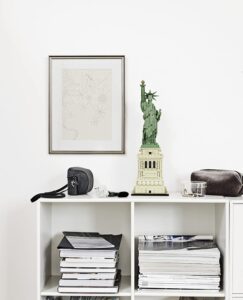 What Is the Biggest LEGO Architecture Set?
LEGO Art World Map 31203 is the biggest LEGO Architecture set and also the biggest LEGO set of all time.
The set includes 11,695 pieces and measures over 41 in. (104 cm) high and 25.5 in. (65 cm) wide.
The Art World map is a beautiful piece of wall art, that gives you 1 of 3 unique combinations of a world map to build and once built, allows you to track your travels and create your own bucket list using small, colored pins.
The set includes 40  canvas wall decor plates, a brick-built frame, 2 unique hanging elements, and a tile tool for easier building.
What Is the Hardest LEGO Architecture Set?
LEGO Tower Bridge 10214 is probably the hardest LEGO Architecture set.
The set includes 4,295 pieces and the building requires you to add the suspension by attaching the minuscule pieces together this needs skills to be attached properly so that the height of both bastions remains the same.
The most complicated part of the LEGO Tower Bridge is the functional drawbridge that can be opened like the original Tower Bridge to let cargo ships pass.
Several rare pieces and bricks of rare colors are added which can make you feel unfamiliar with the building process unless you car5efully follow the building instructions.
Are LEGO Architecture Sets Worth It?
Yes, Architecture sets are totally worth it. The sets are very detailed, fun to build focus on the structure of the unique design, and make a great display in the home or office.
Architecture sets are perfect gifts for adults and expert builders who want to spend hours of fun and are designed to deliver a rewarding assembly experience. 
What Is LEGO Architecture Studio?
LEGO Architecture Studio is a set that includes over 1200 pieces and an inspirational guidebook with 272 pages of tips, techniques, features, and intuitive hands-on exercises to give you everything you need to create your own unique buildings and let your imagination guide your design.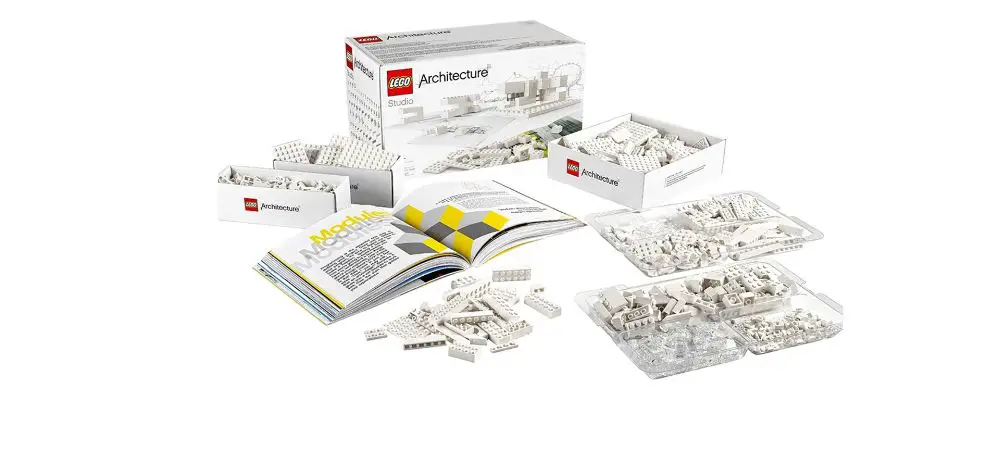 How Many LEGO Architecture Sets Are There?
There are currently 52 LEGO Architecture sets and 11 limited edition sets released from 2008 to 2022.
Which LEGO Architecture Set Has the Most Pieces?
With 11,695 pieces, the LEGO Art World Map 31203 is the LEGO Architect set with the most pieces.
Where Can I Buy LEGO Architecture?
You can buy LEGO Architecture sets on the LEGO website, Amazon, Walmart, LEGO stores, Bricklink, Toypro, Target, and almost any marketplace that sells LEGO sets.
What Is the New LEGO Architecture Set?
LEGO Architecture Skyline Collection: Singapore (21057) is the newest Architecture set, released on January 1, 2022.
The set includes 827 pieces and transports you to one of the world's most exciting cities.
It lets you enjoy quality time recreating Marina Bay Sands. The OCBC Centre, Lau Pat Sat Food market, One Raffles Place, the Fullerton Hotel Singapore, and Supertree Grove at Gardens by the Bay.
Did LEGO Discontinue Architecture?
No, LEGO Architecture is not discontinued.